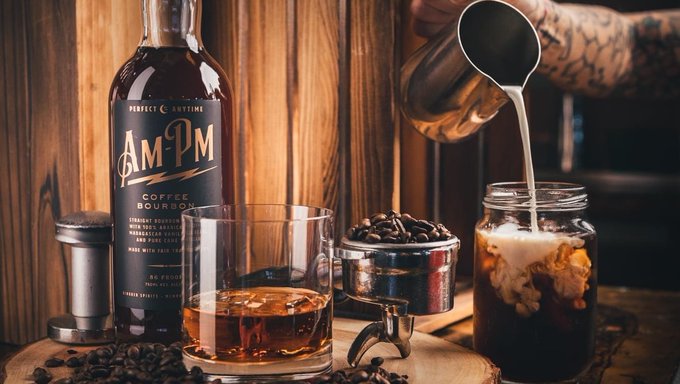 Straight out of a select Tennessee distillery, AM-PM is a 4-year aged straight bourbon whiskey. Jeff Johnson, a native and Tennessee restaurateur, owns the Local and Parish Grocery. Johnson started developing over the past few years a coffee company which led to coffee pairing, and coffee cocktails, surprising both the trade and the consumer with unique "out of the box" concoctions.
He took it one step further in his procurement of coffee. He sourced "fair trade" coffee beans to create his delicious bourbon whiskey and infused it with Madagascar vanilla beans, pure cane sugar, and 100% Arabica beans. Americans consume about 400 million cups of coffee per day and the USA is leading the pack.
Jeff shares" I feel fortunate to be in the restaurant, coffee, and the bourbon business".  It appears Jeff has a "recession-proof" brand on his hands.
Bourbon is one of the fastest-growing categories, fueling this is also flavored brands.
Johnson says, "You can enjoy AM-PM on the rocks, in your favorite cocktail, or straight. We were trying to create a product a consumer would want to wake up to and enjoy in the morning or at night". The mixability is unmatched and so is the taste profile, bourbon forward with a coffee finish. The perfect combination for category growth beyond Jeff's wildest dreams. Move over peanut butter, it is coffee flavor's time has come shine!
Click here for more Bourbon Flight news.
Click here to sign up for The Bourbon Flight Newsletter (coming January 2022).