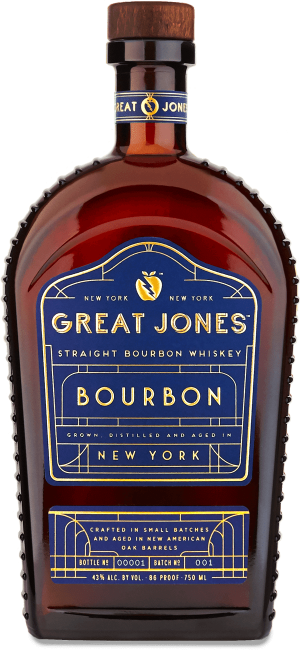 One hundred years after the last whiskey distillery in Manhattan shut its doors, Great Jones Distilling Co. is bringing this iconic spirit back to the Big Apple. Our home at 686 Broadway in the NoHo neighborhood of Manhattan is a monument to the rich culture of Prohibition-era New York, and a celebration of whiskey — past and present.
The spirit of New York drives everything we do. It's why we use 100% New York-sourced ingredients in our craft whiskeys, and it's what inspires us to deliver experiences worthy of the best of our city. Whether you're touring our distillery, sipping a craft cocktail, or enjoying a locally sourced meal at our restaurant, you're part of a New York tradition, reborn.
TASTING NOTES:
Great Jones Straight Bourbon Whiskey: This light-to-medium-bodied bourbon has notes of creamy vanilla and a peppery finish. Made with corn, malted barley, and rye, it's aged for a minimum of four years in new charred American oak barrels. 43% ABV 
Great Jones Four Grain Bourbon: Here's a well-balanced, medium-bodied, and oaky bourbon with a buttery palate and smooth finish. It's made with corn, malted barley, rye and wheat, and aged a minimum of four years in new charred American oak barrels. 45% ABV
Click here for more Bourbon Flight news.
Click here to sign up for The Bourbon Flight Newsletter (coming January 2022).