Owens Corning introduced "bourbon" as the 2022 Shingle Color of the Year (SCOTY) and the newest color in the Owens Corning, TruDefinition Duration, Designer Colors Collection shingle line.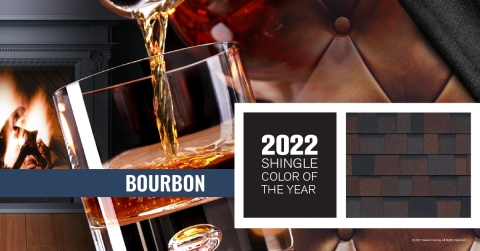 As the sixth color to be named Shingle Color of the Year, bourbon delivers a versatile, smooth finish and straight-up style to the home's roof.  The shingle collection integrates unique combinations of saturated colors for a rich, bold and dimensional effect bringing depth and style to the home's roof. The line also features patented SureNail Technology, for advanced performance on the roof.
The new shingle color's versatility is spotlighted in three inspirational style boards. The "Northwest Craftsman" style board distills the crisp and contrasting shades of land and sea. The "Mediterranean" style board gives a design nod to the timeless style of the sun-soaked Mediterranean, evoking easygoing elegance. And the "Modern Prairie" style board inspired by the Midwestern plains leverages monochromatic hues while paying homage to simple and uniquely American elegance.
Click here for more Bourbon Flight news.
Click here to sign up for The Bourbon Flight Newsletter (coming January 2022).