The Kentucky Bourbon Cake pairs the bluegrass states two favorite items, bourbon, and chocolate.  This dessert is sure to be a hit at any holiday party.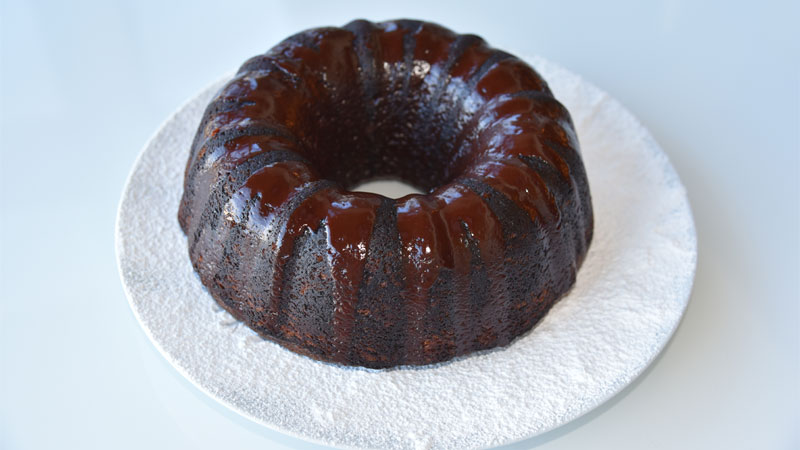 Bundt Pan:
3 tbsp vegetable shortening
¼ cup unsweetened cocoa
Cake:
2 ½ cups all-purpose flour
1 tsp baking soda
⅛ tsp salt
5 oz semi-sweet chocolate
1 ¾ cups hot, strong coffee
2 sticks (8 ounces) unsalted butter, melted
¼ cup bourbon
2 cups sugar
2 eggs, beaten
1 tsp vanilla
Chocolate Glaze:
8 oz bittersweet chocolate
1 ½ sticks (6 ounces) unsalted butter, melted
¼ cup hot strong coffee
1 tbsp bourbon
1 tsp vegetable oil
For Pan:
Grease a 12-cup bundt pan with vegetable shortening. Dust the pan with unsweetened cocoa.
For Cake:
Preheat the oven to 325.
Sift flour, baking soda, and salt into a medium bowl and set aside until needed.
Place chocolate in a food processor and pulse three or four times or until finely chopped.
With the processor running, pour in hot coffee, melted butter and bourbon, process until smooth, pour into a large bowl, and allow to cool for 10 minutes, stirring occasionally with a wire whisk.
Add sugar, eggs, and vanilla, and whisk until well blended.
Slowly whisk in the flour mixture and blend well.
Pour batter into the prepared pan and bake until a tester inserted in the middle of the cake comes out clean, about 60 minutes.
While the cake is baking, prepare the glaze.
For Glaze:
Place chocolate in the processor and pulse two or three times or until finely chopped.
Pour in hot melted butter, coffee, bourbon, and oil, and process until smooth.
Transfer the glaze to a small bowl and stir occasionally until needed.
Remove the Kentucky Bourbon Cake from the oven. Let cool 25 minutes before un-molding onto a wire rack. Cool completely before glazing. Place the rack on top of a baking pan and spoon glaze over the top of the cake, allowing excess to drip into the pan below. Let stand 10 minutes before transferring the cake to a decorative plate or cake stand.
Click here for more Bourbon Flight news.
Click here to sign up for The Bourbon Flight Newsletter (coming January 2022).