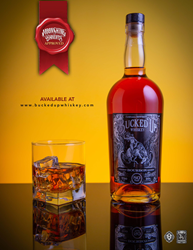 California Cowboy Whiskey and Moonshine Bandits have announced their partnership to launch Bucked Up Bourbon. This straight bourbon is smooth tasting and behaves with the same maturity and poise of a veteran-aged spirit, but still has the kick and flavor of an outlaw whiskey.
"Over the years we have consumed thousands of gallons of whiskey in every dive bar, saloon, and biker festival all across America, but it wasn't until we taste-tested California Cowboy's whiskeys that we felt there was a bourbon worthy of the MSB brand," commented Big Tex from Moonshine Bandits. "We would put Bucked Up Bourbon against any other brand. Our bourbon is super smooth and built for anyone that lives life on the edge. Let's get Bucked Up!"
Jeff Szafarski from California Cowboy Whiskey added, "At California Cowboy Whiskey we have collaborated with many great people over the years but we could not be more excited than to be working with Moonshine Bandits. Driven by our shared love for whiskey and a good time, we created something truly special with Bucked Up."
California Cowboy Whiskey is a whiskey brand inspired by the persistent, independent, and determined. True to the craft, our high-quality whiskeys are aged for a minimum of two years in newly charred American oak barrels with no added flavors or coloring.
California Cowboy Whiskey is proud to give back and be a voice for America's wild horses. They have partnered with the Wild Horse Sanctuary in Shingletown, California, which has been rescuing unwanted wild horses since 1978. With a mission to protect and preserve America's wild horses as a living national treasure, the sanctuary provides 5,000 acres of lush mountain meadow and forest land for these animals to live out their days. With every purchase of California Cowboy products, a portion of the proceeds will be donated to help preserve and give a home to wild horses.
Moonshine Bandits are a national touring band with over 200,000,000 YouTube views and Billboard charting Country albums that have debuted at the top of iTunes and Amazon charts. The group's blue-collar work ethic and unwavering persistence have helped them land the #1 spot on CMT.com and garnered press attention from the likes of Rolling Stone, Billboard, Yahoo, Kerrang!, Loudwire, Taste of Country, and the Digital Journal.
Connecting with fans on all levels, Moonshine Bandits have built a solid "Shiner Nation" of loyal fans, established Operation Packing Company, Inc., a 501(c)(3) non-profit organization that specializes in sending supplies to our Troops overseas, produced beef jerky and legal moonshine. Moonshine Bandits won a 2018 Telly Award for their "Take This Job" music video featuring David Allan Coe.
Click here for more Bourbon Flight news.
Click here to sign up for The Bourbon Flight Newsletter (coming January 2022).