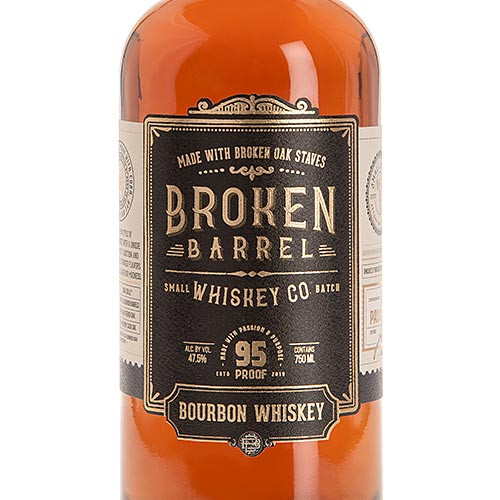 Broken Barrel Whiskey Co., whose portfolio of premium whiskeys showcases the impact a non-traditional barrel finishing practice has on flavor, has officially reintroduced its core line up of now exclusively Kentucky Straight Bourbon & Rye Whiskeys, which are distilled by eighth-generation Master Distiller Jacob Call at the historic Owensboro Distilling Co., in Kentucky.
While most whiskey is aged in barrels and then bottled, Broken Barrel Whiskey Co. Founder and CEO Seth Benhaim believed that there was a missed opportunity in traditional barrel finishing – namely the reliance on one type of barrel used to finish one type of whiskey. He created Broken Barrel to expand the barrel finishing concept, involving not only broken barrel staves but also the combination of multiple barrel types all finishing aged bourbon in tandem.
Once Broken Barrel whiskey ages for a minimum of two years, barrels are carefully selected, dumped and batched in a large tank. The broken barrel staves from multiple different kinds of casks are then added to further age and finish the whiskey.
While most whiskey enthusiasts are familiar with a mash bill, or combination of grains used, Benhaim coined the term Oak Bill™, to denote the combination of barrel staves from different types of barrels used in each expression, as listed on every bottle. Individually, these types of oak barrels are not typically used on 95% of all bourbon or rye whiskey produced, and rarely if ever are three types of oak used at the same time to finish any whiskey.
The core portfolio of products, which feature a premium new look, include:
Small Batch: A bold, oak-forward 95-proof KY straight bourbon with a spicy finish. Notes of vanilla-laced cake batter and a candy corn sweetness
Mash Bill: 70% Corn, 21% Rye,9% Barley
Oak Bill™:40% Ex-Bourbon, 40% New French Oak, 20% Sherry Cask
California Oak: A 88-proof KY Straight Bourbon meets California's Central Coast, using Cabernet Sauvignon barrels as the prominent oak finish. Balanced caramel sweetness, with dates and dark fruit, and a tannic finish
Mash Bill: 70% Corn, 21% Rye,9% Barley
Oak Bill™:80% California Cabernet Casks, 20% New French Oak
Awards: Gold Medal, 2020 San Francisco World Spirits Competition, Tasting Panel 2022 (91 points)
Cask Strength: An unapologetically big bourbon at 115 Proof with hints of fresh blackberry, caramel, notes of orange, corn and cinnamon spice on the finish.
Mash Bill: 70% Corn, 21% Rye,9% Barley
Oak Bill™:40% Ex-Bourbon, 40% New French Oak, 20% Sherry Cask
Click here for more Bourbon Flight news.
Click here to sign up for The Bourbon Flight Newsletter.