LOUISVILLE, Ky. — Mayor Greg Fischer delivered his 12th and final State of the City address on Thursday, reflecting on the accomplishments achieved over his tenure, and promising more ambitious work in 2022, including a pilot universal basic income initiative, an expansion of Lean Into Louisville and continuing efforts to recruit and retain quality Louisville Metro Government (LMG) staff, including those in public safety agencies.
"I am very pleased to report that the state of our city is strong. Together, we have achieved remarkable accomplishments in the face of daunting odds, and we have laid the foundation for even more dramatic progress in every Louisville neighborhood, for every Louisville family," the three-term mayor said, adding, "You have my commitment that I will be running through the finish line in this, my final year in office."
The State of the City address is traditionally delivered to the Rotary Club of Louisville, and during his tenure, Fischer has moved the event to various locations, including the new Republic Bank Foundation YMCA on West Broadway in 2020 and this year, at the Kentucky International Convention Center (KICC). (Because of the pandemic, the 2021 event was virtual.)
Fischer opened his remarks by harkening back to his first State of the City speech, where he outlined three values to guide his team's work – lifelong learning, health and compassion, and spoke of "one city, one community, one family."
Together, he said, "we have done so, so much."
Dramatic Changes to Our Built Environment: Since 2014 alone, the city has seen an investment of $21 billion in its built environment. That includes the $207 million renovation of KICC, as well as two new bridges across the Ohio and three new regional libraries, a new branch in Middletown, and renovated branches in St. Matthews, Iroquois, Bon Air, Shawnee and Shively. The long-awaited transformation of Dixie Highway is finished, and Colonial Gardens "has been restored as the go-to place for business lunches, date nights and family meals," he said – and, "Our city footprint now includes a world-class soccer stadium, an energized Whiskey Row, and over 100 new hotels – 15 of them downtown."
Over $1.2 billion of capital investment has been made in west Louisville, led by a $29 million federal grant to redevelop Beecher Terrace, which has been leveraged into over $250 million in investments in the Russell area – a community-led effort, the Mayor said, that models how to "regenerate neighborhoods without displacing residents."
The mayor noted that LMG donated the land and invested the first $10 million for the Norton Healthcare Sports and Learning Center opened last year by the Louisville Urban League, contributed $10 million as lead investor for the new West End Opportunity Partnership, and will soon break ground on Waterfront Park Phase 4, connecting downtown and west Louisville.
Other achievements cited by the mayor included investing in parks, repaving 2,000 miles of roadway, and record amounts for affordable housing –  $106 million since 2014. To address the historic injustice of redlining, "by the end of this year, we will have helped 500 low-income residents build wealth through the Down Payment Assistance Program and almost 3,000 existing homeowners make critical repairs so they can maintain homeownership," he said.
"We used $96 million in federal and state COVID relief funds for eviction prevention and were recognized by the White House as among the best in the nation to do so," he said, adding that to address vacant and abandoned properties, over the past 11 years, "we've gotten six laws changed, sold 675 properties, foreclosed on more than 1,000 and demolished 954 vacant and abandoned structures."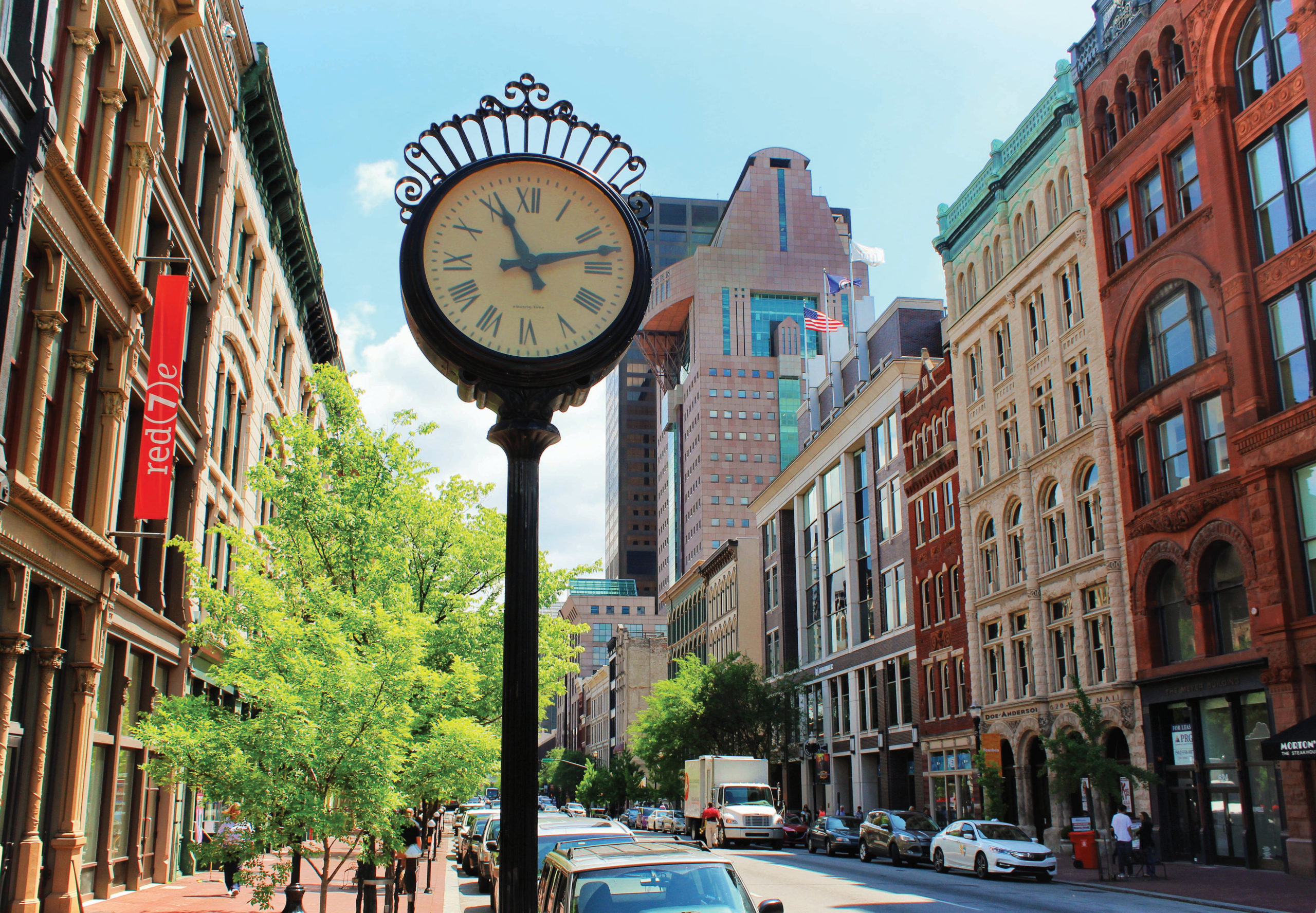 Game-Changing Investments in People: The mayor also talked about investments in people, ranging from the highly successful SummerWorks, Summer Reading and Cultural Pass programs to development of Evolve502, which now includes a promise scholarship for every child who graduates from Jefferson County Public Schools. "I decided to run for a third term in large part to make the scholarship a reality," he said.
Fischer also touted Code Louisville, which has placed 680 graduates into higher-paying tech jobs, and the city's involvement in the Future of Work initiative, which is "building equitable pathways into data economy jobs in Artificial Intelligence, the Internet of Things and data science." And describing small businesses as "the backbone of any city's economy," he noted that since 2011, the city has made $55 million in loans and grants to over 1,200 businesses to help them prosper and for some, simply survive the pandemic.
The mayor, who with partners created Bourbonism early in his tenure, said it has led to $262 million of investments in 10 new distillery and bourbon experiences and wonderful culinary additions. He also talked about Louisville's new international status as a soccer city and shared the news that The Women's Cup international tournament is returning in August.
Addressing Ongoing Challenges: The mayor acknowledged that Louisville faces challenges, including "a stubborn pandemic that's still taking too many lives; a level of gun violence that's unacceptable here and all across our nation; a necessary reimagining of public safety; and too many people left out of opportunities by centuries of systemic racism."
Fischer outlined ways the city is working to tackle public safety challenges, based on a whole-of-government approach that includes programs to intervene and prevent violence, and increased incentives and salaries to attract and retain public safety employees. He outlined efforts to increase trust between LMPD and the larger community, including reforms made in the wake of the tragic death of Breonna Taylor, such as the new Civilian Review and Accountability Board and Office of Inspector General. And he described those who turned out in 2020 to protest racial injustice as "change agents who fueled action in our city. … They were right to demand more, demand better, demand faster."
The mayor also touched on successes in responding to COVID-19, including the launch of the LouVax mass vaccination site in early 2021. "Today, 74% of us, or about 560,000 people, have received at least the first dose of the vaccine; 64% are fully vaccinated," he said, adding that while "we have learned to remain humble to the virus, the data indicates that better days should be ahead."
Data also shows the city's economic momentum, he said, noting that Louisville has recovered 99.5% of jobs lost during the pandemic, compared to 85% nationally. The city's unemployment rate is at 3%, lower than when COVID hit, and nearly a full point lower than the national rate. Since Fischer took office, Louisville has added more than 80,000 private-sector jobs. The city posted a record January, with more than new 800 jobs and more than $170 million in investment.
The mayor thanked Metro Council for its partnership, as well as his LMG team, led by "the incomparable" Deputy Mayor Ellen Hesen.
Running Through the Finish Line: The mayor committed to run "through the finish line, in this, my final year in office," and promised more to come, including:
The launch of a universal basic income pilot to counter poverty and promote financial stability and opportunity;
Work to further address the challenges of those who are unhoused;
Plans for a digital inclusion program to provide refurbished computers to close the digital divide;
A program to increase use of solar installations to boost the city's sustainability efforts; and
An expansion of Lean Into Louisville "to unify our city around fairness, opportunity and compassion."
Fischer added that $400 million in federal American Rescue Plan funds "will spur catalytic projects in housing, public safety, workforce, small business, public health and stronger neighborhoods, adding that the city also is ready "for hundreds of millions of dollars from the new federal infrastructure law – for roads, bridges, water and sewer systems, high-speed internet, and electrical vehicle infrastructure."
In closing, he noted, "I leave every State of the City excited about the incredible, game-changing work we have ahead of us, none more so than this, my final year."
"Headlines and events show that America is in a time of tumult; torn by tribalism, suspicion and distrust of the other; consumers and spreaders of misinformation," he said. "Those headlines have some truth. But that does not have to be our destiny. And it will not be. We will choose unity, compassion, and family. This will be our path."
Click here for more Kentucky business news.