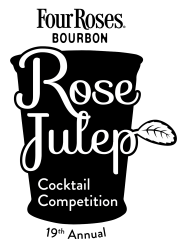 Eight bartenders from across the region competed for top honors at the 19th Annual Rose Julep Cocktail Competition at Mellwood Arts Center as part of the Kentucky Derby Festival's "Festival Unveiled" event on Wednesday, March 16. New in 2022, Four Roses invited only previous winners of the Rose Julep Cocktail Competition to go head-to-head in an effort to determine which creative julep recipe of the past truly stands out above all. For the first time ever, the competition ended in a tie, with two mixologists taking home top honors, cash prizes and a shiny julep cup trophy. Colleen McCarthy of Louisville's Martini Italian Bistro and Bill Whitlow of Cincinnati's Rich's Proper Food & Drink both claimed the first place People's Choice title for their julep recipes. McCarthy's 'The Petal Pusher' is composed of Four Roses Single Barrel, lavender syrup, grapefruit juice, grapefruit bitters, grapefruit Italian soda and mint. Whitlow's 'Storm Cloud Over the Downs' is made with Four Roses Single Barrel, China-China liqueur, Spanish brandy, chocolate bitters, orange blossom water, smoked maple syrup, bananas foster syrup and mint.The top eight finalists who qualified for this year's competition included:
Bill Whitlow, Rich's Proper Food & Drink, Cincinnati, Ohio
Colleen McCarthy, Martini Italian Bistro, Louisville, Ky.
Giacomo Ciminello, Woodburn Brewing, Cincinnati, Ohio
Isaac Fox, La Chasse, Louisville, Ky.
Jason Stark, Martini Italian Bistro, Louisville, Ky.
Mark Corley, The Silver Dollar, Louisville, Ky.
Natalie White, Belle's Cocktail House, Lexington, Ky.
Oliver Winn, Belle's Cocktail House, Lexington, Ky.
The event drew hundreds of people who sampled the competitors' cocktails and voted for the first, second and third place winners. The winning cocktails will be served at the mixologists' respective bars and restaurants throughout the Kentucky Derby Festival season.
Click here for more Bourbon Flight news.
Click here to sign up for The Bourbon Flight Newsletter.