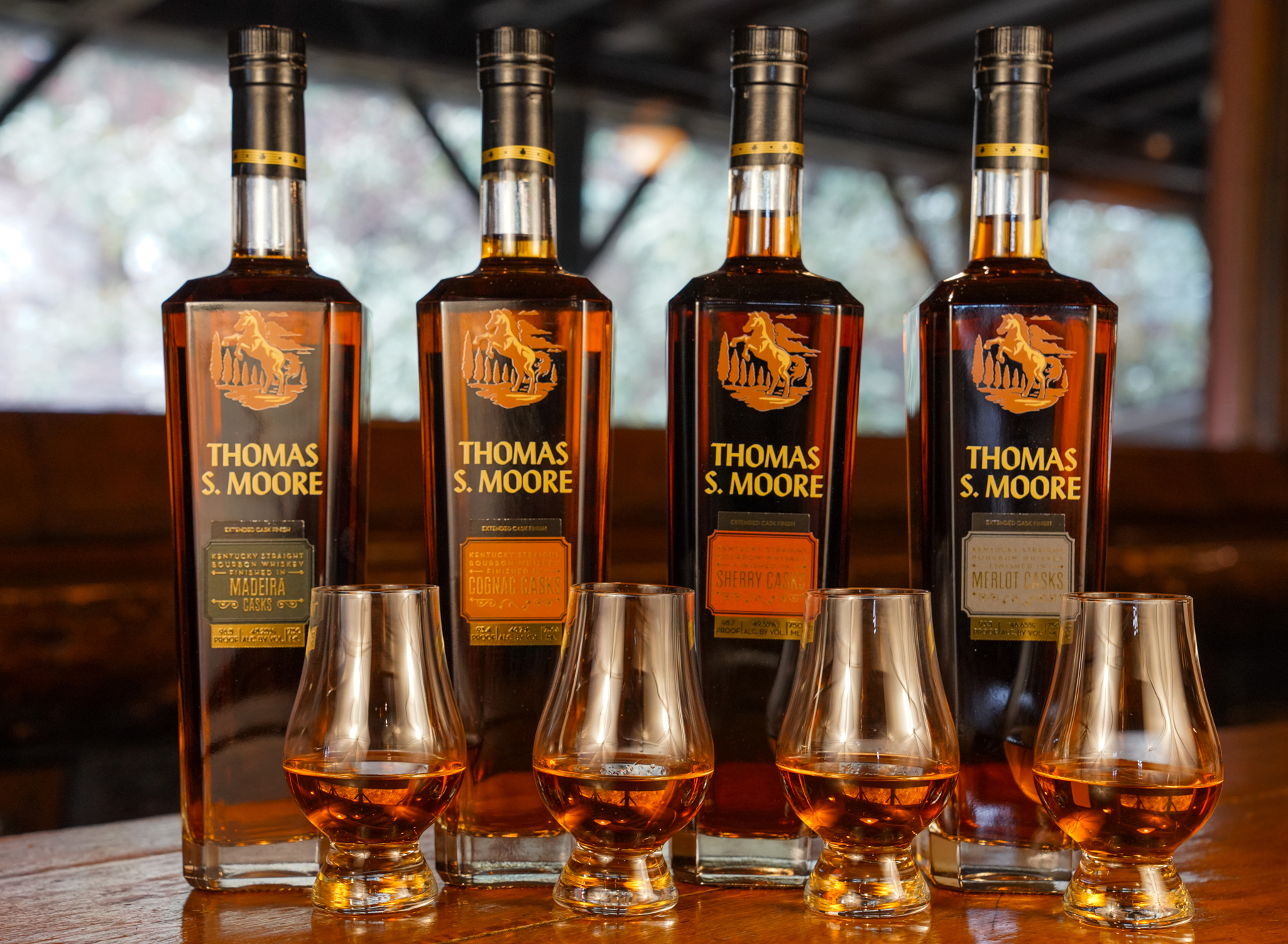 At the end of 2020, Barton 1792 Distillery defined a new category of "extended cask finished" bourbon whiskey, through the introduction of the Distillery's first ultra-premium brand, named Thomas S. Moore.
The collection provided new insight into the significance additional finishing imparts on whiskey, elevating flavors and aromas. Now Barton 1792 Distillery is releasing its second collection of extended cask-finished bourbon whiskeys in the Thomas S. Moore line. This release is made up of four different expressions, including Cognac, Madeira, Sherry and Merlot finished bourbon whiskeys. These expressions will begin arriving in stores in March 2022.
To create these whiskeys, Barton 1792's signature high rye recipe bourbon was aged for five to six years in new charred oak barrels before filling other casks that previously matured various wines or spirits from around the world. These whiskeys are then left to age an additional one to four years. This extended cask-finishing method results in elegant whiskeys, each displaying a distinct flavor profile, reflecting nuances of both the bourbon and the finishing cask.
The cognac barrels Kahn used generally held cognac for six or more years previously. The merlot barrels came from premium wineries from the Napa and Sanoma areas. The sherry barrels were all oloroso sherry. A variety of different types of Madeira barrels were used.
Kahn, who personally tasted every single barrel that went into this release at least once, created a few sub-blends for each expression. From there, the sub-blends were sorted based on categories of flavors from which the final blends were chosen. The four resulting expressions are a beautiful demonstration of the art of blending.
Details for each of the whiskeys in this release are as follows:
 Thomas S. Moore Kentucky Straight Bourbon Whiskey Finished in Madeira Casks is described as having scents of complex oak and madeira wine, with hints of tobacco, citrus and dried fruits interacting in a fascinating way. The aroma follows through on the palate, adding sweetness and subtle acidity to the mild, slightly soft, yet well-rounded whiskey. The finish is bright, complex, and pleasing. This whiskey was finished in Madeira casks for approximately two to four years and is 96.5 proof.
Thomas S. Moore Kentucky Straight Bourbon Whiskey Finished in Merlot Casks carries an aroma of rich fresh fruit, including plums, raspberries, and dark cherries, followed by floral notes. It has a full and slightly soft taste, with long and lasting notes of fruit. The finish is long and savory with subtle tannins and toasted oak. This whiskey was finished in merlot casks for approximately two to four years and is 93.3 proof.
Thomas S. Moore Kentucky Straight Bourbon Whiskey Finished in Sherry Casks greets you with an aroma explosion of sweet, rich fruit and toasted nuts, followed by figs, hints of spicy tobacco and subtle cedar. The palate is sweet with a soft, round initial impression followed by a myriad of aged fruits and nuts. The finish is balanced and sweet with notes of spicy oak. This whiskey was finished in sherry casks for approximately one to four years and is 98.7 proof.
Thomas S. Moore Kentucky Straight Bourbon Whiskey Finished in Cognac Casks has an aroma of complex fruit and bright citrus that mingle with slightly herbal notes and traces of jasmine and lavender. On the palate, notes of orange, apricot and vanilla are followed by complex earthy undertones, with a subtle toasted oak and cedar finish. This whiskey was finished in cognac casks for approximately two to four years and is 93.4 proof.
This line of bourbons intends to honor Thomas S. Moore, an innovative bourbon pioneer who built the Distillery known today as Barton 1792 Distillery. The tall, sophisticated bottles feature imagery that pays homage to the legacy of Thomas S. Moore. Each label displays the image of a racehorse standing tall, honoring one of Moore's earliest whiskey brands, Belle of Nelson, named for the thoroughbred who won the Kentucky Oaks in 1878.
Click here for more Bourbon Flight news.
Click here to sign up for The Bourbon Flight Newsletter.