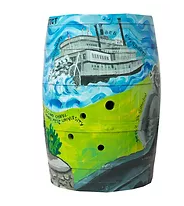 The Northern Kentucky Chamber of Commerce (NKY Chamber), in partnership with the Catalytic Fund, is proud to announce the return of an art project that will bring artistic flair and increased awareness to the Northern Kentucky riverfront: The NKY Bourbon Barrel Walk.
The follow-up to the debut Bourbon Barrel project of 2019, which saw more than 100 custom-painted barrels placed across the NKY Metro, the 2022 NKY Bourbon Barrel Walk will focus on five Northern Kentucky riverfront cities – Bellevue, Covington, Dayton, Ludlow and Newport – which will be adorned with bourbon barrels that have been designed and painted by local artists.
The decorated barrels will provide walking paths for visitors of cities off the Riverfront Commons in the urban core, and possibly additional walking paths in cities throughout Northern Kentucky that connect parks and attractions to business districts. The barrels will debut in July and will remain in place for at least one year.
"The Northern Kentucky riverfront is, for many, the entry point to our great region. Given our rich bourbon history, the barrel walk is a perfect way to greet and acquaint visitors to the NKY Metro so they can experience all the wonderful things our river cities have to offer," said Brent Cooper, NKY Chamber President. "If the response to our 2019 event was any indication, this year's Bourbon Barrel Walk should be a 'spirited' success, pun most definitely intended."
The cost to sponsor a barrel on the NKY Bourbon Barrel Walk is $1,000 for NKY Chamber members and $1,200 for future members. Sponsors will have the opportunity to select the river city in which they would like their barrels placed. Sponsorship sales run through Saturday, April 30. Barrels will be revealed during a private event at Newport on the Levee prior to being placed along their respective river city's Barrel Walk route the weekend of July 21, 2022.
"The arts are an essential part of vibrant, thriving communities; the Bourbon Barrel Walk represents an opportunity to showcase our region's history and spirit – both metaphorically and in the form of one of our key attractions," said Jill Morenz, Catalytic Fund Director of Community Initiatives and Communications. "Northern Kentucky really is the gateway to bourbon country, and I cannot wait to see what our local arts community is able to create to showcase our region to tourists and other visitors."
Artists interested in applying for a commission to paint a barrel will have the option to attend an informational session and must be a member of, or join, the NKY Public Arts Network.
For more information on the NKY Bourbon Barrel Walk, to sponsor a barrel, apply to be a barrel artist or participate as a city or group, please visit www.NKYBourbonBarrels.com.
Click here for more Bourbon Flight news.
Click here to sign up for The Bourbon Flight Newsletter.