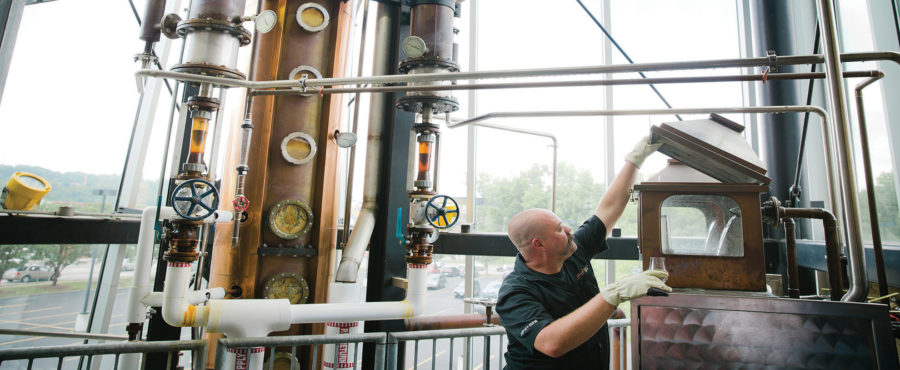 Northern Kentucky took a little longer to join in on Kentucky's bourbon boom, but it's making a big splash now, says Jay Erisman.
Erisman is cofounder of New Riff Distilling in Newport, which was founded in 2014 with a name that pays homage to owner/co-founder Ken Lewis' love of music and the new era of bourbon and bourbon tourism in the region that it's helping to usher in.

New Riff's Kentucky Straight Bourbon Whiskey, Single Barrel Bourbon, Kentucky Wild Gin and rye are flowing, following an initial $11 million investment to get the distillery and event center up and running. Now, a new expansion is increasing output from 8,000 to 12,000 barrels annually, Erisman said, using the company's own underground aquifer as a water source that fills with water trickling down from limestone-rich hillsides.
About 125 years ago, Cincinnati had an enormous presence in the whiskey industry, Erisman said. Newport, too, had some distilleries, but from that era, one ancient whiskey warehouse remains.
While many new distilleries are opening in the central part of the state, joining existing big names to compete for bourbon lovers' loyalty, New Riff's founders purposely wanted to locate apart from that action.
"We're not a big fish … but we are bigger than many fish and we are kind of in a small pond," Erisman said. "We were the biggest gig in this town, I suppose." 
New Riff has 43 full-time and 65 total employees across two Newport campuses—distillery and warehousing/packaging—and is distributed in 15 states, with Florida added just this year. Even when volumes are small on limited-release lines, Erisman said they always take care of their home market, Kentucky.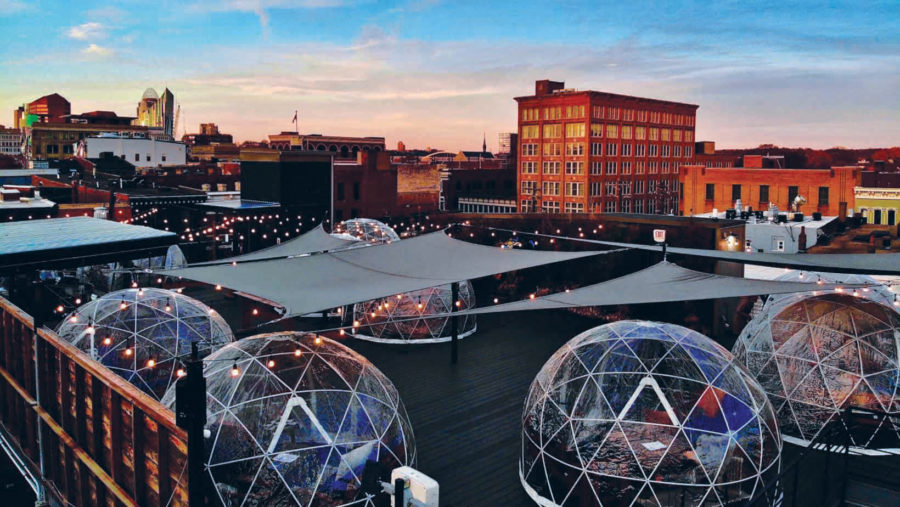 MeetNKY President Julie Kirkpatrick said NKY has 11 of the top 100 bourbon bars in America according to The Bourbon Review, and the area is starting to be known for its bourbon and its many outstanding breweries—50-plus in the region.
"We can definitely say that we're spirited," Kirkpatrick said.
The Bridgeview Box Park at Newport on the Levee was once home to Wooden Cask Brewing Co., which was founded in 2015 and has now moved to its own standalone site. Lexington-based West Sixth Brewing has moved into the box park and is "doing phenomenal," she said.
New bars and restaurants like The Beeline, which opened at Newport on the Levee in 2021, focus on cocktails that use local honey and other products.
"We're really excited about all the activity that's happening on the Levee," Kirkpatrick said.
The B-Line, Northern Kentucky's lineup of craft distilleries, bourbon bars and bourbon-centric restaurants (thebline.com) added three new stops in 2021, linking people with even more cool bourbon destinations, she said.
Meanwhile, taprooms and brewhouses like The 859 Taproom & Grill and BJ's Restaurant & Brewhouse, both in Florence, boast extensive beverage menus.
Northern Kentucky wineries are drawing visitors for their dry and sweet wines, charcuterie boards, majestic views and singular experiences with new, inventive drinks. Founded in 2016, family-owned 12 Mile Creek Winery in California, Ky., is home to Kentucky's first jalapeno wine Bloody Mary, according to its website. And Redmans' Farm & Winery in Morning View, a fifth-generation working family farm, creates its own wine slushies to cool and refresh.
Festivals, too, pay homage to the local libations. According to its Facebook page, Bacon Bourbon and Brew Festival Presented by T-Mobile will be at Newport Festival Park in July, featuring live entertainment, beer, bourbon cocktails, free bourbon tastings, trivia, rides, games and more.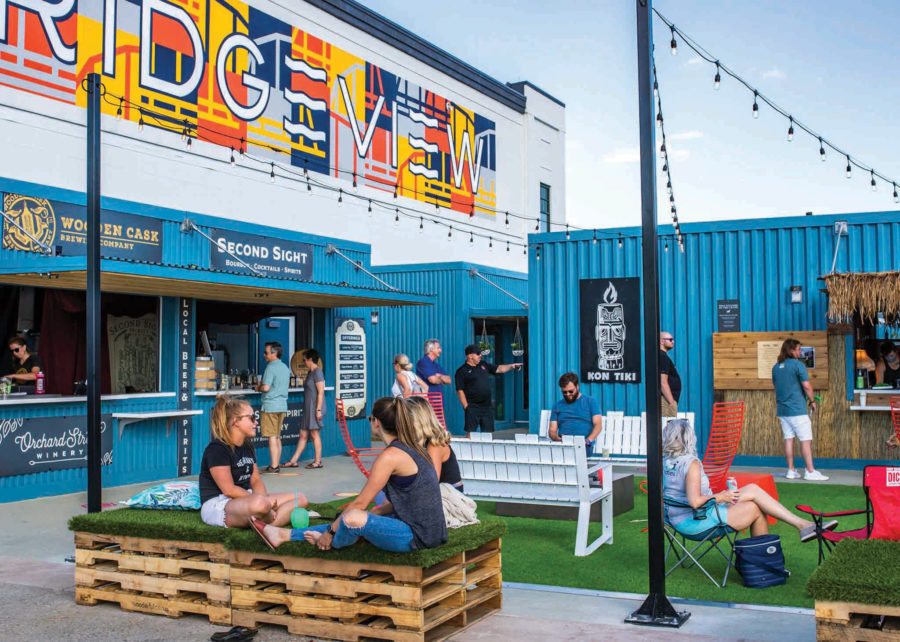 And just over the river, the Cincy Beerfest will be held in April at Duke Energy Convention Center.
Visitors can learn more about Covington's rich brewing history at the former Bavarian Brewery, now part of the Kenton County Government Center, via the Bavarian Brewery Exhibit, which has several artifacts on display and is open weekdays during regular business hours.
After visiting any of the area's tourism sites or attending conventions or meetings here, sometimes you just want to unwind with a nice cold beer.
Jake Rouse, CEO and co-founder of Braxton Brewing Co., started the company with his brother Evan and father, Greg, in March 2015. Braxton now has three locations—Fort Mitchell, Covington and Cincinnati—that welcome between 5,000 and 10,000 visitors per week.
"Northern Kentucky and really the Greater Cincinnati area is a great spot for beer for a lot of reasons," Rouse said. "Obviously, you have a great history of brewing."
Prohibition ended Cincinnati's early reign as a beer-producing destination, he said, but it's undergoing a renaissance as young entrepreneurs try to create a new, special environment. 
Output for Braxton Brewing Co. has increased year over year, he said, with the focus on creating as many consumer experiences as possible and innovating toward the future. 
Braxton Labs serves as a site for much of that experimentation, as evidenced by Braxton's release of Graeter's Black Raspberry Chocolate Chip Milk Stout, seltzers and other beyond-beer products, and Rouse is excited about the possibilities ahead.
"Overall, it's going to be a really great year and aligning toward future growth," Rouse said.
Distilleries
New Riff Distilling
Newport
Second Sight Spirits
Ludlow
Pensive Distilling
Newport
Boone County Distilling Co. 
Independence 
Cincinnati: 
Northern Row Brewery & Distillery, Knox Joseph Distillery at the OTR Stillhouse, Northside Distilling Co, Robert James Distillery
Breweries/Pubs
Union 42 Bourbon & Brew
Union
Alexandria Brewing Co.
Alexandria
Braxton Brewing Co. 
Braxton Covington; Braxton Labs in Bellevue; The Rooftop, Igloo Bar, Braxton Barrel House in Fort Mitchell; and Braxton Cincinnati
Bircus Brewing Co.
Ludlow 
Darkness Brewing
Bellevue
Hofbrauhaus Newport
Newport 
Wooden Cask Brewing Co.
Newport
Cincinnati: 
Woodburn Brewing, 13 Below Brewery, Northern Row Brewery & Distillery, Rhinegeist
Trails/Tours
Bavarian Brewery Exhibit
Covington, bavarianbrewery.org 
Cincy Brew Bus
Distillery, winery and brewery tours in Cincinnati/Northern Kentucky, cincybrewbus.com 
The B Line
The bourbon tour of Northern Kentucky, thebline.com 
Tour with Us Ky
Bellevue, tourwithusky.com 
Brewing Heritage Trail Tours
Cincinnati, brewingheritagetrail.org 
Pedal Wagon
Covington, pedalwagon.com 
Northern Kentucky Back Roads Wine Trail
meetnky.com 
Cincy Wine Wagon
cincywinewagon.com 
Kentucky Bourbon Trail Craft Tour
kybourbontrail.com/distilleries 
Wineries
Elk Creek Vineyards
Owenton
Camp Springs Vineyard Winery
Melbourne
StoneBrook Winery
Melbourne
Seven Wells Vineyard & Winery
California, Ky.
12 Mile Creek Winery
California, Ky.
Lost Heritage Vineyard
Cold Spring
Gunpowder Creek Vineyards
Burlington
Redmans' Farm & Winery
Morning View
A Sampling of Cincinnati: 
Revel OTR Urban Winery, Vinoklet Winery & Restaurant, Henke Winery, E&J Gallo Winery, The Skeleton Root
Click here to read more articles from Market Review of Northern Kentucky 2022-2023.