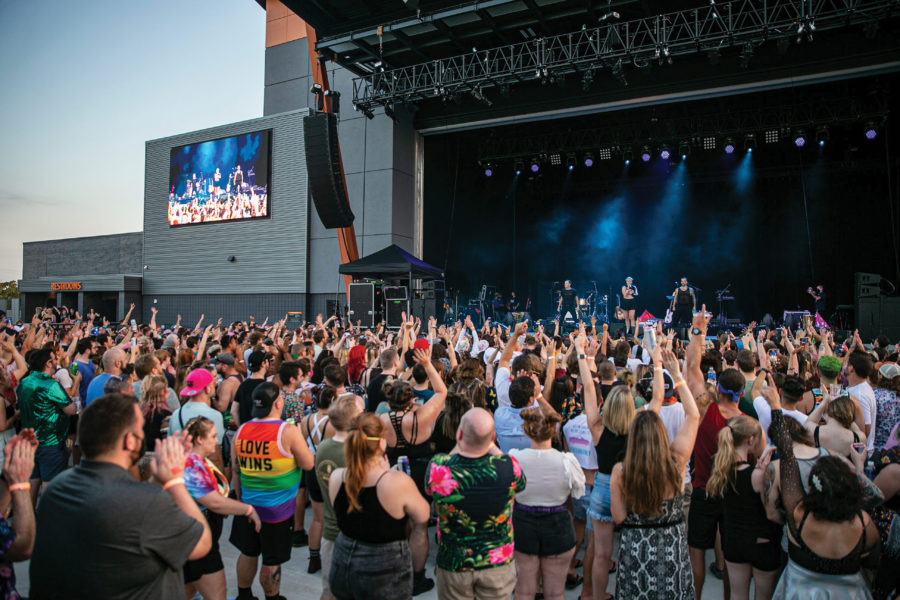 Whether it's an intimate riverfront dinner for two, a museum tour or cheering alongside thousands of fellow fans at a live concert or sporting event, Northern Kentucky and Cincinnati venues can make those plans—and likely a few surprises—a reality.

When it comes to tourism, arts and culture, Northern Kentucky and Cincinnati are often a package deal and one that people travel from as far away as Florida, Alabama and Mississippi to experience, said Julie Kirkpatrick, president and CEO of MeetNKY.
"We are part of the Cincinnati region, where the Midwest and the South collide," she said. "When you start to journey around Covington and Newport you get a feeling that we're definitely doing everything we can to preserve our history where innovation and development happen."
Some of the biggest visitor draws, Kirkpatrick said, are the Newport Aquarium, Ark Encounter, Creation Museum and BB Riverboats, as well as the PromoWest Pavilion at Ovation, a sprawling concert venue that hosts concerts, corporate functions, sporting events and more.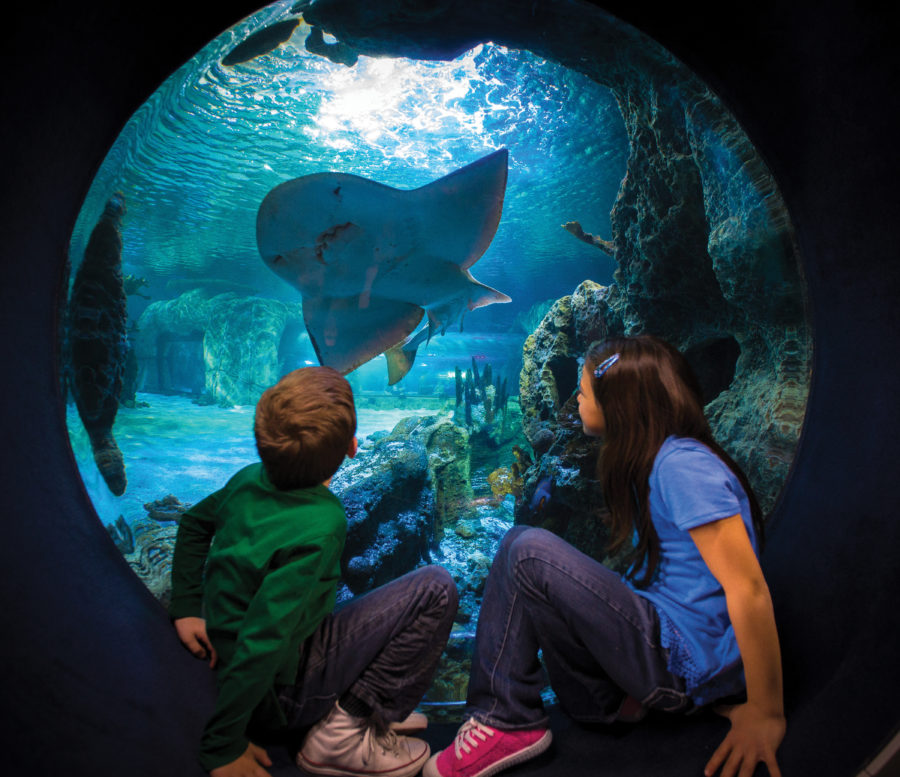 Mark Looy is co-founder/chief communications officer for AiG and Ark Encounter in Williamstown, now in its sixth year. The centerpiece of Ark Encounter is a 510-foot-long replica of Noah's Ark. Along with special events like Christmas Time at the Ark Encounter, last year there was a "40 Days and 40 Nights of Music" gospel concert that was billed as the world's largest Christian music festival. It is set to return in 2022.
There's also a zoo onsite and a Tower of Babel attraction is planned. A large carousel is being installed and a scale model of Jerusalem is under construction.
An extensive auditorium remodeling project is underway at the Creation Museum in nearby Petersburg, which is dedicated to the Biblical account of science and history.
BB Riverboats was formed in 1979 with two vessels, Belle of Cincinnati and River Queen, which traverse the Ohio for sightseeing, dinner and specialty cruises. Owner Alan Bernstein said operations are year-round but limited in winter, with the regular season running May to September.
"BB Riverboats has been a top attraction destination in Northern Kentucky for more than four decades," he said. "We have a wide range of offerings that will attract guests of any age. From lunch and dinner cruises to historical sightseeing tours, wine tastings, and even all-day mini-vacations, we have a cruise that will show you what the romance of the river is all about."
Covington's longstanding commitment to public art and fine arts and keeping history alive is evidenced in The Carnegie, a theater and art gallery, and the Behringer Crawford Museum, said Kirkpatrick. 
A summer theater series was recently announced for June at The Carnegie, featuring "Into the Woods," "Rent" and "George Remus." In February, the Behringer Crawford Museum introduced new and expanded exhibits for Spirit Riders and Abracadabra!, including equine-inspired and poetic mixed-media works.
A light and arts festival called BLINK Cincinnati will be held in October with light displays, interactive elements and cultural events. And the event isn't limited to the Queen City: Covington's BLINK displays were some of the best attended in 2019, when the event attracted over 1.2 million people.
Cincinnati USA President Julie Calvert said events like BLINK make Cincinnati "a great getaway destination for people looking to experience rich culture and major attractions."
The region is also inclusive, Kirkpatrick said, offering people of color and LGBTQ+ visitors with "a true welcome, open arms and a lot of experiences. And they're going to take a good memory of our region back with them."
The Northern Kentucky Pride Center is set to open in Covington in 2022 and the 12th annual NKY Pride Festival was held in Covington's Mainstrasse Village in 2021 along with the annual NKY Pride Parade. 
Reflecting the city's growing Hispanic/Latino community is Esperanza Latino Center.
According to Randie Adam, vice president of marketing/visitor experience for Cincinnati USA, there will be more than 50 exhibits, programs, concerts and festivals during the Jewish Cincinnati Bicentennial, which is being celebrated between September 2021 and October 2022. 
The Black Music Wall of Fame will be a permanent, interactive feature honoring Cincinnatians' contributions to music. It will be in The Banks area of downtown Cincinnati, an area connecting the new ICON Music Center to Paul Brown Stadium, where the Cincinnati Music Festival will take place July 21-23 with headliner Janet Jackson.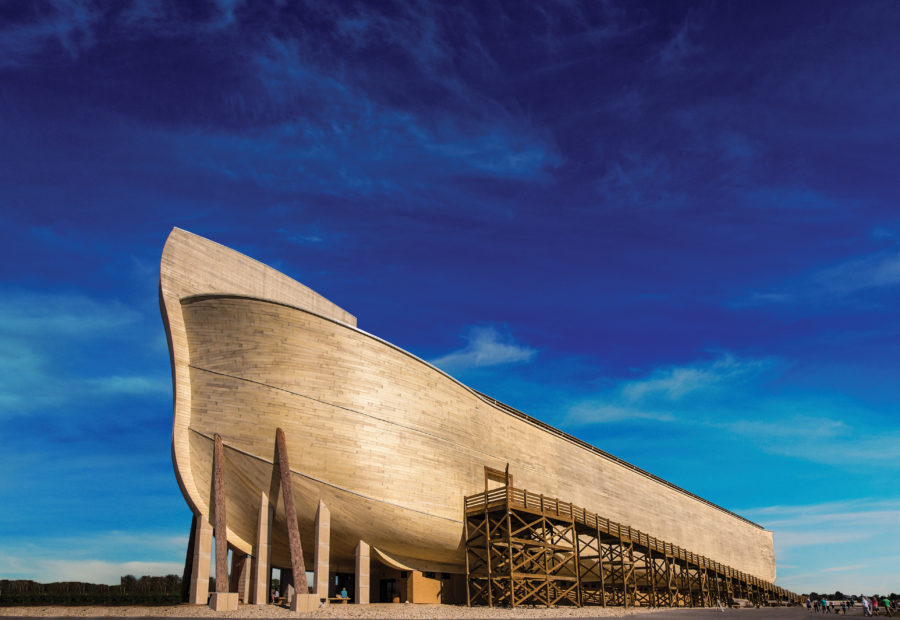 As for dining, retail and entertainment, meetNKY offers a great listing of local restaurants at meetnky.com/restaurants. There are food-centric tours like the City Brunch and Streetcar Food Tour, Cincinnati Food Tours and Riverside Food Tours Covington.
Covington is home to the Mainstrasse Village Tour, which celebrates the beautiful 19th-century German neighborhood and its wealth of dining and shopping destinations. It's also home to several of the stops on Northern Kentucky's bourbon tour lineup, the B-Line.
Vicki Prichard, assistant communications manager for Covington, said "the Cov," as locals and fans call it, has a "whiplash fast momentum and upward trajectory that's offset by a celebrated and respectful nod to its fascinating past."
From its 19 distinct neighborhoods to its rich architectural and cultural history, this 206-year-old town is indicative of what the region has to offer.
Prichard said almost a century ago the Baker Hunt Art & Cultural Center was founded on "the promotion of education, art, science, psychic research and religion" and today serves as a three-acre urban oasis for art instruction and arts and humanities studies.
 Bridgeview Box Park at Newport on the Levee has food trucks, restaurants, bars, shopping, music and more. Covington Yard box park has giant indoor and outdoor TVs, food like Mr. Bulgogi and Hangry Omar's, and music. Both are dog-friendly and kid-friendly venues.
In Florence there's a skatepark, Florence Mall, Turfway Park, Boone County Veterans Memorial Park, Sherlock's Escape Rooms, Full Throttle Indoor Karting and World of Golf, among  many other retail and entertainment offerings. Vent Haven Museum in Fort Mitchell showcases ventriloquial figures and memorabilia from around the world. 
Along with charming private vacation rentals and bed-and-breakfast offerings, NKY has hotels of varying sizes, including the Pickle Factory in downtown Covington, a new boutique hotel located in a 184-year-old building that once housed a pickle factory.
There's also Aloft Newport on the Levee; Weller Haus Bed, Breakfast and Event Center in Newport; and 21c Museum Hotel Cincinnati, to name just a few places where weary travelers can find their resting place after busy days and evenings.
Guy van Rooyen is owner of Hotel Covington, which features 114 guestrooms, a restaurant, lounge areas and courtyards. It's undergoing a $22.5 million expansion that is scheduled to be completed this fall. The project will add 12,000 s.f. of retail space; 52 VIP hotel room suites; 27,000 s.f. of office space; and an urban bourbon distillery.
The popularity of Ark Encounter has sparked the development of new area hotels, including a large Hampton Inn now under construction off Exit 154 along I-75 just north of Dry Ridge. 
Communities across Northern Kentucky come together and welcome visitors to festivals and special events year-round.
One of the most memorable is the Glier's Goettafest, held in Newport each year to celebrate a special German breakfast sausage. This year's event is scheduled for July 28-Aug. 7 at Festival Park. Italian Fest celebrated its 29th year in 2021 in Newport, and Covington's Rockin' Taco Fest is set for June 24-27 at Covington Plaza with food and beverage vendors, live music and activities for the entire family. 
The Smoke on the River BBQ Fest will be held at Covington Landing May 15, with music by Model Behavior. The Cincy Blues Fest is set for July 16, followed by the Limburger Cheese Festival in Ludlow on Sat. July 23.
Bellevue Mayor Charlie Cleves said over the past year his city has hosted more than 20 events, with the biggest being the Christmas Walk. The event is held the Friday and Saturday after Thanksgiving, with businesses donating prizes. 
An entertainment district that began in Bellevue in 2019, stretching from the Newport/Bellevue border to the Dayton/Bellevue border, helps bring in even more visitors. A number of new restaurants have recently opened or are coming soon.
"This district has been a catalyst to our success in Bellevue," Cleves said. "You can buy alcoholic beverages in approved cups from any of the bars or restaurants in the district and walk and shop while enjoying your drink. Our business group In Vue holds events every first Friday of the month along with larger quarterly events that are all family-friendly."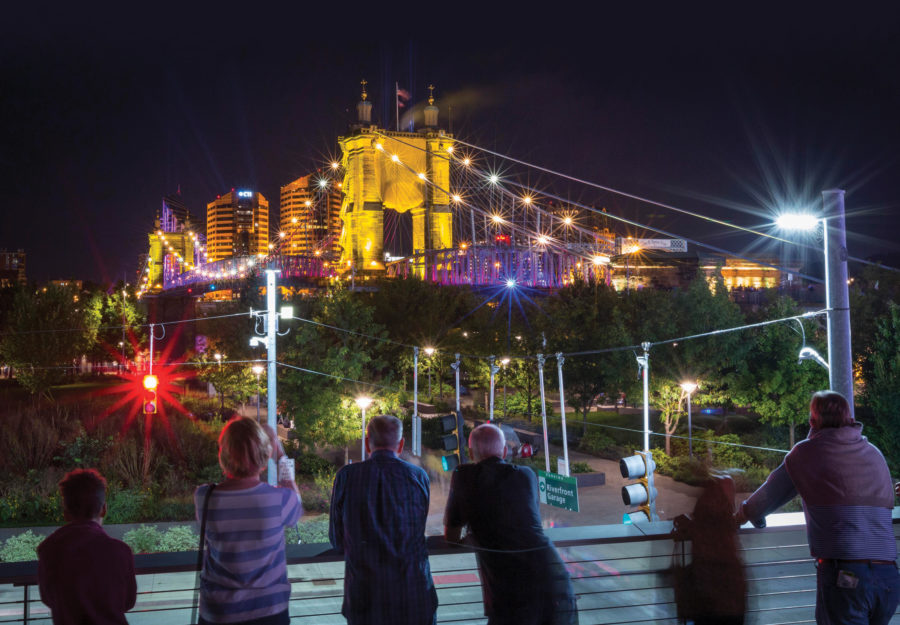 "Covington has nearly 1,000 acres of parkland and green space spread out over 40 different parks, playgrounds, and facilities, including about 700 acres that make up the expansive Devou Park and its golf course and biking trails," Prichard said.  
The city manages some 30 facilities and 200 acres, including the Licking River Greenway Trail, the Riverfront Commons trail, the 54-acre Bill Cappel Sports Complex, two full-size swimming pools, a water park, and an array of smaller playgrounds. A new dog park is also being planned.
NKY attractions
Ark Encounter and Creation Museum  
BB Riverboats  
BB&T Arena 
Behringer Crawford Museum  
Bridgeview Box Park at Newport on the Levee  
Cincinnati Art Museum  
Cincinnati Zoo  
Covington Arts District  
Covington Pedal Wagon  
Covington Yard  
EarthJoy Tree Adventures  
Madison Theater  
Mainstrasse Village 
National Underground Railroad Freedom Center  
Newport Aquarium  
Newport Gangster Tour  
Newport on the Levee  
Newport Racing and Gaming  
NKU Fine Arts Center 
NKY Art Tour  
PromoWest Pavilion at Ovation  
Riverside Drive Historic District  
Roebling Murals Tour  
Smale Riverfront Park  
Taft Museum of Art  
The Carnegie Performing Arts Center  
USS Nightmare  
Vent Haven Museum  
World Peace Bell
---
ADVERTISING PARTNER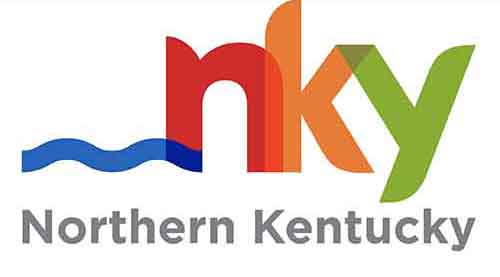 meetNKY |
Northern Kentucky CVB
50 E. RiverCenter Blvd.
Suite 1100
Covington, KY 41011
(859) 261-4677
meetNKY.com
For more than 45 years, meetNKY | Northern Kentucky CVB has served as Northern Kentucky's destination management and marketing organization, positively impacting the three-county region's economy through meeting, convention, and visitor expenditures. meetNKY also manages marketing and operations of The B-Line, NKY's bourbon experience.
---
Click here to read more articles from Market Review of Northern Kentucky 2022-2023.