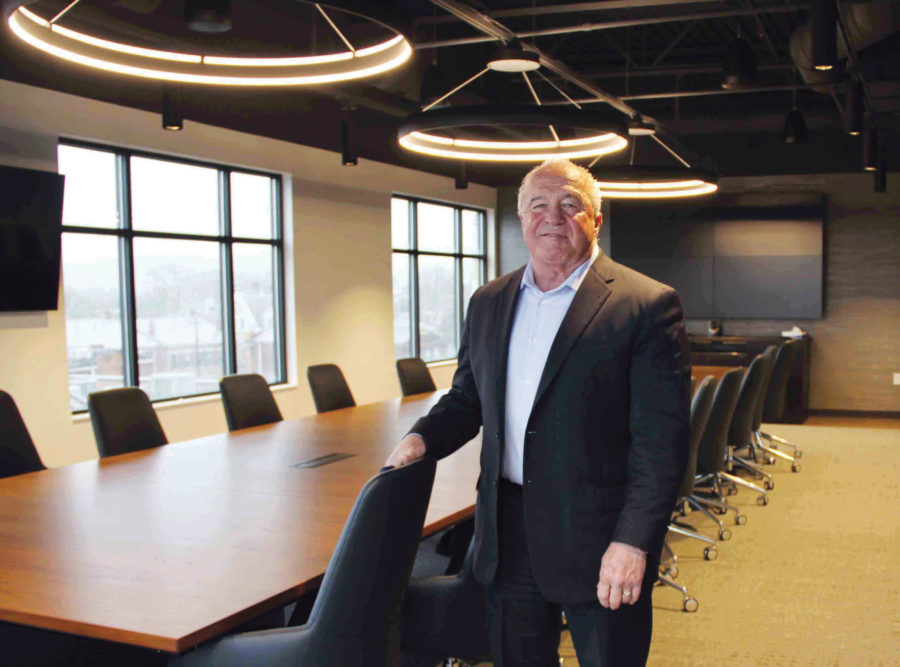 Since the pandemic first emerged in the spring of 2020, Northern Kentucky law firms and private practices have fielded questions and concerns from new clients as well as those they've had for 30 years.
"We had the best years we've ever had in 2020 and '21, and it was interesting," said Bob Hoffer, managing partner of DBL Law, a Covington-based firm that was created 65 years ago and is the largest based in Northern Kentucky. 

As might be expected in a region of nearly 400,000 in Boone, Campbell and Kenton counties, there are many lawyers in practice, ranging from sole practitioners to massive firms with a national and global reach.
The Northern Kentucky Bar Association has some 950 members in Boone, Campbell and Kenton and another 350 in Cincinnati and smaller counties just outside of the "Big Three."
Because of the ever-evolving nature of COVID-19 and the impact of it, the pandemic has dominated headlines and, to a high degree, lawyer-client discussions since early 2020.
Business owners or managers want to know, for example, what measures they should take to avoid lawsuits from customers or employees who disagree with mask mandates or a no-vaccine, no-paycheck policy.
Northern Kentucky lawyers have been handling these questions and just about every permutation of them since 2020.
"Litigation was slow at first, with courts shut down," Hoffer said. "But what happened was certain sections just went viral busy, (such as) employment. A lot of employers didn't know what the rules were because they were constantly changing."
Low interest rates for borrowing also had a huge impact on buying and selling. 
"Our transactional and businesspeople were unbelievably busy in '20 and '21," Hoffer said.
The prospect of a worst-case outcome with COVID also prompted some people to consider their mortality, Hoffer said. 
"We've never done as much estate planning and wills. People were lining up (to meet with an attorney)," he said. 
Hoffer's firm grew substantially during the pandemic, increasing the number of attorneys from 35 to 51 over the past few years.
Gregory S. Shumate, member-in-charge of the Florence office of Frost Brown Todd, one of the state's largest law firms, said diversified teams and practice groups in the firm weathered the pandemic well.
"When the courts were initially shut down and litigation came to a standstill, Frost Brown Todd saw an uptick in clients needing assistance with labor and employment issues as well as increased demand for assistance with force majeure (unforeseeable circumstances) provisions in vendor contracts and, later, applications for PPP (federal Payroll Protection Program) loans," Shumate said.
Shumate said questions he and the firm received during the pandemic could be grouped into two major categories: "It has tended to be either 'my business is at risk' or 'my business has a great opportunity.' With plenty of nuances in between, of course."
Revenue for the firm, which has 15 offices in nine states and Washington, D.C., and about 500 attorneys, was roughly equivalent in 2019 and 2020 "…and those numbers have steadily increased over the past year," Shumate said.
COVID-19 also had a substantial impact on business at Adams Law in downtown Covington, which dates to 1895 and was known until late 2020 as Adams, Stepner, Woltermann and Dusing.
"Our firm has been extremely busy since the beginning of the pandemic," said attorney Scott Guenther, a member of the management committee. " I think there are many factors that have contributed to the increase in business, including many businesses being cash-rich due to COVID stimulus money and increased demands in the employment law arena for employers dealing with newly enacted COVID laws.
"There is no question that workforce issues are a major concern for many businesses. Workforce shortages are far more problematic now than they were prior to the pandemic," added Guenther, whose firm has 18 attorneys on staff.
Jack Gatlin of the Gatlin Voelker law firm in Covington said his firm has handled plenty of pandemic-related issues in the last couple of years and has observed some striking changes in the workplace because of COVID.
"There's a movement away from the (traditional) employer-employee relationship. I have seen more home-based businesses start up. I have seen more people move to being self-employed. I think that's definitely a trend that's out there," said Gatlin, whose firm has nine attorneys. "They may need some help from a lawyer to set up a business." 
Gatlin said he has talked with at least five people who left the restaurant business because of long hours or other similar issues. 
"And now they want to open their own restaurant. I find that very interesting because it's like, 'Now, wait a minute: The same problems you had before you're now going to have as an owner and it's just going to magnify it,' " Gatlin said.
Technology has been playing a larger role in the practice of law in recent years and especially during the pandemic, when more and more meetings and hearings were handled virtually.
Gatlin said his firm is adept with technology, but he does have some misgivings.
"I find that Zoom council meetings are less effective than live meetings," said Gatlin, whose firm represents seven cities in the region and also does some work for Covington and the Newport schools.
Dennis Repenning, who has been practicing in Northern Kentucky for more than 40 years, most recently in Erlanger, said he's been a "sole practitioner" for much of that time and may be part of a vanishing breed.
 "We have more multimember firms than before, and firms seem to be getting larger as well. We still see some sole practitioners, but the one-person general-purpose lawyer is rapidly becoming an anachronism," Repenning said. "It's less expensive to practice as a group than as an individual because there are lots of efficiencies from a group practice. Malpractice insurance, advertising and legal research are just a few areas where savings can be had in a multilawyer setting." 
In addition to the plethora of employment concerns, a wide range of domestic and landlord/tenant issues have emerged during the pandemic, said Robert C. Ziegler, president of Ziegler and Schneider in Crescent Springs and president of the Northern Kentucky Bar Association.
The bar association's lawyer referral service received plenty of calls "… mostly from the tenant side about knowing their rights as far as the eviction moratorium in Kentucky," said Ziegler, whose firm has 17 lawyers. "Residential tenants wanted to fight an eviction and commercial tenants wanted to renegotiate leases because business was so bad because of COVID." 
Other callers to his office and to the bar association wanted to know if they could be forced to get a vaccine or what kind of rights they had if they felt that they had been wrongfully terminated. Other questions focused on what rights an employee had if they tested positive and couldn't work and, in general, what employers could and couldn't mandate, Ziegler said.
While it's unlike other law firms because of its global reach into 82 countries, Dentons' practice in Kentucky sounds similar to far smaller firms that don't claim to be the largest on the planet.
"Our firm has been extremely busy serving clients during this time," said P. Branden Gross, office managing partner of Dentons in Lexington. "The pandemic created unanticipated legal and business issues for many of them, including managing a workforce through COVID restrictions and regulations as well addressing labor shortages; dealing with supply chain issues and insurance-coverage related matters; and identifying how to best continue to operate amid the constant uncertainty created by the pandemic," Gross said.
"Litigation continues to increase, in part due to more litigation involving employment law and matters related—directly or indirectly—to the pandemic…," said Gross, whose firm has offices in Lexington and Louisville and can serve Northern Kentucky through its Cincinnati office.
Some of the larger legal firms in the region include:
Adams Law 
Covington
Barron Peck Bennie & Schlemmer
Newport, Cincinnati
Busald Funk Zevely 
Florence
Dentons Bingham Greenebaum
Cincinnati, Lexington, Louisville
Dinsmore 
Covington, Cincinnati, Lexington, Louisville
Dressman Benzinger Lavelle (DBL Law)
Covington, Cincinnati, Louisville
Dunham Law 
Fort Mitchell
Fessler, Schneider & Grimme
Fort Thomas
Frost Brown Todd
Florence, Cincinnati, Lexington, Louisville
Garvey, Shearer, Nordstrom
Fort Mitchell
Graydon 
Fort Mitchell, Cincinnati
Hemmer DeFrank Wessels
Fort Mitchell
JSB Attorneys
Fort Mitchell
Keating Muething & Klekamp
Cincinnati
Keith & Associates
Covington
Murphy Landen Jones
Fort Mitchell
Stites & Harbison
Covington, Lexington, Louisville
Strauss Troy
Covington, Cincinnati
Taft
Covington, Cincinnati
Ziegler & Schneider
Crescent Springs
Click here to read more articles from Market Review of Northern Kentucky 2022-2023.