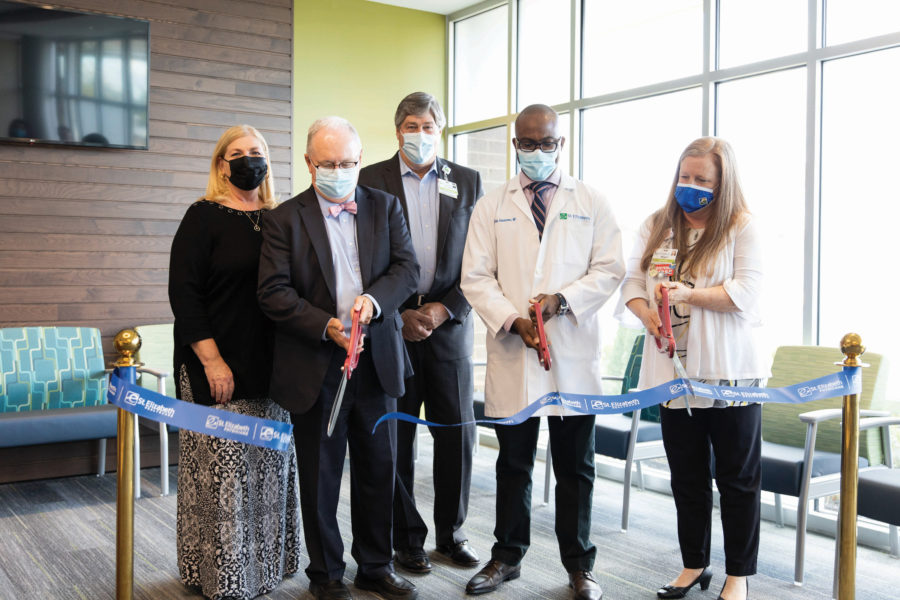 As the health care landscape continues to evolve against the backdrop of COVID-19, the latest treatments for cancer and heart conditions are available in Northern Kentucky, with increased patient access to new and planned facilities.
Edgewood, headquarters of St. Elizabeth Healthcare, has been the epicenter for much of this activity. In October 2020, St. Elizabeth opened its $100 million, 250,000-s.f., six-story cancer center there, with the capability of treating about 500 patients daily.
Now expanding and streamlining operations to provide advanced cardiac care, St. Elizabeth Healthcare and St. Elizabeth Physicians have brought more than 30 multi-specialty Heart & Vascular Institute physicians and 30 advanced-care providers from different offices to a new 67,000-s.f. building in Edgewood, now called the Florence Wormald Heart & Vascular Institute at St. Elizabeth. 
The Heart & Vascular Institute opened in November 2021, renamed in honor of the mother of William J. Yung III, whose $7 million donation toward the facility, its equipment and physician recruitment was the largest donation in St. Elizabeth's history and instrumental to its completion.

Seeing about 200 patients daily, the new institute's services include cardiology, cardiac electrophysiology, cardiac surgery and rehabilitation, an outpatient cath lab, the Advanced Heart Failure Management Center, the Structural Heart & Valve Center, diagnostic services, cardiac clinical trials and an onsite lab. 
Hospital officials said that more than 425 cardiac surgery procedures are expected to take place there this year, and more than 1,500 cardiac surgery clinic visits.
Dr. Damodhar P. Suresh, cardiologist and executive medical director of the institute, said he and his team used to practice out of 11 locations, now consolidated into this single facility. Patients can seek care for chest pain or discomfort, shortness of breath, heart failure, irregular heartbeat, coronary artery disease and other conditions.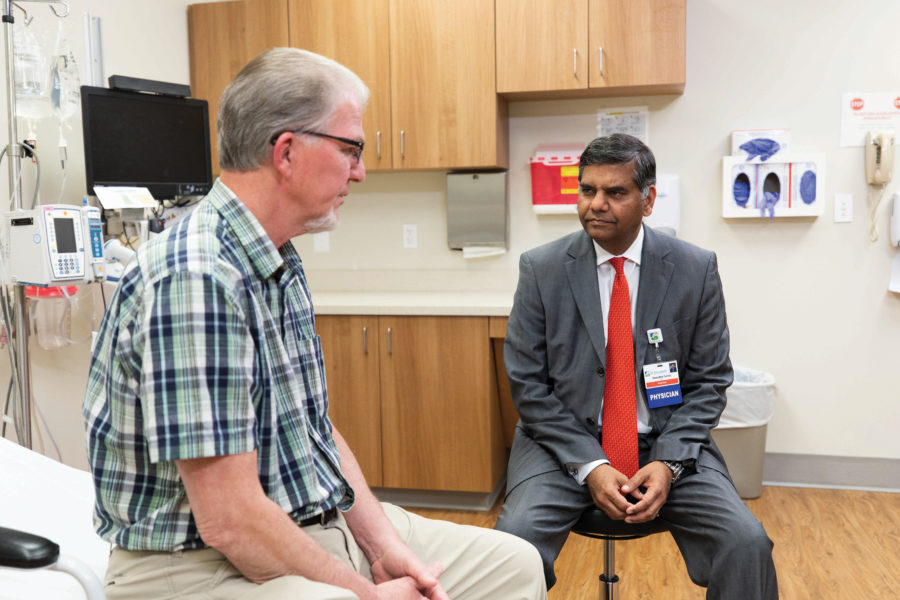 "We have an excellent team of physicians, surgeons, nurses, technologists, ancillary staff, medical assistants, all of them working in a team-based atmosphere within the institute," Suresh said. 
The goal is to have same day and next day appointment availability for patients within six months to a year, he said.
Other than heart transplants, which can be performed via an alliance with the University of Kentucky and University of Cincinnati, anything else within the cardiac realm can be performed at the institute, including follow-up care for those who've had transplants elsewhere, Suresh said.
As a leader in research and new innovations, St. Elizabeth was the first hospital in Greater Cincinnati to implant a leadless pacemaker.
Sarah Giolando, chief strategy officer for St. Elizabeth, said St. Elizabeth Physicians Group employs about 700, and the overall medical staff totals approximately 1,200. In all, there are 173 different practices and 57 locations that offer 41 specialties. 
Together, this integrated physicians group has worked to ensure patients receive preventative care amidst the pandemic, she said, adopting virtual care models and a 24/7 nurse triage line to help patients determine if an emergency room, urgent care facility or their primary care physician is the most appropriate line of treatment.
In 2020, the physicians group received the Acclaim Award from the American Medical Group Association, bestowed to health care organizations deemed as performing closest to the ideal delivery model, improving patient experiences and outcomes.
Leading the physicians group into the future is newly appointed President/CEO Heidi Murley, whose role began Jan. 1.
Specialty services,
expanded access
In early November 2021, St. Elizabeth's Florence campus opened a new endoscopy center serving both inpatient and outpatient needs. And a new ambulatory surgery center for outpatient orthopedics procedures will open later this year in Edgewood. 
Some inpatient scheduled orthopedics procedures such as hip-joint replacements will be moved from the Edgewood campus to Florence, Giolando said, as more operating rooms and specialty space have been added there.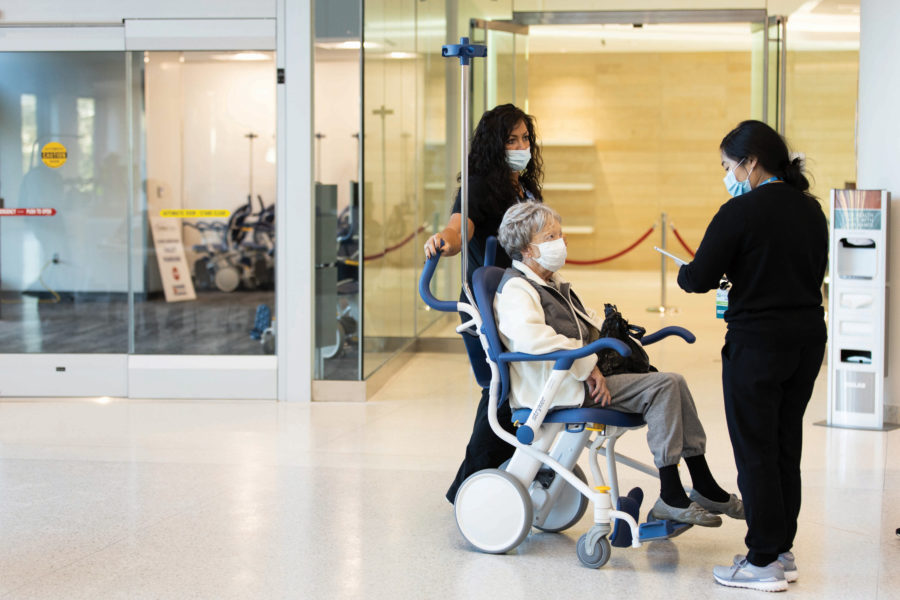 In November 2020, St. Elizabeth Healthcare assumed operations over the hospital in Dearborn County, Ind., and its first year went very well, Giolando said. Many specialists began practicing in that market that hadn't before, in areas like cancer care, gastrointestinal and orthopedics.
The Greendale, Ind., campus where St. Elizabeth Physicians Group had a large outpatient practice with urgent care is expanding. A cancer center is in the design phase, and a preliminary design for a new hospital is in the works that will create a medical campus environment, said Giolando, adding that inpatient operations from Lawrenceburg, Ind., eventually will be moved to this location.
Screening and education are cornerstones of St. Elizabeth's mission, Giolando said. The health care system is in the top 4% nationally for screenings, performing more than 6,000 different lung cancer screenings in 2021 alone. The lung cancer screening program has now surpassed the 20,000 mark, hospital officials said.
There were more than 2,600 new cancer diagnoses by St. Elizabeth practitioners in 2021, increasing by 400 over 2020 rates, Giolando said, and there were more than 100,000 total visits to the St. Elizabeth Cancer Center in its first full year of operation.
To help meet demand, new top-caliber cancer care physicians were recruited from the Cincinnati market and others.
A St. Elizabeth Heart and Vascular Institute van travels to communities in the region, providing testing and health screenings like blood pressure checks, quick assessments of vascular and artery health and EKGs, with follow-ups available as needed, according to Suresh.
As part of its precision medicine program, St. Elizabeth is using pharmacogenomics, which is tailoring specific cancer-fighting drugs based on a patient's genetic profile, and genetic testing that explores a patient's genome for clues on future cancer risks and responding with preventative screening protocols. The program experienced a 300% increase in 2021.
"This is the future of health care," Giolando said. 
Cancer screenings are being analyzed by race and ethnicity to help ensure there are no inequities on who's getting screened, and marketing materials and target audiences are reviewed for equitability, including translating COVID-19 educational materials into Spanish to better reach Spanish-speaking populations, she said.
And social determinants of health are being examined along with community partners. A regional forum was held in fall 2021 with more than 100 partners working to tackle homelessness and housing or food insecurity.
Health care workers continue battle against COVID-19
The pandemic has continued to test the resources and stamina of the health care industry.
As of mid-January 2022, Northern Kentucky has had 733 people die of COVID-19-related complications.
Health care workers, meanwhile, are exhausted and some have contracted the illness; more than 300 staff were out with COVID in mid-January, Giolando said.
Health care professionals were also tasked with testing, not just treatment. In January 2021, positive cases peaked at Northern Kentucky testing sites at 1,600 in one week but in early January 2022 that high was surpassed with 2,800 in a week's time.
"I would just ask the community to be grateful that they have the resources in their community to care for them because we're stretched pretty thin right now. It's pretty rough," she said.
Some people suffer "long haul" symptoms that linger well after their original diagnosis, so St. Elizabeth pulmonologists and others are working on the right way to diagnose and treat patients with this emerging syndrome, Giolando said.
The Northern Kentucky Health Department has also had a busy year, keeping up its ongoing educational initiatives and services along with the pandemic's added challenges and responsibilities.
Steve Divine and George Moore are interim district co-directors, overseeing about 140 employees and a budget of more than $23 million while serving more than 420,000 residents of Boone, Campbell, Grant and Kenton counties.
Divine, who's served as the department's incident commander for emergency operations since the pandemic's start, said the department has had wide-ranging responsibilities.
"We served as a hub for other providers and local organizations to get the message out to the public. We helped develop that messaging as more things came along from the state and federal level. We were tasked with doing some of the enforcement (of mandates) … and then swinging in to actually providing vaccines and working with other agencies for them to be able to do enhanced testing or offer more testing availability," Divine said.
His department provided over 32,000 vaccines in their area and held more than 200 vaccination clinics, services that continue to be offered.
The short staffing that's affected many sectors over the past two years hasn't given his department a reprieve, Divine said, and he appreciates area hospital systems and the staff of his health department and others for doing whatever was needed and adapting services and program delivery methods to meet evolving pandemic safety recommendations.
Nonpandemic-related services include the Women, Infants and Children (WIC) program, education and testing for sexually transmitted infections, diabetes management, syringe exchanges and food service inspections, among other services.
On the bright side, Divine said he believes the community's health care providers have only strengthened their working relationships over the past two years, working together to reach the public and at-risk populations with information and needed services about vaccines.
"I think those have definitely been plusses, as well as seeing staff rise to the occasion. On a personal level that has been very rewarding," he said.
---
SECTION SPONSOR
St. Elizabeth Healthcare
Northern Kentucky
stelizabeth.com
St. Elizabeth Healthcare operates six facilities and more than 172 primary care and specialty practices throughout the Northern Kentucky, Southeastern Indiana and Greater Cincinnati region. Sponsored by the Diocese of Covington and a member of the Mayo Clinic Care Network, St. Elizabeth is a mission-based organization committed to improving the health of the communities it serves, providing more than $130 million in uncompensated care and benefit to the community each year.
---
Click here to read more articles from Market Review of Northern Kentucky 2022-2023.