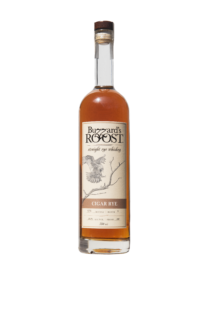 Buzzard's Roost Whiskey is releasing a new, limited edition Cigar Rye finished in American oak barrels that were cold-smoked with aged tobacco leaves grown in Kentucky. Borne from the unique barrel alchemy for which Buzzard's Roost's is known, the result is a rye whiskey that delicately integrates the sweet, smoky aromas of a fine cigar.
Jason Brauner, co-founder and master blender for Buzzard's Roost, chose a four-year-old Indiana rye for finishing in Char 1 barrels which were toasted to coax out flavors that would pair well with the aged cigar tobacco.
"We love creating really special whiskies using creative twists," says Buzzard's Roost Co-founder and CEO Judy Hollis Jones. "This expression showcases the skills of our blending and barrel team, who had a very intentional flavor profile in mind for this rye. It's especially nice paired with a fine cigar."
The mash bill is comprised of 95 percent rye and 5 percent malted barley. This 105- proof (52.5 percent ABV) rye offers floral notes and rye bread on the nose, followed by a delicate whiff of smoke, and cinnamon and brown sugar, courtesy of the proprietary toast profile. Leather and aged cigar tobacco provide nice background notes. On the palate, a combination of candy sweetness and confectionary notes fade to a mid-palate of cigar tobacco and citrus, which carries through to a sweet, toasty finish. It is perfect for sipping neat, with or without a cigar. Only three barrels were produced.
Click here for more Bourbon Flight news.
Click here to sign up for The Bourbon Flight Newsletter.