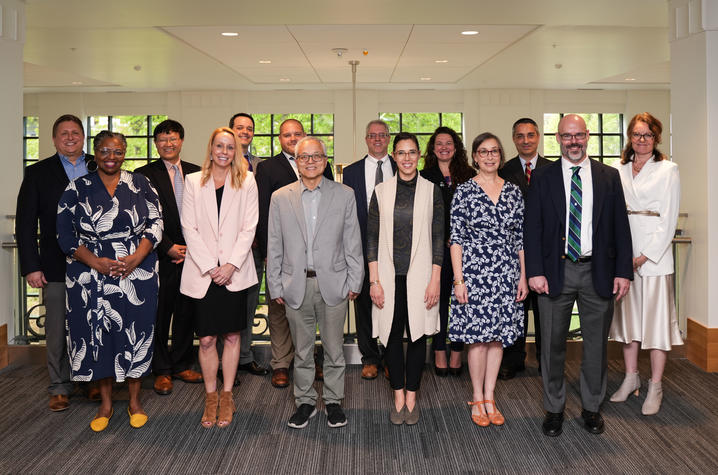 LEXINGTON, Ky. — The University of Kentucky Board of Trustees approved 16 University Research Professors for the 2023-24 academic year. Established by the Board of Trustees in 1976, the professorships program recognizes excellence across the full spectrum of research at UK.
"The Commonwealth and university continue to benefit from the work and expertise of these dedicated scholars and scientists," said Lisa Cassis, UK's vice president for research. "It is an honor to recognize this outstanding group of faculty and to support their future endeavors to improve the lives of Kentuckians as we continue to expand the depth and breadth of UK's research enterprise."
College leadership developed criteria for excellence within their area of expertise and then nominated faculty who excelled at these criteria. Each University Research Professor receives a one-year award of $10,000 and participates in the University Research Professors Lecture Series.
The 2023-24 University Research Professors are:
Feng Li: Veterinary Science; College of Agriculture, Food and Environment
Ann C. Morris: Biology; College of Arts and Sciences
Crystal Wilkinson: English; College of Arts and Sciences
Allison Gordon: Integrated Communication; College of Communication and Information
Luciana Macchion Shaddox: Periodontology; College of Dentistry
Michael McKay: School of Architecture; College of Design
Melinda J. Ickes: Kinesiology and Health Promotion; College of Education
YuMing Zhang: Electrical and Computer Engineering; College of Engineering
Dieter Hennings Yeomans: School of Music; College of Fine Arts
Brian Murtha: Marketing and Supply Chain; Gatton College of Business and Economics
Ron Zimmer: Martin School of Public Policy and Administration; Graduate School
Matthew Hoch: Athletic Training and Clinical Nutrition; College of Health Sciences
Christopher M. Norris: Pharmacology and Nutritional Sciences; College of Medicine
William Walton Stoops: Behavioral Science; College of Medicine
Björn Bauer: Pharmaceutical Sciences; College of Pharmacy
Erin N. Haynes: Epidemiology and Environmental Health; College of Public Health
This summer, the university will feature a 2023-24 University Research Professor each week on UKNow to share more about each professor's area of research and how they are addressing scientific, social, health and economic challenges in Kentucky and beyond.