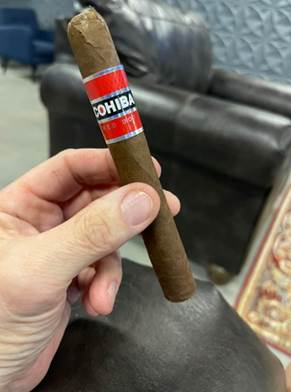 GEORGETOWN, Ky. — A new business has opened in Georgetown, bringing cigars, bourbon and a growing community of friends. The Leaf & Barrel Cigar and Bourbon Lounge offers a variety of premium hand-rolled cigars, bourbon selections currently numbering 30 and growing, and an atmosphere that welcomes everyone.
"Community is a huge part of any cigar lounge," said Larry Ledbetter, who owns the business with his wife, Jan Ledbetter. "We offer a place where people come together, share conversations and become friends, all while enjoying a shared passion."
"Georgetown has a reputation for its welcoming business environment, one that nurtures growth and new experiences and, just as in the spirit of the Leaf & Barrel Cigar and Bourbon Lounge, is known for encouraging community," said Lori Cooper Saunders, executive director at Georgetown/Scott County Tourism Commission.
The vision for the Leaf & Barrel Cigar and Bourbon Lounge took root eight years ago. Ledbetter had dreamed of a place where cigar smokers could get together and enjoy their passion and nearly purchased such a place in Hilton Head, SC. He began creating a cigar lounge from scratch when that deal fell through.
The plan was paused during the COVID pandemic, and Ledbetter began building furniture. He eventually met Charles Graves, the owner of Graves Lumber Yard, where he purchased supplies for his business.
"The Ledbetters and Charles and his wife, Joan, teamed up to form the partnership to make Leaf & Barrel Cigar and Bourbon Lounge a reality," Ledbetter said.
The cigar lounge opened first in mid-February. The space is relaxed, open and airy, with groupings of comfortable leather sofas and oversized chairs scattered about a concrete floor and cozied with rugs. Flatscreen TVs hang from the walls and the bourbon bar, which opened at the end of March, anchors the space.
The brands in Leaf & Barrel's humidor are constantly growing. In addition to well-known brands like Fuente and Oliva, the cigar bar carries many boutique brands, which produce less than a million cigars annually.
Membership is not a requirement to smoke in the Leaf & Barrel's lounge, although membership is offered for one of the 48 humidified lockers for storing cigars. Members also receive discounts, including 10 percent off cigars daily and 15 percent off boxes, plus a $200 humidor credit. This allows patrons to get the cigars to fill their lockers.
The lounge offers live music on weekends and events like Flight Nights and "Cut and Light" nights with product experts. "There are no strangers in a cigar lounge," said Ledbetter. You will find a warm welcome every time." Find events on Leaf & Barrel's Facebook page. For more information, call 502-642-8044.