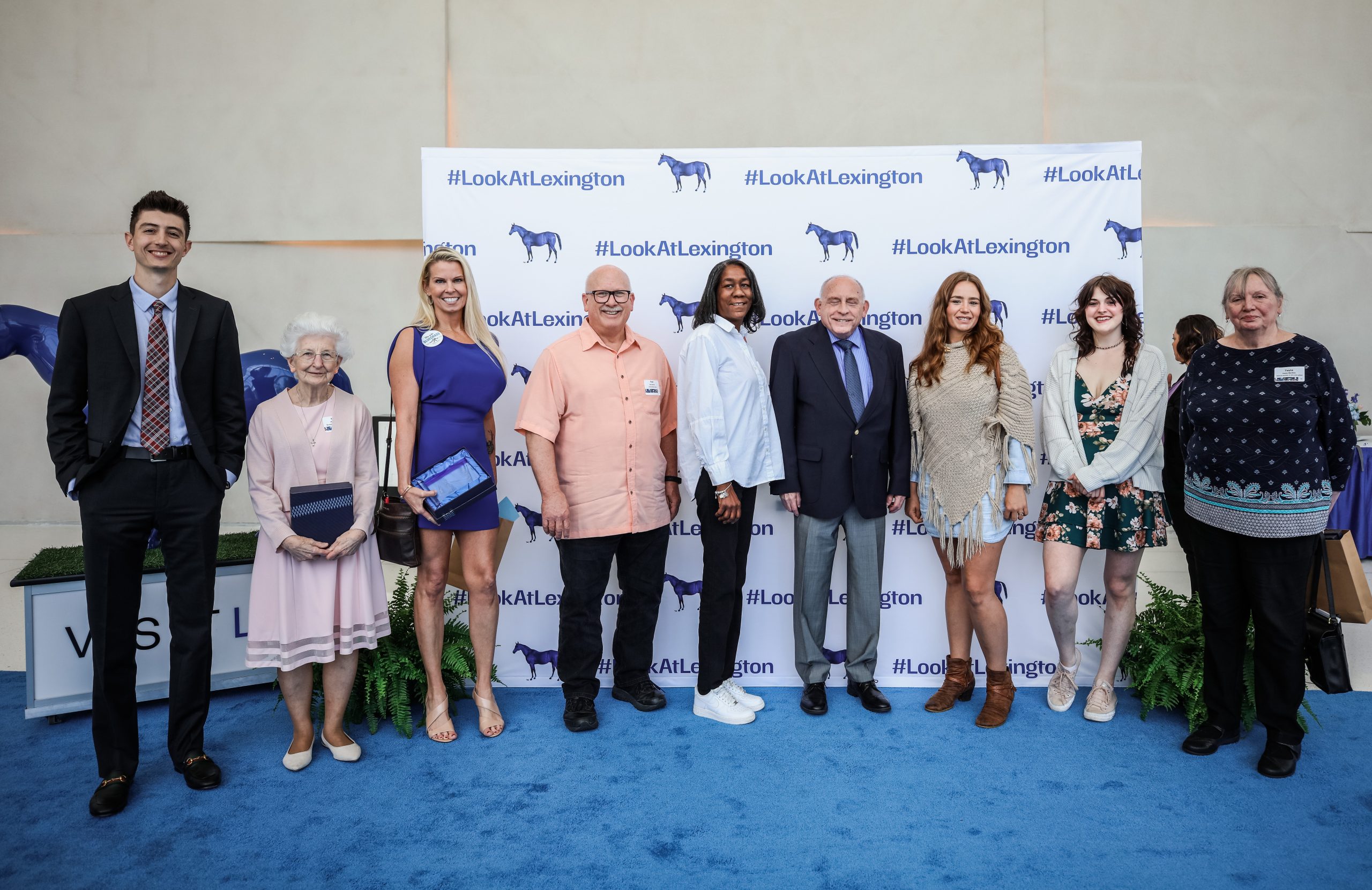 LEXINGTON, Ky. – VisitLEX recognized 30 people as Hometown Hosts at a recent luncheon at the Central Bank Center. Developed by VisitLEX in 2004, the Hometown Host Program provides support and resources to anyone in Kentucky who can influence and be instrumental in bringing meetings, conventions and events to Lexington. VisitLEX's goal is to make the planning process easier for the Hometown Host by providing meeting and hotel options, specialty venue ideas, and creative local group activities.
These Hometown Hosts were responsible for bringing more than 16,000 visitors and $10 million of direct and indirect impact to the Bluegrass region. They brought a variety of events and meetings to Lexington – from sporting events to national conferences to professional conferences.
"These Hometown Hosts helped attracted many meetings that otherwise might not have located in Lexington," VisitLEX President Mary Quinn Ramer said. "They serve a significant role — not only in tourism and conventions but also in exposing so many visitors to the tremendous attractions that Lexington has to offer."
Here are the 2023 Hometown Host honorees, their organization and the conference/meeting they helped bring to Lexington:
Dr. John Villano
Dr. Eric Durbin
Erin McElwain
University of Kentucky Healthcare – Markey Cancer Center
Brain Tumor Epidemiology Consortium 2023
Dr. Joseph Kim
Erin McElwain
University of Kentucky HealthCare – Markey Cancer Center
UK HealthCare GI Oncology Meeting 2023
Lisa Ashner Adkins
Blue Grass Community Foundation
Brandi Peacher
Lexington-Fayette Urban County Government
Reimagining the Civic Commons – Civic Commons Studio #8
Bryan McGowan
Irreverent Warriors Silkie Hike Lexington Kentucky
Dr. Ken Cottrell
Rev. Dr. Jan Cottrell
2023 Prisoner Visitation and Support Convention
Joe Angolia
2022 Kentucky High School Athletic Association State Cross Country Championships
Lauren Ashley German
Exceptional Living Centers Summer Meeting
Leigh Oakley
Transylvania University Athletics
National Collegiate Athletic Association Division 3 – 2023 Men's Golf Championships
Molly Marsh
AMR 25th Anniversary Event
Phillip Doty
The National Conference
Rebecca Havlicek
Link-Belt Cranes Cranefest 2024
Rev. Gary Graves
The United Methodist Church Interagency Legislative Review 2023
J'Lissabeth Faughn
University of Kentucky – Office of LGBTQ* Resources
2023 Midwest Bisexual Lesbian Gay Transgender Asexual College Conference
Bill Farmer
Farmer's Jewelry
Retail Jewelers Organization 2026 Summer Buying Show
Dr. Savio Poovathingal
University of Kentucky College of Engineering
12th Ablation Workshop
Susie Psimer
Jerry Psimer
Psimer & Associates, Inc.
Academy of Dental CPAs 2023 Bi-Annual Meeting
Lisa Zent
Maritz Global Events
2023 American Association of Equine Practitioners – Foundation Meeting
2023 American Association of Equine Practitioners – Racing Committee Meeting
2023 American Association of Equine Practitioners – Focus on Podiatry
The Church Network – 2024 Annual Meeting
Michael Preacely
University of Kentucky College of Fine Arts
Uniting Voices Chicago – Lexington Events
Amanda Bockelman
Child Neurology Foundation 2023 Board Meeting
Twyla Martins
National Society of Arts and Letters 2023 National Meeting and Drama Competition
Secretary Jim Gray
Kentucky Transportation Cabinet
2025 Southeastern Association of State Highway and Transportation Officials Annual Meeting
Commissioner Mike Mangeot
Department of Tourism – KY Tourism, Arts & Heritage Cabinet
U.S. Travel's National Council of State Tourism Directors Leadership Forum
Dr. Jim Ballard
University of Kentucky – Center for Interprofessional and Community Health Education
National Area Health Education Centers Bi-Annual National Conference
Kim Taylor
University of Kentucky – Office of the University Registrar
2024 Southern Association of Collegiate Registrars & Admissions Officers Annual Conference
VisitLEX is a destination sales, marketing, and service organization charged with promoting Lexington's Bluegrass Region for the purpose of attracting visitors and growing the economy.