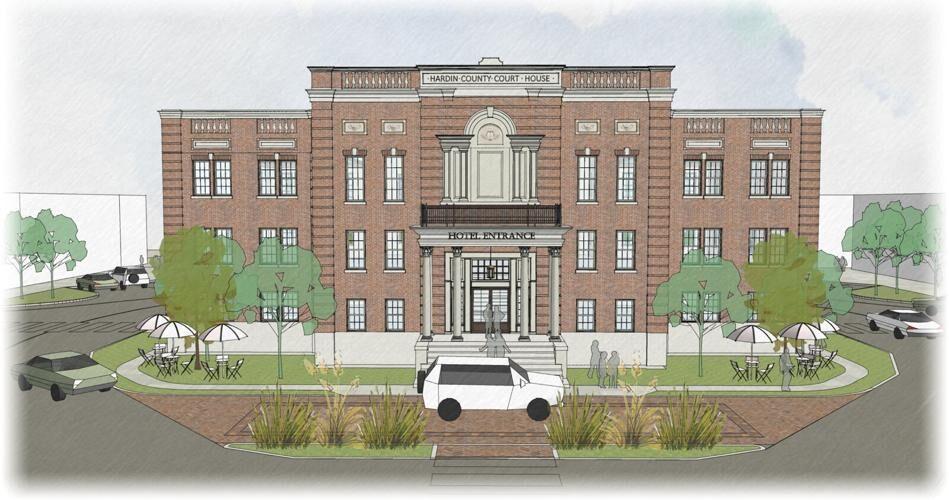 ELIZABETHTOWN, Ky. — Gov. Andy Beshear announced that the Elizabethtown Courthouse Hotel expects to create 18 full-time jobs with a new $8.18 million tourism development project to bring boutique lodging and tourism dollars to Hardin County.
100 Public Square, a limited liability company owned by Weyland Ventures Investments, is developing the Elizabethtown Courthouse Hotel, a 24-room boutique lodging facility in Hardin County. The project aims to rehabilitate the historic Hardin County Courthouse, originally constructed in 1933, and to convert the structure into a full-service lodging facility while preserving the integrity of the historic building.
The project includes a restaurant, bar, lounge and event space. The hotel is expected to accommodate visitors making stops along I-65 for the Kentucky Bourbon Trail and provide lodging accommodations unique to the Elizabethtown area.
"Downtown Elizabethtown has such vibrancy and a wonderful mix of new and historic," said Mariah Weyland Gratz, Weyland Ventures CEO. "We aim to add to the energy and excitement by revitalizing an important historic building. Our boutique hotel will add jobs and tourism to the downtown core. Kentucky Tourism Development incentives and Historic Preservation Tax Credits are critical to making the Elizabethtown Courthouse Hotel a reality."
Upon the recommendation of the Tourism, Arts and Heritage Cabinet, 100 Public Square received approval from the Kentucky Tourism Development Finance Authority for incentives totaling over $1.5 million for the new lodging project. Through the Tourism Development Act, eligible Kentucky businesses can receive an annual reimbursement for taxes paid on qualifying tourism development projects.
"The Elizabethtown Courthouse Hotel is exactly the kind of project we envision for tourism development investment," said Tourism, Arts & Heritage Cabinet Secretary Lindy Casebier. "Preservation of the Hardin County Courthouse will offer guests boutique amenities and attract travelers from all over, especially Kentucky Bourbon Trail tourists. We look forward to seeing the hotel open its doors to many travelers."
Tourism is an $11.2 billion industry in Kentucky, generating 83,100 jobs across the Commonwealth. In Hardin County, tourism supports 2,335 jobs and generated over $302 million in economic impact in 2021. This year, the commonwealth has approved three tourism development projects for a total economic investment of over $105.2 million.