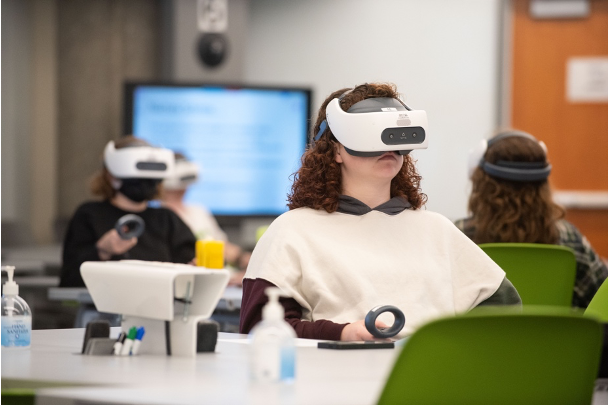 LOUISVILLE, Ky. — Instructors at the University of Louisville are using virtual reality (VR) tools to promote active learning with their students. Through UofL's Delphi Center for Teaching and Learning, instructors have piloted VR activities for an array of course subjects. Students have used VR in the class to manipulate formula elements, experience the other side of the world and more.
"I thought that if I could show the students exactly what I was trying to describe using 3D models, the students would have a better understanding from the start," said Danielle Franco, associate professor in the Department of Chemistry. Franco was one of the first instructors to trial the technology with her class in fall 2022.
The Delphi Center has capabilities to support extended reality (XR), which is the umbrella term for virtual reality (VR), augmented reality (AR) and mixed reality (MR). They currently support VR for interested instructors and hope to evolve into supporting AR and MR, too. With the Delphi Center's XR headsets, instructors can create immersive environments that enable learners to explore and interact with content in an engaging way, such as virtually manipulating life-size molecules. In a post-session survey, the majority of students said XR helped them learn about chemistry and they felt more engaged in the XR session than they do in chemistry class when they do not use XR.
XR technology is more than a buzzword. When implemented in sound pedagogical strategies, it is an exceptional tool for instruction used to engage and retain students, as well as assist in meeting learning outcomes. This technology can support learners to develop problem solving and critical thinking skills while facilitating a more engaging and enjoyable learning experience. XR also provides learners the opportunity to prepare for real-world experiences in a safe and controlled environment, allowing them to gain experience and confidence while simultaneously limiting distractions, such as cell phones, during the session.
Jordan Gabbard and Lucian Rothe, professors of German in the Department of Classical and Modern Languages, used XR technology to create an experiential learning session for their students to interact as if they were walking the streets of a German city. This activity also provided equitable access to all students, removing barriers for students that may not be able to study abroad for financial reasons, family responsibilities or other factors.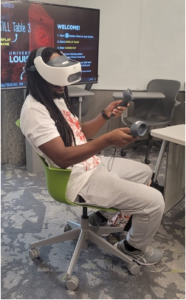 "VR/XR gives us the opportunity to create interactive and fully immersive environments for our students, and to allow our students to experience and be immersed in the sights and sounds of authentic, German-speaking locations," Gabbard and Rothe said. "These types of activities can't be fully recreated in the traditional classroom, so access to XR technology really does give us new and unique learning tools to use with our students."
The German students' post-session survey results echoed the sentiments shared in Franco's Chemistry class, agreeing that they felt it was a tool that assisted their learning and that they would like to use the XR equipment again in the future.
This year, these instructors plan to continue utilizing XR activities in the Teaching Innovation Learning Lab (TILL). The Delphi Center is currently working with additional faculty who are looking to include innovative XR content in their different fields of study and welcome more instructors to use this tool.
All UofL instructors who are interested in XR technologies, no matter their level of XR experience, are welcome to connect with the Delphi Center in pursuing XR teaching opportunities. The Delphi Center team offers one-on-one assistance with each instructor to provide resources and collaborate on effective XR activities that align with the instructor's content. The Delphi Center continues to explore more opportunities with instructors such as XR content creation, workshops and possibly a Faculty Learning Community.
The XR headsets are available for instructors to use in the TILL on the third floor of Ekstrom Library. Learn more about teaching with XR in the TILL and other opportunities within XR through the Delphi Center here.
For more information on XR and how it is impacting the way students learn, look for the summer 2023 issue of UofL Magazine out later this year.
—By Brooke Whitaker, Delphi Center