BOONE COUNTY, Ky. — 80 Acres Farms held its grand opening of the company's new vertical farming facility in Boone County, creating 125 well-paying jobs with an investment of up to $95 million.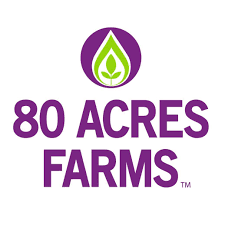 Announced in January 2022, the facility is in a 200,000-square-foot building on over 22 acres, making it the company's largest and most advanced farm. The new facility is three times larger than 80 Acres Farms' previous largest farm and can produce four times more food. The facility has been converted into a vertical farming operation to serve the local market. It includes high-tech indoor vertical farming, harvesting, packaging, and distribution capabilities. Initially, the operation will grow greens, basil and microgreens with the capability to produce other crops, such as berries and tomatoes. The controlled-environment farm will produce tens of millions of servings of local, fresh produce for the surrounding area.
"We're proud to bring 200,000 square feet of next-generation farming to Boone County," said  80 Acres Farms CEO and Co-Founder Mike Zelkind. "Kentucky's leadership in agritech has made this possible. Now, our new neighbors can reap the benefits – from the revitalized building and property to the high-quality farming jobs to the year-round supply of fresh, healthy local produce. We hope this is the beginning of our collaboration with the commonwealth."
Founded in 2015, 80 Acres Farms operates indoor farms using 100% renewable energy and without pesticides. The company's flagship farm, located in Hamilton, Ohio, can grow 10 million servings of produce annually. The company operates four farms and produces various food products, including salad blends, microgreens, tomatoes, basil, and recently launched ready-to-eat salad kits. 80 Acres Farms has been a supplier to Kroger since 2019, starting with a single store in downtown Cincinnati and growing to more than 300 stores across Ohio, Indiana and Kentucky in 2021. In August 2023, Kroger announced a plan to increase 80 Acres' services by supplying nearly 1,000 Kroger stores across the Midwest and Southeast.
To encourage investment and job growth in the community, the Kentucky Economic Development Finance Authority (KEDFA) in January 2022 preliminarily approved an incentive agreement with the company under the Kentucky Business Investment program. The performance-based agreement can tax incentives based on the company's investment and annual job and wage targets.
Additionally, KEDFA approved the company for further incentives through the Kentucky Enterprise Initiative Act (KEIA). KEIA allows approved companies to recoup Kentucky sales and use tax on construction costs, building fixtures, equipment used in research and development and electronic processing.
By meeting its annual targets over the agreement term, the company can be eligible to keep a portion of the new tax revenue it generates. The company may claim eligible incentives against its income tax liability and/or wage assessments.
In addition, the company can receive resources from Kentucky's workforce service providers. Those include no-cost recruitment and job placement services, reduced-cost customized training and job-training incentives.