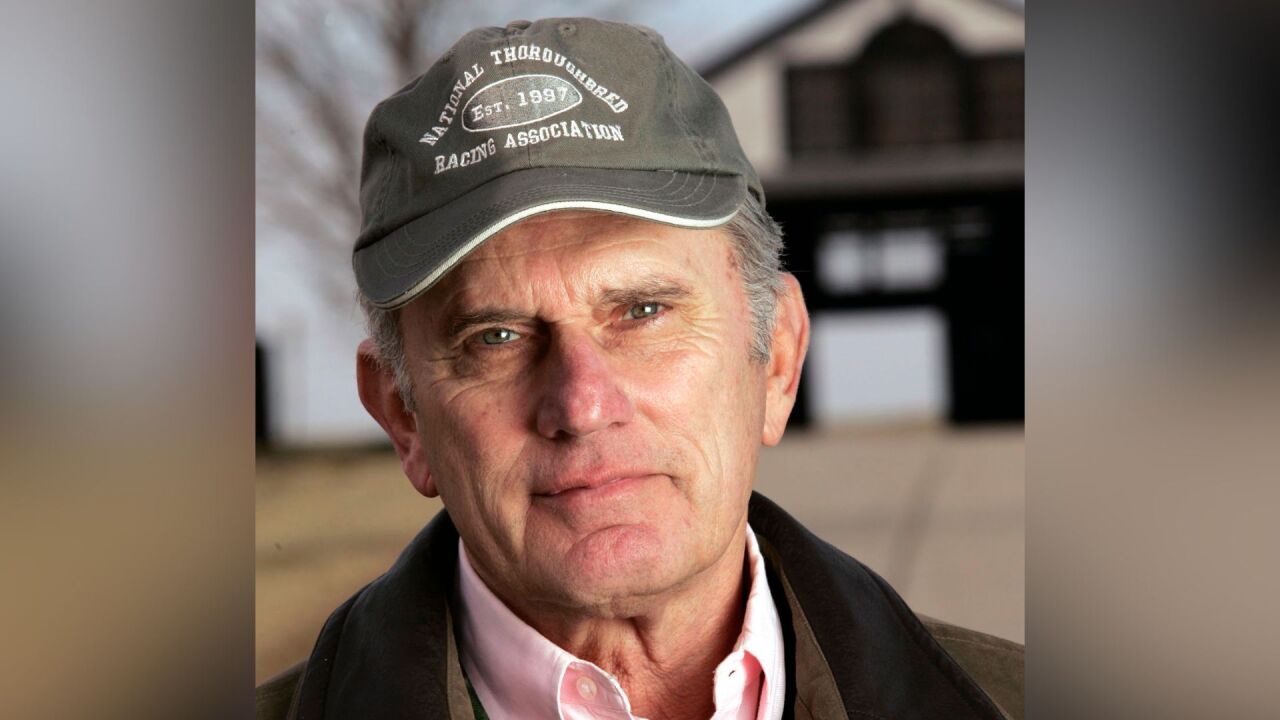 MIDWAY, Ky. — Former Gov. Brereton C. Jones, 84, died Monday at home after a lengthy illness. Jones served as the Commonwealth's 58th governor from 1991-95 and as Lt. Governor from 1987-1991. With his wife, Libby, he founded Airdrie Stud in Midway and built it into an internationally renowned Thoroughbred horse farm.
Libby, Lucy and Bret Jones issued a statement: "It was his love of horses that brought Brereton Jones to Kentucky, but it was the people of the Commonwealth that made his life so incredibly fulfilling. His greatest pride never came in titles, but in those moments when he could use the gifts God gave him to help someone in need or inspire others to do the same. Our family has lost its hero, our leader, our beloved "Pop," but our hearts are filled with immeasurable gratitude for both the precious time we shared and the incredible outpouring of love we've received in the wake of his passing. We are overwhelmed by your kindness. Thank you."
Brereton Chandler Jones, born in 1939, was one of six children born to Bartow and Nedra Jones. Raised in Point Pleasant, West Virginia on the family dairy farm, he loved horses and sports throughout his childhood. His athletic ability ultimately secured a football scholarship to the University of Virginia, where he was elected President of the School of Commerce and served as a member of the school's renowned Honor Committee.
After graduation, he returned to Point Pleasant and began dual careers in politics and business. Following the political leanings of his parents, Brereton was elected to the West Virginia House of Delegates as a Republican at the age of 25, the youngest person ever to serve in that capacity. He would be elected Minority Leader a mere two years later.
After winning two terms, Brereton left West Virginia politics to focus on his fledgling construction business. While that business thrived, his dream was to raise thoroughbred horses—and he knew Kentucky was the center of the thoroughbred universe.
During a visit to Keeneland, he met Elizabeth (Libby) Lloyd. They were married and, by 1972, had moved to Kentucky. As he often said during his campaigns, "I came to Kentucky by choice, not by chance."
Citizen. Once here, the young couple leased land from Libby's family and began converting a cattle and grain farm into a thoroughbred operation. Brereton shared Libby's love of Kentucky and immersed himself in civic activities focusing on improving public education and increasing access to healthcare, two priorities he would champion for the rest of his life.
Brereton was a staunch supporter of the Prichard Committee for Academic Excellence and served on the University of Kentucky Board of Trustees. He also served on the UK Chandler Medical Center Board and as Fundraising Chair for the UK Markey Cancer Foundation. Brereton and Libby's Twist and Bid fundraiser was a memorable night that raised more than $3 million to help build the Markey Cancer Center. During their 52-year marriage, they demonstrated the truth in one of Brereton's favorite sayings: working together, there is no limit to what we can accomplish. Another of his favorite causes, which ultimately drew him back into politics, was his work with the Kentucky Health Care Access Foundation, a nationally acclaimed program that enlisted many doctors, dentists, pharmacists, and other practitioners to provide free health care for thousands of Kentuckians living below the poverty level but still not qualifying for many government health programs.
Governor. As Kentucky became Brereton's home, he registered as a Democrat. Motivated to help others and propel his causes of education and healthcare, Brereton turned again to politics. He is best known by most Kentuckians for his service as our Governor and Lt. Governor. Brereton pledged to fight for progressive reforms and programs during his campaigns, which he won by record margins. Traveling to all of Kentucky's 120 counties, he met with thousands of Kentuckians, drank thousands of cups of coffee, and listened. He developed friendships that he treasured with people from all walks of life, bearing testimony to his charisma and genuine caring, which remain to this day one of the enduring legacies of his life.  
When elected, only Kentucky and Virginia denied a sitting Governor the chance to run for reelection. In 1992, Brereton urged the General Assembly to put the matter before the voters and excluded himself to reduce opposition from politicians who wanted to run in the next race. He put the people of Kentucky ahead of his own political interests, and the voters passed the constitutional amendment to allow gubernatorial succession.
After raising more than $8 million in the 1991 gubernatorial race, Brereton understood it was vital to dramatically reduce the influence of money in campaigns. The legislature supported his proposed reforms, reducing the maximum contribution from $4,000 per person to $500, and created partial public financing if candidates for Governor would limit their spending in the primary and general elections. Many hailed these as the boldest reforms of state election finance rules in the nation.
Before he took office as Governor, countless Kentuckians lost faith in state government because of allegations of corruption and self-dealing. Brereton signed the most sweeping ethics reform regulations in Kentucky history during the first minute after taking the oath of office. He subsequently called for legislation that would expand these changes, and the General Assembly passed laws to make the executive and legislative branches of government more transparent and accountable to the people.
Brereton campaigned on expanding access to quality health care to every Kentuckian, and, surviving a helicopter crash during his first year as Governor, only strengthened his resolve. Kentucky became one of the first states to end denying coverage because of preexisting conditions. Brereton had a bold vision of healthcare reform that would not be fully embraced for decades. The quest for affordable, quality healthcare in Kentucky foreshadowed the same fight at the national level that remained unresolved until Congress passed the Affordable Care Act in 2010.
He demonstrated leadership not only through major programs and initiatives but also in his compassion for individual citizens. Brereton was drawn to politics by a desire to help others, especially those most in need.   As Governor, he made himself available to one and all by holding marathon "Open Door after 4:00" sessions where he opened the door to the Governor's Office so anyone could meet with him to make a suggestion or a request. He would not leave until everyone had been seen, often well into the wee hours of the next morning.
Under Brereton's leadership, our state was at the forefront of progressive actions and reforms that benefited people in every part of the Commonwealth. We invested more in public education, economic development, parks, and the environment and honored our past by building the Thomas D. Clark Center for Kentucky History. All this occurred even though he inherited a $400 million budget deficit on day one of his administration. Through fiscal restraint and cost-cutting, Kentucky enjoyed a $300 million budget surplus when Brereton Jones left office, which was the largest in Kentucky history. The people recognized his bold leadership, and he held a 61% approval rating when he completed his service as Governor.
Farmer. Thousands of Kentuckians also knew Brereton as a thoroughbred horse breeder. Brereton built Airdrie Stud from that initial leased land by purchasing nearby tracts as the farm became more profitable. Ultimately, Airdrie became an internationally renowned farm covering 2,000 acres of prime Woodford County land. Horses bred at Airdrie raced in the Kentucky Derby and won three Kentucky Oaks as well as 24 Grade 1 stakes. He often said, "The farm is my past, present, and future."
Brereton was not only committed to Airdrie; he was also committed to the thoroughbred industry. He was a founding member of the Breeders Cup. He was also a driving force behind the Kentucky Equine Education Project (KEEP) Foundation. In the latter years of his life, he took great joy in working alongside his son, Bret, at Airdrie, and the Jones family remains committed to building on Airdrie's reputation as an industry leader.
Family. Brereton had one rule regarding campaigning: never on Sunday. That's because Sunday was Family Day, a time to rest, worship, and be with family. Through his years in public life, he cherished the time to be with Libby, Bret, and his beloved daughter, Lucy; politics just had to wait. In his later years, Family Day evolved into a constant presence at his grandsons' sporting events, where he took tremendous pleasure in cheering for B, Jack, and Thomas, ending each game with a big hug from "Pop." His ear-to-ear smile when meeting his newborn granddaughter, Wende, will always be remembered.
Brereton was a compassionate man who approached life with humility, a positive attitude, a sense of humor, and an unparalleled work ethic. He leaves a lasting legacy in his family, politics, business, and in the countless friendships he built through his lifetime of service. 
Honoring his memory. On Monday, September 25, Brereton will lie in state in the rotunda of the Kentucky State Capitol from 10 a.m. to 7 p.m. The family will receive visitors there from 3 to 7 p.m. His funeral will be held at 10 a.m. on Tuesday, September 26, at Forks of the Elkhorn Baptist Church, 840 Duckers Road, Midway, Ky., followed immediately by a private burial. The family encourages donations to Race Track Chaplaincy of America, Old Friends, or Bluegrass Care Navigators in lieu of flowers.
Members of his family. Brereton is survived by his wife, Elizabeth Lloyd Jones; his children, Lucy Simms Jones and Brereton Chandler Jones, Jr.; daughter-in-law, Tyler Bell Jones; grandchildren, James Brereton Jones, John Lloyd Jones, Thomas Chandler Jones, and Wende Elizabeth Jones; and his siblings, Sandra Jones Dunn, Bartow Ned Jones (Fern), Karin Jones Chriss (Timothy), and Katherine Jones Morrison (Alfred).