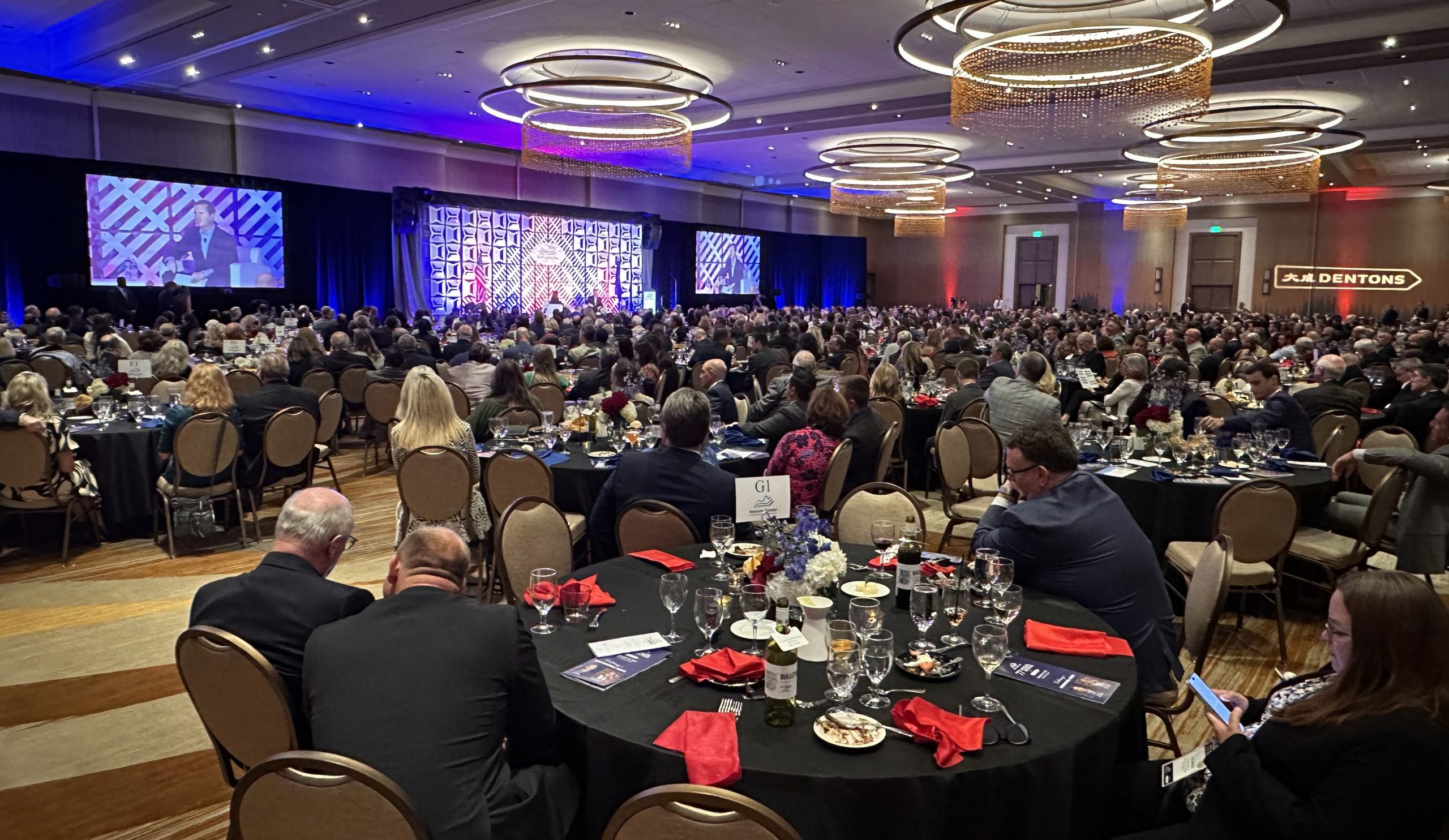 LOUISVILLE, Ky. — Ahead of Election Day in November when Kentuckians will decide the next governor, the Kentucky Chamber hosted a gubernatorial forum between Governor Andy Beshear and Attorney General Daniel Cameron at the organization's 2023 Annual Meeting Dinner on Wednesday in Louisville.

During the forum with over 900 attendees, Kentucky Chamber Senior Vice President of Communications and Managing Editor of The Bottom Line Jacqueline Pitts asked each candidate about their positions on the most crucial issues facing the Commonwealth, based on the ten key areas in "Kentucky's Winning Strategy," the Chamber's new plan for talent attraction, business growth, and workforce development.
"As we look forward to bringing Kentucky's future to fruition, it's never been more important that we not only highlight our problems but work together to solve them," said Kentucky Chamber President and CEO Ashli Watts kicking off the event.
Kentucky Chamber 2023 Chair Kevin Smith spoke on the strength of the business community and the role of the Chamber in advancing Kentucky. "I want to stress the importance of the business community maintaining our strong voice and building on the progress we have achieved," Smith said.
Opening the discussion, Republican gubernatorial candidate and Kentucky's Attorney General Daniel Cameron said that when he travels the state, the fundamental issues he hears about from Kentuckians are workforce, crime, and education.
When discussing tax reform, Cameron said a competitive tax environment and a low-income tax is what keeps people in the Commonwealth, and is an issue that drives workforce, business, and population growth.
He detailed his plans to advance education across the Commonwealth, which includes raising base pay for teachers as well as creating a program to help students improve in reading, math, and more.
Furthermore, Cameron said that as companies are looking to locate in Kentucky, he said those companies want to know if the Commonwealth has good schools and a safe place to live.
Cameron also touched on his priorities to keep Kentucky's energy sector affordable, advancing infrastructure and improving road safety in the Commonwealth, and addressing health care needs including nursing shortages and expanding access to telehealth across Kentucky.
During the conversation with Democratic gubernatorial candidate and Kentucky's current Governor Andy Beshear, Pitts asked him to detail his plans to address several issues facing the Commonwealth.
Discussing Kentucky's workforce shortage, Beshear shared his priorities for placing graduating high school seniors in jobs, funding universal pre-K to reduce barriers for Kentuckians, and making sure more individuals are healthy enough for work.
When asked about public safety, Beshear said that though Kentucky is a safe place to live and his priorities include supporting and growing Kentucky's police as well as continuing to reduce Kentucky's overdose rates.
Beshear also spoke on his plans to advance different areas of Kentucky's economy through promoting an all of the above energy strategy, continuing mega infrastructure projects, and expanding housing.
Kentucky's 2023 General Election will happen on November 7, 2023. Leading up to Election Day, the Kentucky Chamber will release a Voter's Guide that provides stances on the ten steps laid out in the "Kentucky's Winning Strategy" plan. Stay tuned for more on The Bottom Line.
—By Sawyer Coffey Noel