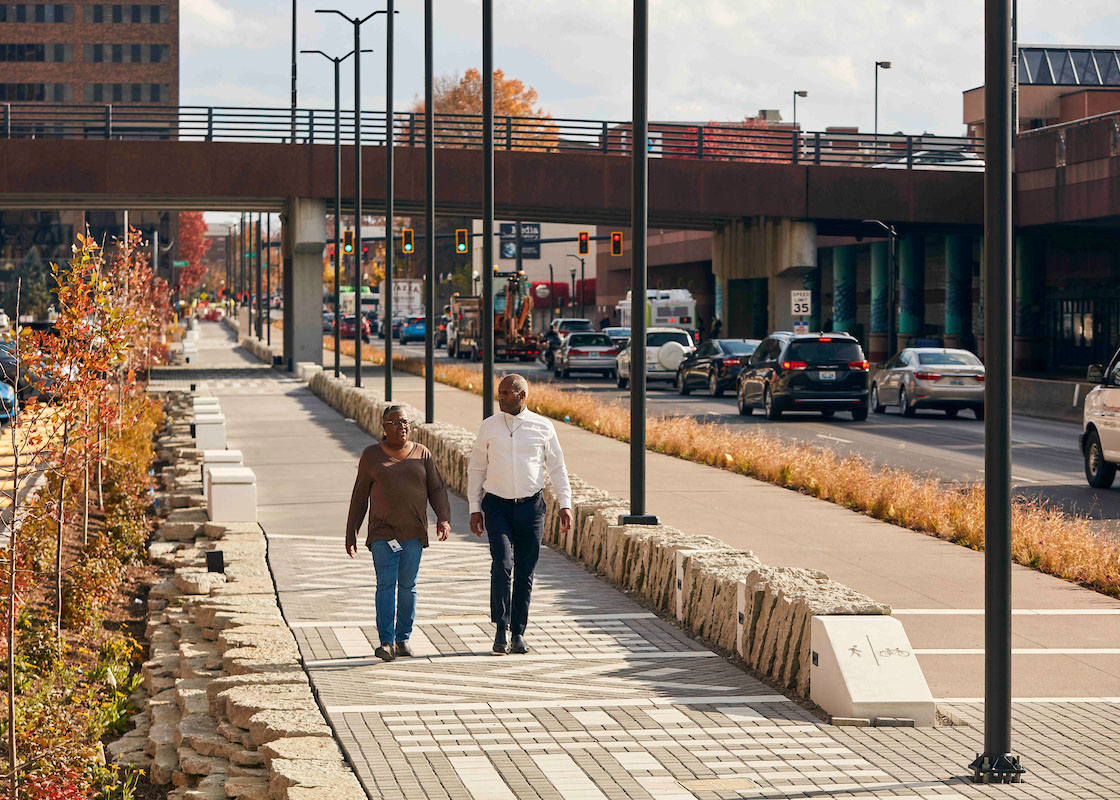 LEXINGTON, Ky. — Town Branch Commons Trail has won a national 2023 Honor Award from the American society of Landscape Architects. The award recognizes SCAPE, a landscape architecture firm based in New York, and Gresham Smith, local architects.
"I am thrilled and deeply proud to see Town Branch Commons receiving national recognition in design and environmental excellence. This acknowledgment underscores the tremendous significance of our project in enhancing the urban environment, while promoting sustainable design. It is a testament to our commitment to creating a vibrant and eco-friendly community space that will benefit our city for generations to come," said Brandi Peacher, project manager.
The trail, completed in October 2022, was a 10-year project built through downtown along the path of the city's original water source, Town Branch.
The trail celebrates the Bluegrass by bringing iconic elements through the heart of the city. It features lush stormwater landscaping using native grasses, flowers, and trees, and a modern interpretation of Lexington's dry-stacked limestone fences and paving details inspired by the karst geology found across Kentucky.
The Architects award jury cited the trail's details and craft that "elevate this project from pragmatic to iconic. It serves as an exemplar of a public project that returns streets to pedestrian experiences while integrating ecological design principles to enhance landscape performance and reflect regional characteristics."
The award jury continued, "The beautiful use and organization of materials tell a compelling story of this place. The thoughtful place-making details, coupled with the large-scale community and green infrastructure impact, are commendable."
A ride or walk along the Town Branch Commons Trail passes by or near Lexington businesses, entertainment venues, restaurants, art, and parks, including Isaac Murphy Memorial Art Garden, Charles Young Park, Northeastern Park, Thoroughbred Park, Phoenix Park, Henry A. Tandy Centennial Park, Triangle Park, and, coming soon, Town Branch Park.
The project features native plantings and over 300 trees, tripling the urban tree canopy on this stretch of downtown roads. It adds nearly two acres of planting areas along the corridor. The design addresses storm water runoff with the implementation of urban rain gardens and bioswales, engineered planting areas designed to collect and soak up rainfall, while cleaning pollutants from the water.
The 1.5-mile trail is 14 feet wide. with a multiuse path along Midland Avenue. On Vine Street, separate paths are provided for walkers and cyclists. The trail accommodates all users, while still retaining the same number of vehicular lanes on Vine Street and Midland Avenue.
Town Branch Commons links Lexington's two major trails, Town Branch Trail and the Legacy Trail, producing 22 miles of uninterrupted trail, the hub of a growing, citywide trail system.
The trail has already received national recognition. It was awarded the 2022 Environmental Excellence Award by the Federal Highway Administration.
Explore the trail by taking a virtual walk.