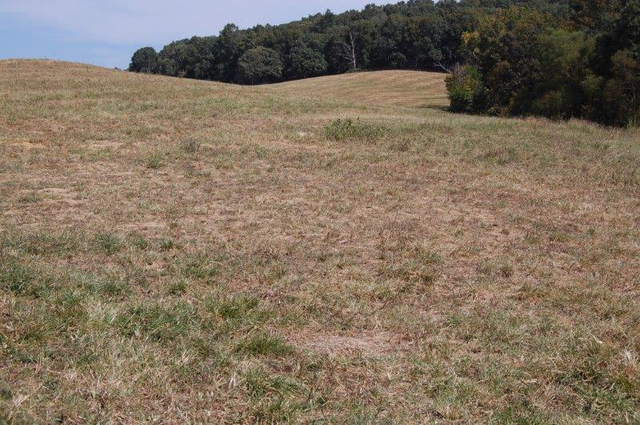 LEXINGTON, Ky. — Across Kentucky, pastures are dry. Kentucky farmers are feeling the impact of a familiar situation. Low water levels on the Mississippi River are adding another challenge.
University of Kentucky Martin-Gatton College of Agriculture, Food and Environment agricultural meteorologist Matt Dixon said places like Breckinridge County are seeing some of the driest conditions. Still, most of the state is feeling it. 
"The local Kentucky Mesonet station in Hardinsburg has only recorded 0.03 inches for the month of September. That total only rises to 0.28 when looking at data back to August 15," he said. "Overall, Kentucky agriculture is starting to feel the impacts of short and long-term dryness. In the short-term, rainfall has been lacking across much of Central and portions of Western Kentucky, which are running 1-3 inches below normal over the past 30 days."
However, Kentucky farmers are used to variability and sometimes extreme weather fluctuations in the state. That doesn'tmake it any easier to deal with when it impacts their crop yields and how they feed livestock.
"We are very dry," said David Embrey, UK Cooperative Extension agent for agriculture and natural resources in Edmonson County. "Some cattle, sheep and goat producers feeding hay and double-crop soybeans need rain badly. It makes late hay easy to get up and the row crops ready to harvest. We had good rain early in the season, so most crops were made before the dry weather affected us. There won't be much late pasture and fall seeding will be tough if we don't get some moisture."
Fulton County Cooperative Extension agent for agriculture and natural resources Ben Rudy is also concerned about low water levels on the Mississippi River. Many Kentucky farmers rely on the river to load grain from harvested crops. Rudy said last year, the river dropped to a historical low and barge traffic slowed to a snail's pace with reduced capacity, river closures and restrictions. He's hoping this year doesn't get to that point.
"It looks like another interesting fall harvest," he said. "Since it has been such a slow/late start to harvest, with most of the grain coming out of the field going to the bin. We haven't seen any closures at CGB or Cargill here in Hickman yet. The Corp of Engineers just finished dredging the harbor and CGB also ran 18-hour shifts at their facility to help with loading. So, hopefully we will be able to continue loading out grain."
Rudy said it will take a significant rainfall event, with some regular rain, to keep the river out of the low-water stage.
The latest update of the U.S. Drought Monitor shows almost half of the state is now considered abnormally dry as shallow soil moisture is slowly depleting, and stream flows run lower by the day.
"Long-term, a combination of below-normal precipitation and periods of intense heat across the Midwest has led to a second straight year of low water levels on the Mississippi River," Dixon said. "Ultimately this impacts barge transport as we continue with the fall harvest. Many gauges are now running at or below low water thresholds."
UK Grain and Forage Center of Excellence director Chad Lee said the dry conditions have shaved bushels per acre from the corn crop nearing maturity.
"It has been helpful to corn that was already mature by speeding up infield dry-down of grain," he said. "The dry weather could crush soybean yields, especially with late or double-crop soybeans."
In Breckenridge County, Cooperative Extension agent Carol Hinton sees pros and cons with current conditions.
"We seem to have zero reserves in the soil," she said. "We are getting heavy dews in the morning that seem to be keeping the crabgrass green. Soybeans are drying down, rather than maturing. Late-planted corn may be in trouble for decreased test weight. However, tobacco is going into the barns within days of cutting as it's drying extremely fast. It's a great harvest season for tobacco but terrible for curing."
Dixon said Kentucky farmers won't get much help over the next few weeks.
"Unfortunately, for Kentucky and much of the Ohio River Basin, below normal rainfall is forecast over the next couple weeks, extending into the start of October," he said. "The River Forecast Center points to a further decline in gauge levels along the Lower Mississippi River over the next couple weeks."
For current weather and drought status, visit the UK Ag Weather Center and the National Integrated Drought Information System through the U.S. Department of Agriculture at http://drought.gov.
—By Aimee Nielson, UKnow