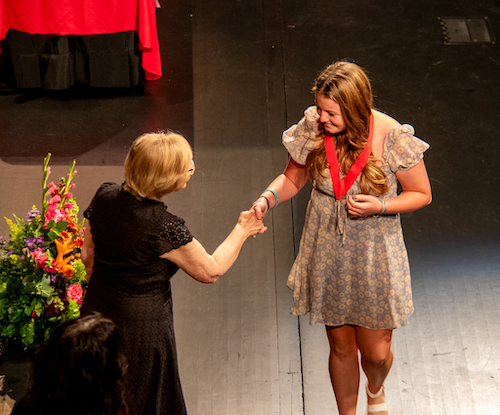 BOWLING GREEN, Ky. — Academically talented students were honored at the inaugural Talent Identification Program of Kentucky (TIP-KYSM) Recognition Ceremony on September 15 at Van Meter Auditorium at Western Kentucky University. While in the fourth through eighth grades, these 240 students scored at high levels on above-level assessments.
Dr. Jennifer Klemm, associate dean of the College of Education and Behavioral Sciences at WKU, and Dr. Martha Sales, dean of students and assistant vice president for student life at WKU, gave opening remarks. Chair of the WKU Board of Regents W. Currie Milliken, provided the keynote address. Awardees walked across the stage and received a medal. Following the ceremony, all students and attending guests were invited to a reception just outside of Van Meter Hall.
"The Center for Gifted Studies has been engaged in a talent search for a long time, and now it is our pleasure to fill the void created by the closure of Duke TIP with TIP-KY," said Dr. Julia Roberts, Mahurin Professor of Gifted Studies and Executive Director of The Center for Gifted Studies and The Carol Martin Gatton Academy of Mathematics and Science. "We congratulate the young people who were honored at the TIP-KY Recognition Ceremony."
The Center for Gifted Studies would like to sincerely thank the many educators, students, families, and individuals who have made the Talent Identification Program of Kentucky a reality. The inaugural ceremony reflects individuals from a pool of more than 1,800 participants from across Kentucky and surrounding states.
What is TIP-KY?
The Talent Identification Program of Kentucky (TIP-KY) offers above-level testing to assess where students are academically in order for educators and families to guide students to relevant resources, appropriate enrichment programming, and other services that will challenge and encourage growth.
What is Above-Level Testing?
Above-level testing involves giving a younger student a test that was developed for older students. Through TIP-KY, eligible students in grades 4 – 6 can take I-Excel, a test designed for 8th graders. Teachers can arrange to test a group of students at their own school by registering for testing. Eligible students in grades 7 – 8 can take the ACT, a test designed for college-bound high school juniors and seniors.
For more information, contact Jennifer Wilson, program coordinator for TIP-KY, at [email protected] or (270) 745-2742