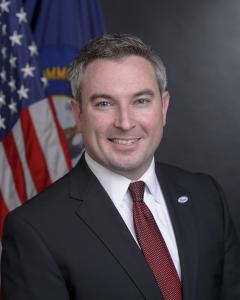 VERSAILLES, Ky. — Following a national search, the Kentucky Community and Technical College System Board of Regents chose Ryan Quarles, Ed.D. and J.D., a native son and former community college student, as its fourth president.
Quarles now serves as Kentucky Commissioner of Agriculture. First elected in 2016 to the statewide office, he leads the commonwealth's second-largest constitutional executive branch agency.
"Dr. Quarles' proven statewide leadership, his relationships across Kentucky and in Washington, D.C., as well as his outstanding educational background in higher education administration, make him the clear choice to move our system forward," said KCTCS Board of Regents Chair Barry Martin.
From 2011 to 2016, Quarles served as a Kentucky House of Representatives member. As a college student, he was appointed by then-Governor Fletcher as the student representative to the Kentucky Council on Postsecondary Education, the state's higher education coordinating agency. In that role, he was immersed in the key issues of campuses and the state-level operations of higher education.
Earlier work experience includes serving as associate general counsel at Georgetown College and in private practice.
A Scott County High School graduate, Quarles holds seven college degrees: a doctorate in higher education administration from Vanderbilt University, a master's degree in higher education from Harvard University, and a juris doctorate from the University of Kentucky College of Law. He earned four other degrees, including two master's degrees, from the University of Kentucky.
"We are so excited to bring Dr. Quarles on board. He'll be both a tireless advocate and strong communicator to advance our vision to be even more impactful for our students, faculty and staff, workforce partners, and communities," said Martin. "We could not be more pleased."
While Quarles has spent the past 13 years in public service, he sees the transition to KCTCS as a continuation of that service.
"I am humbled and excited to further my public service towards the Commonwealth through KCTCS—our state's most impactful higher education entity.  For countless Kentuckians, our community and technical colleges change lives daily as we fulfill career dreams and strengthen our state's workforce needs. As a former community college student, I'm excited to start."
Quarles fills the vacancy created by the February resignation of Paul Czarapata, Ed.D., who held the position for nearly two years.
Quarles was selected from a field of three finalists following their visits to the KCTCS System Office earlier this week. Each finalist met with the 16 college presidents the board of regents, and participated in systemwide virtual forums open to all faculty and staff.
Other finalists were Dr. Dean McCurdy, Ph.D., provost and senior vice president for academic affairs, Ivy Tech Community College of Indiana, and Dr. Beverly Walker-Griffea, Ph.D., president, Mott Community College, Flint, Michigan.
The KCTCS Presidential Search Committee and its search firm, AGB Search, cast a wide net that yielded 43 applicants.
Before the search kick-off on June 20, AGB Search sought input on expectations of the new president from individuals representing the legislative, education, industry and business communities, the board of regents and the foundation board.
In addition to national advertising in top higher education publications and social media, outreach was conducted to more than 40 national organizations and the presidents and leadership of Kentucky campuses and colleges nationwide. AGB Search contacted more than 2,780 potential candidates, nominators and sources as part of the outreach for this search.
"I want to thank our KCTCS Presidential Search Committee for their focused commitment to a thorough, objective and transparent search process from beginning to end," added Martin.