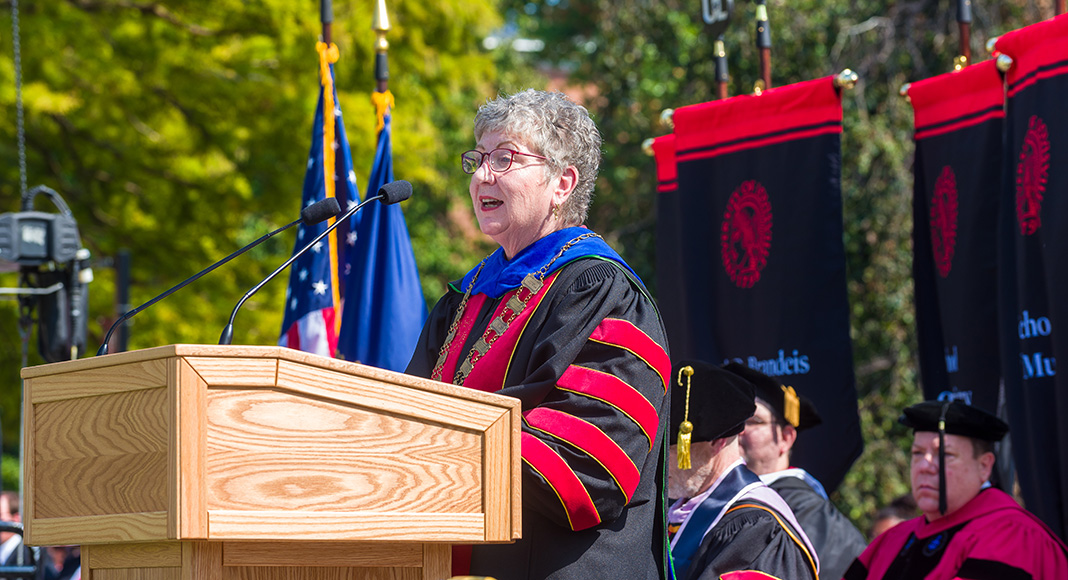 LOUISVILLE, Ky. – The University of Louisville celebrated a new era of leadership Friday as Kim Schatzel was inaugurated as the institution's 19th president.
Filled with music and rich academic tradition, the investiture ceremony on The Oval outside Grawemeyer Hall and livestreamed online was the highlight of a year that also commemorated the 225th anniversary of UofL's founding.
"As the world looks for solutions, let the world look to the University of Louisville as a national research powerhouse that creates knowledge and inspires innovation to answer the grand challenges of our time and by doing great work that changes the world," said Schatzel, who took office Feb. 1 as leader of the $1.6 billion university enterprise that includes the affiliated $2.5 billion UofL Health health care system. 
She is one of only 2% of university presidents nationwide with extensive corporate and entrepreneurial C-suite experience. During her inaugural address, she noted she was the first in her family to go to college "like over 35% of UofL students."
The presidential platform party included Gov. Andy Beshear, Louisville Mayor Craig Greenberg, Robbin Taylor of U.S. Sen. Mitch McConnell's office, Board of Trustees members, and members of the administration. Dozens of her family members attended, including her husband, Trevor Iles, an entrepreneur and former business executive, and their children and grandchildren.
Raymond Burse, vice chair of UofL's Board of Trustees, invested Schatzel as president and presented the Presidential Medallion. The medallion features the UofL seal, a likeness of Minerva, the Roman goddess of wisdom.
"She serves as an example for the thousands of students who attend the university in hope of gaining the knowledge and insight that will benefit them for the rest of their lives," Burse said, noting that Minerva was also known as the goddess of trade, the arts, medicine, poetry and strategy in war, symbolizing fearlessness and strength.
"This combination of traits was unique among the gods. And it mirrors the strengths possessed by our president, Dr. Kim Schatzel," he said.
2023 marks 225 years that UofL has been the higher education leader in Kentucky's largest metropolitan area. It was April 3, 1798 when a group of Louisvillians declared their intention to establish an education institution called Jefferson Seminary and began raising funds for their plan. Today, more than 23,000 students attend UofL, which boasts three campuses. 
This fall, UofL welcomed 3,130 incoming students, breaking a record for the second year in a row.
UofL researchers win hundreds of millions of dollars annually in competitive research funding. The school is among a small percentage of higher education institutions designated a Research 1 doctoral university with very high research activity by the prestigious Carnegie Classification of Institutions of Higher Education. The funding supports groundbreaking research in areas such as robotics, cybersecurity, climate change and social indicators of public health.
In addition, UofL has earned recognition as a "Community Engaged" university by the Carnegie Foundation. Of more than 4,000 universities in the country, UofL is one of only 80 that can claim both distinctions.
With 12 schools and colleges, the university offers professional certificates, bachelor's, master's and doctorate programs in hundreds of disciplines, is a consistent leader in diversity and inclusion and is recognized nationally as a "Best Value" institution. It has more than 163,000 alumni.
Earlier this month, Schatzel gave her first campus-wide address, outlining her initial eight priorities as president.