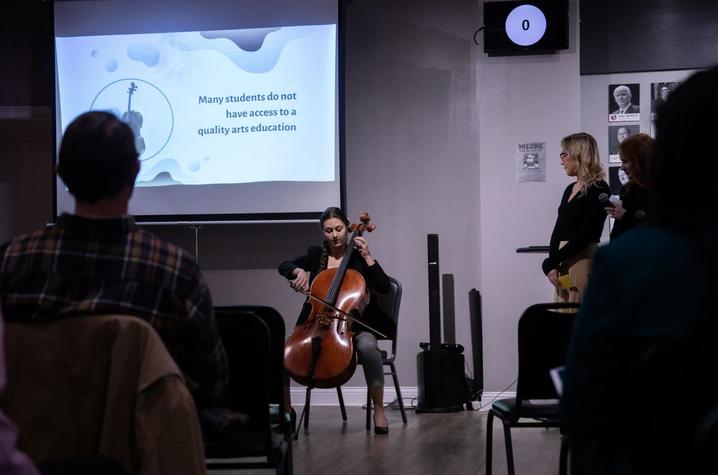 LEXINGTON, Ky. — The University of Kentucky Department of Arts Administration's sixth annual "Fish Tank: Emerging Entrepreneurs in the Arts" pitch competition returns to Awesome Inc. in downtown Lexington at 7 p.m. Tuesday, Nov. 14.
"Fish Tank" is an annual pitch competition featuring UK arts administration students who have bold ideas for a better future in the arts and are ready to "jump in the tank" and share their ideas with the world. It is part of a course on entrepreneurship taught by Jill Schinberg, associate professor of arts administration, that students take during their senior year.
Part of Global Entrepreneurship Week and produced by theLAB, competitors will be judged on the feasibility and sustainability of their projects by esteemed business owners and arts professionals.
"It's a long road for students to get from the first week of the semester to Fish Tank," says Schinberg. "It starts with 'idea speed dating,' which is how they form teams around a shared interest in a problem or market gap. Teams go on to brainstorm solutions, and the research begins. They work hard to understand the market for their product or service and wrestle with possible revenue models.
"As if that weren't enough, Fish Tank isn't the end — it's simply the first time they get to take their idea out for a test drive. At the end of the semester, they will submit a business plan. I'm so proud of the discoveries and progress they made along the way. I can really see them go beyond what they previously imagined for themselves."
For the first time, this year's Fish Tank judges panel will feature a Department of Arts Administration alumna, Destiny Carter. 
"I'm pretty elated to return as an alumni judge for this year's Fish Tank competition," Carter says. "I vividly remember my group gathering information for our deliverables, preparing for our pitch, and realizing this competition was a way to integrate everything we'd learned in all our classes fully."
Carter is a multifaceted, creative entrepreneur living and working in Louisville, Kentucky, passionate about music, movement and community outreach, curating events that foster joy and togetherness through artistic expression.
"Entrepreneurship really pushed and inspired me in school and even now to actualize my ideas and make them tangible and ensure they're supported. As a young entrepreneur, I'm obviously still learning, but the foundations we're given to be in this program allowed me to think in ways I never would have otherwise."
Carter is currently working as a DJ and emcee with her brand DJ DNasti, while also providing sounds for Louisville listeners as a radio host of her show, "In the Pocket," on Louisville Public Media's WFPK. This year's panel of celebrity judges also includes fifth-time returning judge Sal Sanchez, a Lexington-based entrepreneur, business strategy and leadership consultant, and owner of A Cup of Common Wealth, Chocolate Holler and Magic Beans Coffee Roasters, and David Strobbe, lecturer with the Department of Arts Administration and co-founder of Expanding Out. This organization focuses on developing creative thinking skills to mobilize creative power. Their program, The BIG You, is tailored for middle school students as an introduction to creative thinking and how to empower their voices in their personal and academic lives.
During Fish Tank, students pitch their ideas after participating, and judges will score based on a set list of criteria. After each pitch, the judges can ask participants follow-up questions on the students' business plans. Projects being pitched this year include a new arts and culture magazine, accessibility education certifications for arts organizations, and an app that aids crowd safety at events.