HIGHLAND HEIGHTS, Ky. (March 6, 2013) – The chief executive officer of the Cincinnati/Northern Kentucky International Airport (CVG) will share her vision for the future of the airport at an event on Tuesday, March 12 at 7 p.m. in the Northern Kentucky University Otto M. Budig Theater .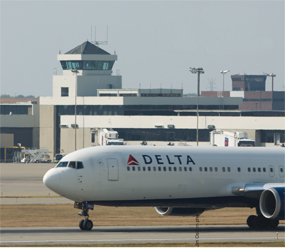 "A Conversation With Candace McGraw" will provide an opportunity for the public to hear about the future of the airport and its impact on the region.
McGraw became CEO of CVG in July 2011. She took the helm of an airport that, despite offering fewer flights, was still an economic driver for the region.
"The airport is a critical part of our infrastructure and economy, so we are very pleased to have a forum featuring Candace McGraw to talk about what's happening with the airport now and her expectations for the future," said Northern Kentucky Forum Board Chair Tara Ford.
CVG continues to have an impact on the Greater Cincinnati/Northern Kentucky economy – on business sales, household earnings, tourism and regional employment. The airport offers approximately 180 daily non-stop departures to 53 cities, including nonstop service to Paris and Toronto, and sees some 7 million people come through its doors each year. With nearly $4 billion in local economic impact, CVG directly and indirectly supports more than 50,000 jobs within the region.
CVG is also home to DHL's main North American cargo hub. The company employs 2,000 people at CVG and has plans to hire several hundred more once it completes a $47 million expansion this year.
The event, which is free and open to the public, will be moderated by Dan Hurley, host of WKRC-TV's "Local 12 Newsmakers." It will feature a Q&A session with stakeholders representing local government, economic development, tourism and media. There also will be opportunities for audience members to share their opinions and ask questions of the panelists.