Course will run 13 weeks through Feb. 4, 2015
LEXINGTON, Ky. (Oct. 1, 2014) – Intellectual property, innovation, venture capital, technology and commercialization–all of these terms will be a living, breathing part of students' lives in MBA 624, one of three new electives making its debut today in the One Year Accelerated MBA program in the University of Kentucky's Gatton College of Business and Economics.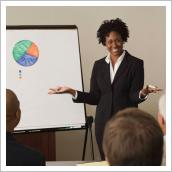 Twenty-eight UK MBA students will be joined by three UK College of Design students as they get a hands-on opportunity to learn commercialization skills in a real-world environment that combines theory and practice.
The course, "Entrepreneurial Marketing and Management Technology Commercialization," will run for 13 weeks through Feb. 4, 2015. It is intended for students interested in startup companies or the assessment of new technologies in larger companies.
"Students in this course will work in teams on six real-world projects," said Dean Harvey, executive director of the Von Allmen Center for Entrepreneurship in the Gatton College. "Working in a living laboratory environment, teams will take projects from business concept to full business plan and investor pitch in just 13 sessions." The course is built around a proven 'ABC' commercialization model – an Assessment module, a Business Planning module, and a Capitalization module.
The projects will be based on intellectual property developed at UK, Eastern Kentucky University, and by private entities. Highly experienced entrepreneurs and mentors will provide guidance throughout the project, and guest speakers will complement class discussions and project work.
"Multidisciplinary teamwork represents a major source of innovation in most organizations," said Harvie Wilkinson, director of MBA programs at Gatton. "This new elective provides our students the opportunity to get hands-on experience in entrepreneurship and the commercialization process."
Following the conclusion of the course, select students and teams will have the opportunity to compete in business plan competitions including the UK Venture Challenge, Idea State U and the Alltech Innovation Competition.
"Innovative thinking and entrepreneurial skills are essential for success in business, whether you are part of a small startup company or a large corporation looking to be more nimble," Harvey said.