Event is Oct. 15-17
FRANKFORT, Ky. (Oct. 1, 2014) — The Kentucky Apprenticeship Conference will be held from Oct. 15-17 at General Butler State Park in Carrollton.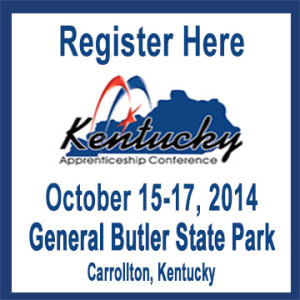 "This conference is so beneficial in the increasingly important area of registered apprenticeship, which helps companies fill their need for highly-skilled workers, and allows people to find high-paying careers," said Labor Cabinet Secretary Larry L. Roberts. "Apprenticeship itself has been around for centuries, but the modern demand for qualified workers in industries such as manufacturing, construction, welding, pipefitting and others continues to grow every day.
The conference will include several seminars on key topics related to apprenticeship issues, such as establishing and maintaining a registered apprenticeship program, tips for grant writing, and making the most of related classroom instruction. Also, there will be presentations on the Tech Ready Apprentices for Careers in Kentucky (TRACK) program, an overview of the Labor Cabinet's online learning programs, and an open forum on all aspects of apprenticeship.
There are more than 100 registered apprenticeship programs already in Kentucky.