Racing begins Friday
LEXINGTON, Ky. (Oct. 1, 2014) — Horse racing fans unable to attend Keeneland's 17-day Fall Meet in person can follow the Oct. 3-25 events on television, radio and online.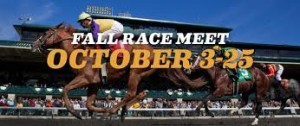 On Saturday from 4:30-6 p.m. NBC Sports Network will feature live coverage of the $1 million Shadwell Turf Mile, Claiborne Breeders' Futurity and First Lady. On Sunday NBC will be live at Keeneland from 5-6 p.m. for the Juddmonte Spinster and Dixiana Bourbon All five races are part of the Win and You're In Challenge with the winner receiving automatic entry into the 2014 Breeders' Cup World Championships on Oct. 31-Nov. 1 at Santa Anita.
Races also will be streamed live on Keeneland.com at no cost. Online patrons can participate in live chats and handicapping analysis hosted by Jeremy Plonk, Caton Bredar and the Horse Player NOW team.
Keeneland fans can access the Trakus race feeds showing replays in various animated formats using the patented, real-time technology and sign up for Trakus mobile alerts via Keeneland.com/racing/trakus.
TVG will air comprehensive live racing coverage of Keeneland each day beginning at 1 p.m. during the Fall Meet. Post time for the first race is 1:05 p.m. each day.
Throughout the Fall Meet, additional TVG coverage from Keeneland will air on FOX Sports affiliates, including FSN Prime Ticket, Fox Sports Ohio, FOX Sports San Diego, SportSouth and Sun Sports-Florida.
Regional coverage of Keeneland racing includes:
"Keeneland Magazine on TV," at 7 tonight on The CW Lexington and at 6:30 a.m. on WKYT.
"Keeneland Close Up," will air on Saturday, Oct. 4 (8:30 a.m. ET), Oct. 11 (9 a.m.), Oct. 18 (8:30 a.m.) and Oct. 25 (8:30 a.m.).
"Today at Keeneland," is on Insight Cable on The CW Lexington at 7 p.m. Wednesdays through Sundays. The program can also be seen on TVG the following day. Check listings at

TVG.com

.
On the radio:
"Keeneland Connection," hosted by Tom Leach, will air on Fridays, Oct. 3, 10, 17, 24 and 31 from 8:06-9 a.m. on Fox Sports 1580 in Lexington and WKJK TalkRadio 1080 in Louisville.
Horse Racing Radio Network coverage includes the Oct. 3 Darley Alcibiades and Stoll Keenon Ogden Phoenix (4:30-5:30 p.m. ET); Oct. 4 Shadwell Turf Mile, Claiborne Breeders' Futurity, First Lady and Thoroughbred Club of America (4-6 p.m.), Oct. 5 Juddmonte Spinster and Dixiana Bourbon (5-6 p.m.); Oct. 8 JPMorgan Chase Jessamine (G3) (4-5 p.m.); Oct. 11 Queen Elizabeth II Challenge Cup presented by Lane's End (4:30-5:30 p.m.); and Oct. 18 Lexus Raven Run (4:30-5:30 p.m.). Fans can listen on Sirius 92, XM 92 and via live streaming on the HRRN website, www.horseracingradio.net.
"Kentucky Winner's Circle" will air in the Louisville market Oct. 3 on WXVW The Sports Buzz 1450 from 1-3 p.m. and Oct. 4-5 on WKJK TalkRadio 1080 from 3-5 p.m.