Four names added to the wall this year
FRANKFORT, Ky. (Oct. 2, 2014) — The 14th annual Fallen Firefighters Memorial service will honor and remember Kentucky firefighters who have given their lives in the line of duty.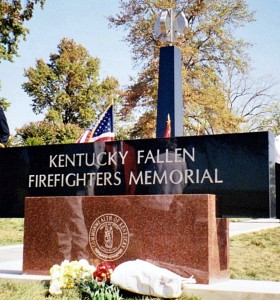 This year's service will be held at 11 a.m. on Oct. 8 at Juniper Hills Park, 800 Louisville Rd. in Frankfort.
Kentucky's Fallen Firefighter Memorial was erected Oct. 11, 1999 and includes more than 200 names of firefighters who have died in the line of duty. This year four additional names will be added to the wall: Arlie "Pooh" Hill, Whitley City Fire Department; Charles Goff, McQuady Fire Department; Robert Webster, Glencoe Fire Department and Jonathon French, Glendale Fire Department.
"It is always difficult seeing new names added to the memorial," said Ronnie Day, executive director of the Kentucky Fire Commission. "These fallen men and women sacrificed their lives to protect others, and they will never be forgotten."
The service will include a wreath laying, an unveiling of names added to the wall and an opportunity for attendees to pay their respects. The ninth annual Red Helmets Courage Ride, a motorcycle tribute to firefighters who have paid the ultimate sacrifice, will begin at Frankfort Fire and EMS Station No. 3 prior to the service. All proceeds from the ride will be donated to the memorial fund for maintenance.