On display through March 30
FRANKFORT, Ky. (Jan. 13, 2015) — The works of 20 Kentucky artists are on display in the hallways of the Capital Annex through March 30 for an exhibit called "Kentucky Visions at the Capitol."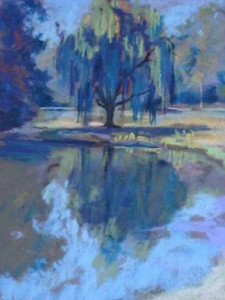 The exhibit features 56 pieces of artwork, including three Al Smith Individual Artist Fellowship recipients and 17 artists in the Kentucky Crafted program.
Artists invited to participate in the exhibit are adjudicated members of the Kentucky Arts Council's Kentucky Crafted program or are recipients of an Al Smith Individual Artist Fellowship Award or Governor's Award in the Arts.
Most of the artwork on exhibit is available for purchase. For more information about an artist, or to purchase a piece, contact Kate Sprengnether at the arts council (502) 564-3757, ext. 471, or toll free at 888-833-2787.
Artists are:
Marianne Brown, ceramics, Anderson
Matthew Albritton, photography, Campbell
Philis Alvic, fibers, Fayette
Linda Fugate-Blumer, photography, Fayette
Elsie Harris, acrylic on canvas, Fayette
Shirley Jeter, watercolor, Fayette
Christine Kuhn, acrylic, Fayette
Carl McKinley, watercolor, Hardin
Kathleen Conroy, scratchboard, Henry
Patricia Brock, photography, Jefferson
Katie Burke, pastel on board, Jefferson
Robert Jackson, mixed media, Jefferson
Judy Rosati, photography, Jefferson
Mark Priest, acrylic, Jefferson
Timothy Gold, acrylics, Kenton
Dean Hill, photography, Morgan
Gary Mesa-Gaido, photography, Rowan
Bruce Frank, photography, Scott
Alexey Stiop, photography, Scott
Laverne Zabielski, fibers, Wayne