Owned by Louisville businessman
LOUISVILLE, Ky. (Jan. 22, 2015) — A five-year-old Saddlebred owned by Louisville businessman Ed Glasscock has won multiple national honors, including Horse of the Year from the American Saddlebred Horse Association and the U.S. Equestrian Association's top award for Saddlebreds.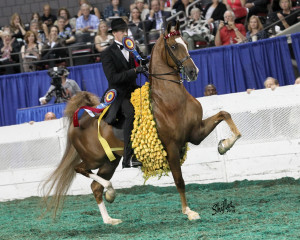 In his second show season, Macadamia and rider Steven Wheeler completed 2014 with five first-place finishes, including a win in the Three-Gaited World's Grand Championship at the Kentucky State Fair World's Championship Horse Show. The American Saddlebred stallion also won the Junior Three-Gaited over 15.2 class competition, as well as the American Saddlebred Three-Gaited Junior Horse titles at the Bonnie Blue National, Rock Creek, and Blue Ridge Classic Horse Shows.
The EQUUS Foundation at the Florida International Equestrian Center near Palm Beach, Fla., will induct Macadamia into its Horse Stars Hall of Fame on Feb. 20.
Macadamia is trained by Steve and Tiffany Wheeler of Simpsonville.