Will study a promising treatment for ischemic stroke
LEXINGTON, Ky. (Jan. 29, 2015) — Dr. Gregory J. Bix of the University of Kentucky Sanders-Brown Center on Aging, has been awarded a $1.1 million grant from the National Institutes of Health to study a promising treatment for ischemic stroke.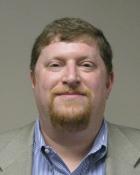 The five-year grant expands Bix's earlier research on a protein called Perlecan Domain V, which appears to foster healing after strokes caused by blood clots in the brain.
"Perlecan seems to promote neurorepair in endothelial cells by blocking a receptor called A5B1 Integrin," Bix said. "In fact, genetically engineered mice that are completely deficient in the A5B1 receptor in endothelial cells show amazingly little to no injury after a stroke. It's therefore logical to postulate that eliminating the A5B1 Integrin receptor in brain blood vessel cells or blocking its activity early on after an ischemic stroke may be profoundly neuroprotective."
Bix and his lab will use this grant to go backwards, in a sense, to study A5B1 integrin itself, its role in ischemic stroke, and its potential as a therapeutic target in ischemic stroke.
The Bix lab has identified two molecules known to block the A5B1 Integrin receptor:  ATN-161, a peptide that has been used in clinical trials for brain cancer, and a modified experimental version of this peptide that is predicted to be even more effective at blocking the receptor.
"It's obviously better to intervene early and prevent or minimize the effects of stroke than to try to repair the damage after the fact," Bix said. "So if ATN-161 or its modified version are effective, and since at least ATN-161 has an established safety track record in people, it might very nicely lend itself to human stroke clinical trials."
According to Dr. Linda Van Eldik, director at the Sanders-Brown Center on Aging, Dr. Bix's work on new treatments for ischemic stroke is extremely timely.
"Stroke is the fifth leading cause of death in the US and a leading cause of disability, yet the current treatment strategy for strokes caused by blood clots has barriers to its use and, even when indicated, has mixed results," Van Eldik said. "There is an urgent need for new and better stroke therapies, which makes Greg's work both sorely needed and highly promising."
Related news:
Technology allows physicians to predict likelihood of strokes
UK HealthCare designated a Comprehensive Stroke Center by The Joint Commission