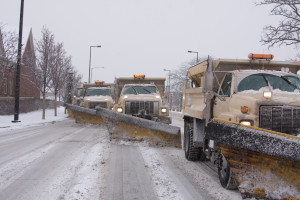 Winter storm Thor marched across Kentucky causing havoc across the state. As of noon, March 5, many cities and counties have declared a Level 1, 2 or 3 Snow Emergency status, which means that, unless you are involved in clearing roads, a public first-responder (e.g. fire, police, etc.), or someone who absolutely must go to work, you are asked to stay off the roads.
Reports indicate that a group of counties from Hardin to Harrison were some of the worst hit with record snowfalls that left motorists stranded and knocked out power in some of those areas when trees overloaded with snow fell on the lines. Snowfall of 12" is common across Kentucky with a few areas reporting up to 24" of snow, breaking records as much as 100-years-old. Spot power outages have been reported in much of the state.
In many cases, traffic on the interstates piled up overnight preventing snow plows from clearing the roads. Semi-trucks tried to pull off the interstates in some areas, but got stuck on the ramps causing the trucks behind them to also become immobile creating bottlenecks or making them completely impassable.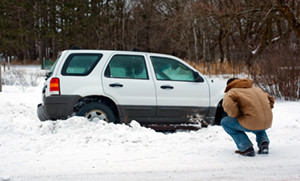 A 40-mile stretch of I-65 between Munfordville and Lebanon Junction in central Kentucky became impassable because of cars and trucks, as reported by the State Transportation Cabinet. Similar situations cropped up around the state, but none to the level of that stretch.
In some counties, emergency medical transport services are being reduced to taking only those patients in a life-or-death situation. There are reports of road crews having to accompany the ambulances to create a path for them. There are also reports across the state of snow plows sliding off the roads while trying to clear them.