Event from Friday to Sunday at Lake Barkley State Resort Park
FRANKFORT, Ky. (March 12, 2015) — Best practices for rural historic archaeology, presentations about historic and prehistoric archaeological investigations at sites across Kentucky, and a memorial tribute to the late archaeologist Dr. Phillip R. Johnson II will be featured activities during the 32nd Annual Kentucky Heritage Council Archaeology Conference, Friday through Sunday at Lake Barkley State Resort Park.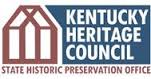 Presentations cover all prehistoric periods: Paleoindian (ca. 12,000 to 8000 B.C.), Archaic (8000-1000 B.C.), Woodland (1000 B.C.-A.D. 1000) and late Prehistoric (A.D. 1000-1750), and encompass Woodland, Mississippian and Fort Ancient peoples.
Other topics include "In Search of a 1790's Spanish Garrison at the Confluence of the Ohio and Mississippi Rivers," "From the Frontier to the Preservation Movement: An Interdisciplinary Study of Washington" and "Bioarchaeological Investigation of the Calvin Cemetery in Boyd County," as well as poster presentations, an architectural tour of the historic Lake Barkley Lodge and an archaeology-based session seeking input for the 2015-2020 Kentucky State Historic Preservation Plan.