Will be 10th Kentucky college to join program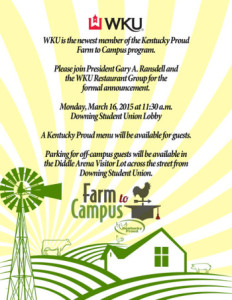 BOWLING GREEN, Ky. (March 12, 2014) — Agriculture Commissioner James Comer will welcome WKU to the Kentucky Proud Farm to Campus Program on Monday at 11:30 a.m. local time at the Downing Student Union.
Under the Farm to Campus program, the Kentucky Department of Agriculture helps participating institutions locate and procure fresh Kentucky Proud products to serve in their food service systems and shelf-stable Kentucky Proud products to sell in their campus bookstores.
WKU will become the 10th Kentucky college or university in the Farm to Campus program, joining Asbury University, Campbellsville University, Eastern Kentucky University, Georgetown College, University of Louisville, Morehead State University, Murray State University, University of Pikeville and Transylvania University.
Related news:
Transylvania University to join Kentucky Proud Farm to Campus Program