Completed 18 weeks of training
RICHMOND, Ky. (March 13, 2015) — Law enforcement officers from 21 agencies across the state graduated today from basic training at the Kentucky Department of Criminal Justice Training.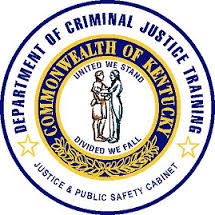 The 28 officers of Class 463 completed 18 weeks of training, which consisted of nearly 770 hours of recruit-level-officer academy instruction. Major training areas included homeland security, law offenses and procedures, vehicle operations, firearms, investigations, first aid/CPR, patrol procedures, orientation for new law enforcement families and mechanics of arrest, restraint and control.
Basic training is mandatory for Kentucky law enforcement officers who are required to comply with the state's Peace Officer Professional Standards Act of 1998. The Department of Criminal Justice Training provides basic training for city and county police officers, sheriffs' deputies, university police, airport police and others.