Will also add more operating rooms
LEXINGTON, Ky. (March 16, 2015) — The University of Kentucky Board of Trustees on Monday approved a plan for the next phase of the UK Albert B. Chandler Hospital's Pavilion A that includes completion of another 64-bed patient floor and more operating rooms.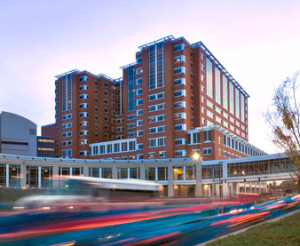 Upon completion of this phase, six of the eight clinical floors will be occupied and the tower will be 81 percent complete.
The plan for this phase calls for $75 million to be financed with agency funds to fit-out the 11th floor of the Pavilion A patient care facility. Additionally, radiology services will be relocated and expanded in Pavilion A, the hospital's blood bank will relocate, and six more operating rooms will be fit-out including an additional hybrid OR. In 2012, UK HealthCare opened one of the country's largest hybrid operating rooms and eight state-of-the-art operating rooms in Pavilion A.
Additionally, the Board approved for construction to begin as part of a plan to renovate and upgrade UK Good Samaritan's Emergency Department (ED).
Approximately 12,090-s.f. of the ED will be renovated in phases during the next two to three years. Improvements include space dedicated to patient care such as private patient rooms, expanded service capabilities and improved staff support space. The project also will expand the patient and family waiting area by approximately 1,250-s.f.