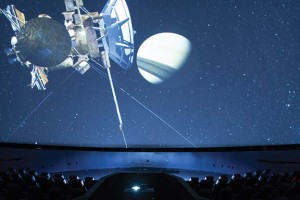 On a particular evening every August of my childhood, my dad would announce the arrival of the annual Perseid meteor shower. In the warm, waning twilight my mom would spread a patchblock quilt in our Hopkinsville backyard and put an icy pitcher of lemonade on a small wrought-iron table nearby. Stretched out well into darkness, Daddy, my sister and I would gaze heavenward at the marvelous star show, counting flashy shooting stars with tails that streaked across the sky until our eyelids grew heavy.
Still today, the Perseid puts on a spectacular display. This year's incarnation should peak between August 11th and 14th, with its most splendid array on the 13th. Fortunately, the skies should be nice and dark thanks to a waning crescent moon not due to rise until just before dawn, providing exceptional viewing of meteors flying overhead in many different directions. Past midnight and into the pre-dawn hours, as many as 50 or more meteors may appear per hour.
For the best viewing, you might want to take a nap in the afternoon, then at dusk, find a wide open spot away from city lights and hunker down for a bit of Mother Nature at her finest.
However, if you're not a night owl or the weather doesn't cooperate mid-August, the majority of Kentucky's nine planetariums can tell you all about the Perseid, as well as what to look for in your local night sky. Most show movies about stars, planets, black holes and other fascinating astronomical subjects and as a bonus, present elaborate laser shows that provide sensory stimulation for the eyes and ears. Not only are planetariums cool places to visit in the summer heat, but these unusual-looking, domed facilities are loaded with intriguing entertainment all year round.
"We're able to take visitors on a virtual space ship to the edges of the universe to explore things that aren't possible to explore from an earthbound perspective," says Paula McGuffey, assistant director of the Gheen Science Hall and Rausch Planetarium that's affiliated with the University of Louisville. The Rausch dome weighs in at 55 feet in diameter, whereas most of the state's other planetarium domes are 40 feet. "Our shows bring concepts to life that people have only heard about. Schoolkids learn more about astronomy in the planetarium in five minutes than they can get in the classroom in a week."
On the second Friday of each month, the 160-seat planetarium offers a live presentation of "Skies over Louisville." Visitors can also see planets and stars through telescopes set up outdoors, and take home a sky map.
In watery Western Kentucky, Land between the Lakes (LBL) National Recreation Area has a planetarium with astronomical shows and laser light shows featuring music by such greats as the Beatles, Pink Floyd, Led Zeppelin and all-country performers. In addition to the 84-seat planetarium, there's also Golden Pond Observatory.
"It's nice and dark in the middle of LBL," says Robert Milner, acting manager of the facility. "Every other Saturday night we have Star Parties. Our 16-inch Mead telescope pokes out of the observatory roof, and we set up about a dozen telescopes outside, all at no charge."
Western Kentucky University's Hardin Planetarium in Bowling Green offers programming on Tuesdays, Thursdays and Saturdays all year (except holidays), a science camp three times a year, and a local night sky program for six weeks twice a year.
"Our focus is different than most," explains Ronn Kistler, planetarium coordinator. "It's interactive, live and dispels any misconceptions folks might have about astronomy. For example, instead of learning about the constellation Leo or the Big Dipper, people make up their own star patterns in the skies so they're easier to spot."
The rest of the year, the 110-seat facility's shows include aspects of space and astronomy, such as exploration of Mars, the Hubbell telescope and exoplanets outside our solar system.
The 85-seat planetarium at the Eastern Kentucky Science Center in Prestonsburg features a variety of 14 different astronomical shows and 27 different laser shows. Every program includes a segment on the current seasonal sky, and this summer, info on the Perseid, where to look and how to look for the best meteor viewing. The facility itself is a wonder.
"Ours is one of the most advanced planetariums in the country," says Steve Russo, the center's director. "We have a full-dome system, one of the best star machines ever made and a laser system. Some planetariums have one or two, but we have all three."
Part of the Big Sandy Community and Technical College, the center also offers programming to supplement school classroom study, as do most of the commonwealth's planetariums. The Morehead State University's Star Theater features a complete K–12 curriculum and "simulated travel through deep space in a 3-D universe" for its public offerings.
As a bonus, the Weatherford Planetarium on the campus of Berea College shares a floor in the science building with the geology museum, and a ticket for a star show – $1 for a public show – includes a self-guided museum tour. Shows at Northern Kentucky University's Haile Digital Planetarium take place on Mondays at noon and Wednesdays at 1:15.
Check individual planetariums' websites for show descriptions, schedules, times and pricing.
Go Star Gazing
• Arnim D. Hummel Planetarium,
Richmond (EKU),
planetarium.eku.edu
(859) 622-1547
• Eastern Kentucky Science Center,
Prestonsburg (BSCTC)
bigsandy.kctcs.edu/eksc
(606) 886-3863
• Gheens Science Hall & Rausch
Planetarium, Louisville (U of L)
planetarium.louisville.edu
(502) 852-6664
Group tickets (502) 852-6665
• Golden Pond Observatory, Cadiz
landbetweenthelakes.us/seendo/
attractions/planetarium
(270) 924-2233
Group tickets (270) 924-2020
• Haile Digital Planetarium,
Highland Heights (NKU)
planetarium.nku.edu
(859) 572-1432
Group tickets (859) 572-5600
• Hardin Planetarium, Bowling Green (WKU)
wku.edu/hardinplanetarium
(270) 745-4044
• Star Theater, Morehead (MSU)
moreheadstate.edu/startheater
(606) 783-9593
Closed until September
• Weatherford Planetarium,
Berea (Berea College)
(859) 985-3351