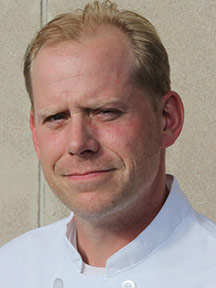 Lexington, Ky. – The Club at the University of Kentucky's Spindletop Hall has named Chef Seth Russell the new culinary director. Russell has served as the executive chef at the Hilary J. Boone Center for the past five years.
He spent his formative years in Lexington and Versailles and steadily worked his way into higher profile establishments such as Amelia's Field, Roy and Nadine's, and Dudley's. He later traveled to France for a year apprenticeship in a Michelin-starred inn in the Burgundy region of France and ultimately graduated near the top of his class from the French Culinary Institute in New York City.
Russell returned to Lexington to begin work at Idle Hour Country Club as a pastry chef and assistant chef. In 2008, he joined the Boone Center team and was named as executive chef in early 2010.
"It has been a great pleasure working with Chef Russell as he has developed a culinary team that consistently delivers high quality, handcrafted food to the members and guests of the Boone Center," said Gerald Marvel, general manager of Spindletop and the Boone Center. "I'm elated to have him bring the same talents to bear for the dining pleasure of the members of The Club at UK's Spindletop Hall. His food is really fabulous!"
Drawing inspiration from around the world, Russell sources the freshest local ingredients to put a twist on traditional Kentucky cuisine.
"I am excited to bring my culinary expertise and love for great food to our members of The Club," Russell said.
The Club at UK's Spindletop Hall is running a spring promotion that allows 50 percent off membership initiation fees for UK faculty and staff through April 30. For more information, visit the employee discount site at http://spindletophall.clubsoftlinks.com/upload/O8hynfc-l9Mst.pdf.