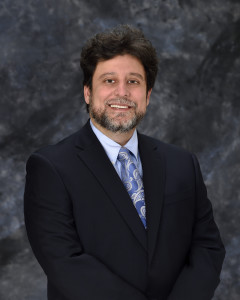 VERSAILLES, Ky. (May 30, 2016) – Dr. Fernando Figueroa has been selected as president of Gateway Community and Technical College in Florence, Kentucky Community and Technical College System President Jay K. Box announced this weekend.
Figueroa is an experienced leader who currently serves as vice chancellor for Educational Policy at Dallas County (Texas) Community College, one of the largest undergraduate educational institutions in Texas. He's held leadership positions at Del Mar College in Corpus Christi, Texas; Tyler Junior College in Tyler, Texas; and Morton College in Cicero, Ill. He's also taught a wide variety of English courses.
"Dr. Figueroa brings a broad range of experience to GCTC," Box said. "He's a proven leader that will be a good fit for the college and the community."
Figueroa earned a doctorate and a master's degree in English from Louisiana State University in Baton Rouge and a bachelor's degree from Loyola University in New Orleans.
"I am honored to serve as president of Gateway Community and Technical College, and look forward to getting to know the students, faculty and staff," Figueroa said. "There are so many opportunities for developing strong community and business partnerships in this region. I'm excited to become a part of this great system and college as we work together develop strategies to serve the needs of our community and business and industry."
Figueroa begins his duties as GCTC president after July 1.
"Dr. Fernando Figueroa was the unanimous and enthusiastic choice of the Gateway Board of Directors to serve as the next president of Gateway CTC," said GCTC Board Chair Jeff Groob. "His unrelenting focus on student achievement and workforce development makes him exactly the right person at exactly the right time for Gateway. He will win hearts and minds across Northern Kentucky. An exciting new chapter in Gateway's contribution to the growth and vitality of our region began today."