For Market House Theatre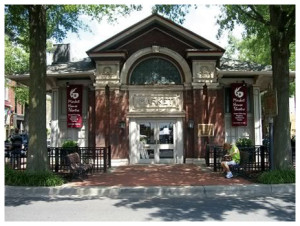 PADUCAH, Ky. (June 14, 2017) — The National Endowment for the Arts (NEA) has notified the City of Paducah that it will be receiving an Our Town grant in the amount of $75,000. Paducah applied for the grant in August 2016 on behalf of Market House Theatre (MHT). The grant will help fund MHT's Next Stage Campaign, a multi-million dollar project to expand arts education and performances to meet the increasing demand for arts programming.
Paducah's award is one of 89 grants totaling $6.89 million supporting projects across the nation. NEA received 274 eligible applications and will be administering grants ranging from $25,000 to $100,000.
"The City of Paducah prides itself on its commitment to historic preservation and to developing Paducah into a premiere arts and entertainment destination," said Paducah Mayor Brandi Harless. "Furthermore, the City and Market House Theatre have a common goal and commitment in advancing arts education and civic engagement to create positive opportunities for participation in the arts."
The Next Stage Campaign is an estimated $5 million project to expand arts education and enhance the Market House Theatre's current arts campus. Renovations will be made to nearly 44,000 square feet of historic space and will include significant upgrades to 10 historic buildings.  Enhancements include the addition of four classrooms, two rehearsal spaces, and a scene shop for off-site set construction. The project will double the stage and audience capacity of the Studio Theatre.
"The Our Town grant is a nice addition to our campaign and will go a long way in improving the Theatre's existing assets," said MHT Executive Director Michael Cochran. "Market House Theatre has served this community for more than 50 years.  When complete, this project will be paid in full and will include sustainable sources of revenue that will allow the Theatre to continue to operate in the black for many years to come."