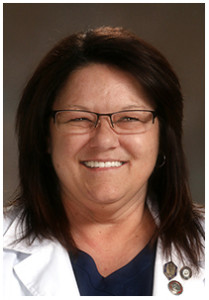 National Association of Surgical Technologists member for 30 years
BOWLING GREEN, Ky. (June 14, 2017) — Debra Crews, RN, CNOR, CST/CSFA, F.A.S.T., KCSA, assistant professor at Southcentral Kentucky Community and Technical College, was named as a Fellow with the Association of Surgical Technologists (F.A.S.T.) at the National Association of Surgical Technologists (AST) Conference in New Orleans on June 8.
Fellows are the highest level of recognition and are required to have at least 8 consecutive, uninterrupted years of AST membership and hold and maintain the CST or CSFA credential. She has been a member of AST for 30 years.
Crews holds Certified Surgical Technologist (CST) and Certified Surgical First Assistant (CSFA) national certifications. She currently serves on the Kentucky State Assembly of AST as a board of director. She holds the CNOR certification from the Association of perioperative Registered Nurses (AORN) which is the gold standard of the profession. She is also certified by the Kentucky Board of Medical Licensure as a Kentucky Certified Surgical Assistant (KCSA).
Crews holds an Associate of Science degree in Nursing from Western Kentucky University. She graduated from the SKYCTC Surgical Technology program in 1988. She began her current position as program director/coordinator/instructor of the Surgical Technology Program at SKYCTC in October 2013. Previously at SKYCTC, she was an evening adjunct instructor from 1999-2005.