By Abby Laub
Cuban-American Luis David Fuentes contends that Miami, a popular destination for Cubans immigrating to the United States has nothing on Greater Louisville, which offers better incomes, lower costs, and a welcoming and innovative atmosphere.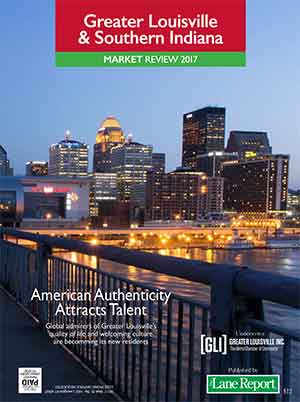 The 17-year Kentucky resident struggled upon arrival, but now helps other Cubans make their home in Louisville and Kentucky through his popular publication El Kentubano.
"I am a really proud Cuban American," Fuentes said. "I miss my country, but I fell in love with this great country and all of the opportunities and things I've been able to accomplish, because there were tools in front of me."
Fuentes and his wife initially thought they would move to the U.S. somewhere out of Miami to "see and live the real American way and return to Cuba a few years later," he said. Instead, they raised their two children in Kentucky and have successful careers without forsaking their roots.
The Fuentes' experience is exactly what Greater Louisville wants to see more of as the economy gains more jobs that natives exclusively can't fill.
The largest immigrant populations in Greater Louisville in order, according to the census, are Mexican, Cuban, Indian, Chinese, Vietnamese, Guatemalan, German, Filipino, Iraqi, Korean, Bosnian, Canadian and English.
"We came here with a different idea, because in Cuba – what they're teaching – they still consider the U.S. an enemy," Fuentes said. "I came here expecting to see discrimination, homelessness and crime, and I found the opposite. My wife and I were able to accomplish a bunch of things here. We feel lucky to be a part of this society."
Fuentes was a mechanical engineer in Cuba but didn't have credentials that transferred; so his first job here was as a $7 per hour factory floor sweeper. Quickly, though, he worked his way up to environmental coordinator at the same factory while putting himself through tests to become a U.S.-certified engineer. More job promotions followed, and on the side he created a tabloid publication for other Cuban Americans.
"It was really hard as an immigrant. It's like being born again," Fuentes said. "You have to deal with so much and start from zero. In Cuba you don't know how to do banking, internet, taxes, nothing. It's an entirely new social system. But we learned it all very fast; that is why we love this country. You can do whatever you want. Nothing is for free; you have to sacrifice, and we're trying to teach that for our kids."
By 2009, Fuentes started seeing more Cubans coming to Louisville, because finding jobs and affordable housing was easier here than in South Florida.
"People were leaving Miami like crazy and coming to Louisville. We knew more Cubans were coming here, and would need information and help keep our culture and history and groups together," said Fuentes, one of many making these realizations.  
In 2009 he printed 1,000 copies of the 20-page El Kentubano tabloid. It grew to a 72-page color monthly magazine with corporate advertisers like Humana, UPS and McDonald's and is incorporating more Hispanic communities besides Cuban. This year it won the Kentucky Minority-Owned Small Business of the Year Award from the Kentucky Small Business Development Center.
"We are really happy, but it's because the community has been growing so fast," he said. "People have been opening businesses. I'm proud of the Cuban community because they have been integrated into the society."
Available jobs, qualified immigrants
Cuban Americans are spreading into professions like education, medicine, engineering, restaurants, the arts and more, and are a perfect example of how Greater Louisville is being "sold" to non-natives. The region's authenticity, business friendly environment, welcoming people, innovative community, quality of life and unified regional economic impact strategy appeal to a global audience.
The message is clear: Come to Louisville to find your dream job, launch your business, live comfortably and raise a family. 
GLI President & CEO Kent Oyler said Louisville needs to keep this focus to feed the bustling economy and prevent its population trend from falling flat.
"All of our net growth for the last 10 years has been from foreign-born immigration," Oyler said. "We would have gone backwards if it weren't for foreign-born people moving to town. We want to make sure that we do our best to make Louisville a welcoming place, but keep it controlled and share values."
Because attracting the right talent, nationally and internationally, is key, GLI is simultaneously working on long-term solutions to promote business environment and quality of life.
Global Louisville partnership
GLI, Louisville Forward and private enterprise focus on innovation and entrepreneurship, and often that involves helping foreigners get the training and support they need to become involved.
"We have a partnership called Global Louisville with the Louisville Metro government, focusing on attracting, integrating and making it easier for people to come here," Oyler said. "You could be an M.D. in another country, and you come here and (your qualifications) don't automatically translate. There are many, many other things with special certifications, and you need to help them get additional training, or get re-certified – even in careers like welding. That's true with veterans, too."
Greater Louisville's 15-county region is primed for any type of business, and GLI is focusing on sectors like logistics, manufacturing, food and beverage, defense (Fort Knox is close by), data and data analytics, and business services.
Another area seeing growth is the "gig economy," which includes freelancers. More people than ever can choose to live and work where they want, Oyler said, all the more reason to work on attracting them to Louisville.
Oyler wants the first impression that people get from Greater Louisville to be: "I could live there. That's one of our strategies – tourism to residents."
That strategy works for immigrants like Fuentes. He never left, doesn't plan to, and now works to get more Cubans to move to Louisville.
Growing numbers don't lie
Louisville Metro Government's Office for Globalization Director Bryan Warren stressed the importance of focusing on attracting international talent.
"Immigration is a prime driver of population growth in Louisville. We have doubled our immigrant population every decade since 1990," Warren said, "and the current projections indicate that one in six Louisvillians will be foreign-born by 2040. These newcomers fill needed job vacancies, start businesses that employ locals, and rejuvenate neighborhoods as they participate in Louisville's economy."
Though sometimes immigration gets a controversial reputation in the larger national landscape, he said, Greater Louisville isn't slowing down.
"Our welcoming strategy is outlined in our Global Louisville Action Plan," he said. "This plan is the outcome of a collaboration with our community led in partnership between Louisville Metro Government and GLI. Although the plan has specific actions related to social and economic outcomes, the plan's essence is embodied in the mayor's focus on compassion and welcoming as a core civic value. By welcoming and assisting our newcomers, we help them reach their full potential and, in turn, increase Louisville's prosperity."
Local citizens are "constantly surprised" to hear the statistics about immigrants in Louisville, Warren said. Since 2000, Kentucky has been the third-fastest growing state for immigrants. Foreign-born residents start businesses at twice the rate of native born, and ethnic Asian and Latino businesses accounted for nearly 7,000 jobs and $1.3 billion in local sales in Louisville's region as of 2012. Also, foreign-born ownership of homes raised housing wealth nearly $625 million between 2000-2010.
Immigrants are filling in workforce gaps.
"Entry level low-skill jobs and high-skill STEM jobs are the primary areas where immigrant workforce meet local job needs," Warren said. "These are areas where native-born candidates are less likely to be found."
Corporations and nonprofits are not idly waiting for the right applicants, either. 
"Louisville has an incredible network of agencies that assist with employing immigrants and refugees," Warren said. "The work of Kentucky Refugee Ministries' and Catholic Charities' employment offices provide the bulk of local placement for incoming refugees and other non-refugee immigrants. They do an immense amount of work on limited resources. Americana Community Center, Jewish Family and Career Services, Jefferson Community and Technical College and Jefferson County Public Schools Adult Education all provide access to employment help for newcomers."
KentuckianaWorks also connects immigrants to job opportunities.
Immigrants are "resilient and persistent," according to Warren, and have great "networks and connections" on their own that help connect new community members.
"One of the fastest growing groups outside of Cubans have been African immigrants," he said. "Our region has the second highest percentage of Cubans in our population outside of Florida."
Many Louisvillians presume immigrant entrepreneurs are starting ethnic bodegas on the corner, and thankfully that does happen, but Warren said Louisville is trying to get newcomers even more involved in baseline city services, too.
"Everyone wants to start a store or a restaurant, but we need to think outside the box and get more people into business areas that really need them," he said. "There are a lot of underemployed (immigrants) who need to be matched with good jobs."
It turns out that immigrant populations mesh well with native-born residents in employment categories where there happen to be fewer U.S.-born workers in both the lower and higher educational attainment levels.
A top business location
Immigrants aren't the only ones benefitting from Greater Louisville's innovative and forward thinking economy. Jobseekers, regardless of ethnic background, can seek new opportunities, as can corporations looking for a place to locate. In May 2017, Churchill Downs Inc. announced it will add about 70 high-tech, high-salary jobs when the headquarters for TwinSpires relocates from Silicon Valley to Louisville. It is investing $2.2 million to expand its Louisville office.
That same week, Diversified Consultants Inc., a collection services company for major-name telecom clients, opened its Louisville office, days after company leaders said they want to hire up to 1,000 local employees.
"It has been an absolute dream of mine to bring a branch of our fine organization back to my hometown," Gordon Beck, COO of DCI, stated in a press release. "When I left Louisville for Florida in 1997, Louisville never left my heart. The people of this amazing city are the reason I chose to come back home."
An innovative talent pool
At GLI, Vice President of Entrepreneurship & Talent and Director of Kentucky Innovation Network Lisa Bajorinas works to support all entrepreneurs in all aspects of their endeavors. 
One project she works on that excites her is the Million Dollar Babies initiatives. These are "super innovative companies that are attracting attention with regards to talent and capital," Bajorinas said. "It's a company that either has been able to raise $1 million in a single equity realm or a company that has for the first time crossed the threshold of a million in revenue. Those are two very big accomplishments in the life of an early stage company."
These companies – and many others – will look for talent to grow their businesses, and local leaders want to ensure that those positions can be filled.
"Some companies say they have no difficulty in finding the talent because they may have a more all-purpose or general need, but on the other hand there may be specific needs for talents where the pipeline for university graduates is graduating more generalists," she said.
Her office helps keep innovators in the area and recruits talent.
"We are sure that the founder understands it's much less expensive to establish and start a company here than in other cities," Bajorinas said. "And the amenities are going to be appealing to attracting young professionals."
GLI's recent launch of liveinlou.com is one of the tools used to help attract people.
Also, GLI this spring hosted its 10th annual "Startup Weekend" event, where new startups are built in 54 hours. This year 11 groups formally organized.
While 54 hours is only scratching the surface of the lifespan of a successful business, efforts like these create an innovative and encouraging climate for Louisville natives and non-natives.