By Robin Roenker
Louisville's high quality of life is not a well-kept secret anymore. Thanks to a thriving dining and bourbon scene, relative low cost of living and unique cultural vibe that blends the best of both the South and Midwest, Louisville is a fixture on recent "best of" lists.
With innovative restaurants serving up everything from traditional and New Southern to world cuisine, Louisville was dubbed one of America's top foodie towns by the likes of National Geographic, Southern Living, Zagat, Saveur, Bon Appetit and USA Today – to name a few.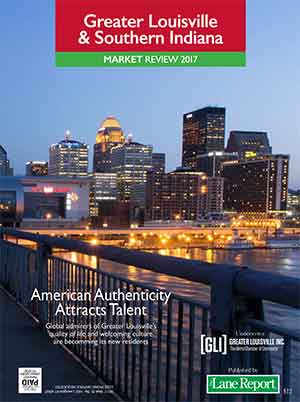 "I can walk to four-star parks and four-star restaurants from my house and still afford my mortgage," said Alison Brotzge-Elder, director of communications and public relations with Greater Louisville Inc. (GLI), the Louisville Metro Area Chamber of Commerce. Brotzge-Elder, a Louisville native, returned to the city to put down roots following stints in larger metros including New York City, Boston, and Atlanta.
"The cost of living is so high in some places that it really makes it not feasible for people like me, in their early 30s, who want to make their own place," she said. "But because of the low cost of living here, you're able to start your business. You're able to start your dream restaurant. You're able to try something a little bit different. There's a lot of opportunity here, all with a very low cost of entry."
Vibrant neighborhoods and a great sense of community
Louisville is home to a vibrant array of unique neighborhoods, each with its own sense of identity and pride. From ultra-modern downtown condos to graceful brick Victorians in Old Louisville, the hip, eclectic NuLu and Butchertown neighborhoods – both of which have been undergoing a renaissance – to the well-manicured Highlands and the newly developed, modern suburban Norton Commons, designed to be a walkable, mixed-use community, there's a neighborhood in Louisville to fit just about any aesthetic.
The sense of community in Louisville is visceral and abundant. The city's signature Derby Festival – including the fireworks extravaganza Thunder Over Louisville, which draws some 725,000 attendees – leads up to the famed First Saturday in May, when Louisville becomes the most celebrated city in America, for a day. But Louisville residents know their town deserves more than a single celebration, which is why it's home to more than 100 festivals annually, including the new and wildly popular NuLu Bock Beer Fest, which is highlighted by a goat – yes, goat – race down the city streets.
The city's vibrant energy drives an ever-evolving wealth of things to see and do, from outdoor recreation to fine dining.
"I moved to Louisville from Columbus, Ohio, and when I first got settled, my friends and I created a Louisville bucket list," said Jessica Wethington, communications manager for Louisville Forward, the economic and community development arm of Louisville Metro Government. "What I love is that it's so diverse. One day we went to Jefferson Memorial Forest. And the next day we went to a French restaurant. I don't think you get that variety in vary many cities."
Abundant green space, cultural satisfaction
Love getting outdoors? Louisville is a city rich in green space. The city's lauded park system includes more than 120 parks, 18 of them designed by Frederick Law Olmsted, famed designer of New York's Central Park. Louisville's popular, 85-acre downtown Waterfront Park – dubbed the city's "front yard" by mayor Greg Fischer – hugs the Ohio River, offering residents a picturesque place to walk, bike, and connect with one another. A recently announced $35 million expansion will add a 22-acre section to the park, home to the city's free Waterfront Wednesday concert series, a local favorite. And last year saw the opening of the final phase of The Parklands of Floyds Fork – a nearly 4,000-acre, four-park system created along a natural watershed and connected by a 19-mile walking and cycling path – helping secure the city's legacy as "A City of Parks."
There's also an abundance of arts. From the nationally revered annual Humana Festival of New American Plays to Broadway shows at the Kentucky Center for the Arts and world-class performances by the Louisville Orchestra, the Louisville Ballet and the Kentucky Opera, the city's social calendar is brimming with culture. Or if something more casual fits the bill, Louisville's downtown – including the popular Fourth Street Live! entertainment corridor, a haven for live music – doesn't disappoint.
In the mood to learn something new? Downtown's "Museum Row" includes The Muhammad Ali Center, Louisville Slugger Museum, Frazier History Museum, Louisville Science Center, and the Kentucky Museum of Art and Craft, each with hundreds of interactive and engaging exhibits to explore.
Downtown Louisville, in fact, has become the region's go-to destination for shopping, dining and entertainment of all kinds. The bustle of activity on downtown streets has been transformative, said Deana Epperly Karem, vice president of regional economic growth for GLI.
"To watch downtown go from this sleepy little place 20 years ago to the thriving, interesting, energized community it is today, that's the thing I'm most proud of. It's really the heart of our region," she said.
Susan Dallas, senior communications manager for GoToLouisville.com, the Louisville Convention and Visitors Bureau, agreed: "I've worked with the convention bureau for 26 years, and I've seen downtown Louisville totally reinvent itself," she said. "In neighborhoods like NuLu and Butchertown, our citizens are embracing our arts and our restaurants, and there's really just a high energy here."
Booming downtown's residential opportunities
The downtown boom is good news for Jeanne Hilt, director of marketing and communications with the Louisville Downtown Partnership, which works to promote economic development in the city's urban core. Hilt predicts a 27 percent increase in downtown residential units, resulting in a minimum of a 10 percent increase in Louisville's downtown population, by 2018.
"It's fascinating in my lifetime to see the migration to the suburbs and now the migration back to the urban core," Hilt said.
In addition to the increase in residential units, Louisville's downtown will be home to eight new hotels in the next year, driven by the expansion underway at the Kentucky International Convention Center and plans to add four new downtown bourbon attractions to the city's already buzzing Urban Bourbon Experience.
And while Louisville is proud to serve as the Gateway to Bourbon Country – sharing Kentucky's bourbon legacy and signature spirit with visitors from around the world – it's also embracing a future enriched by the many cultures that now call the city home. Louisville has one of America's largest Cuban communities, along with thriving groups from Bosnia, India, Pakistan, Vietnam and many
other locales.
"We're starting to attract more people from more places, which is just making Louisville a richer and more interesting place to live – whether that's the food that you have access to, the friends and colleagues you have at work, or the accents you hear on the street," said Mary Ellen Wiederwohl, chief of Louisville Forward. "When you have over 100 languages spoken in the public schools, you know you have a community that is really embracing the globe."
In 2015 and 2016, Louisville earned back-to-back perfect scores of 100 on the Human Rights Campaign's Municipal Equality Index, an annual scorecard of cities' support of the LGBTQ community. Louisville was one of the first Southern cities to earn the index's highest mark.
"To achieve a perfect score in back-to-back years is just a perfect exemplification of our welcoming nature," Wiederwohl said. "The fact is that Louisville is a place where no matter who you are or where you're from, you can really thrive and reach your full human potential."
As the city's key job sectors – including logistics; e-commerce; IT; advanced manufacturing; business services; food & beverage; and aging care – continue to grow, job opportunities in the city will continue to expand as well. While Louisville's unemployment rate is low, at around 4 percent, there are currently 24,000 open positions going unfilled in the region, said Epperly Karem. The workforce shortage has spurred GLI to launch a new online marketing campaign, LiveinLou.com, to inform potential workers about the many advantages of living in The Derby City.
Transplants new to the city often find it surprisingly welcoming and unexpectedly easy to get a foothold and launch their careers. That was the case for Lisa Bajorinas, executive director of entrepreneurship and talent with GLI, who moved to Louisville from San Francisco.
"When I moved, I was overwhelmed with how welcoming everyone was here, in terms of wanting to meet with me and help me network with others. Louisville is really quite unique in its accessibility," Bajorinas said.
"People who are from here or who have had the wisdom to move here, frequently speak about Louisville in loving terms, and that's not common," Wiederwohl said. "A lot of people like where they live. But very few people so easily say 'I love my city. I love my neighborhood.' That's a real special thing about Louisville."
The benefits aren't limited to Louisville
Amenities abound in the surrounding counties and communities that make up the Greater Louisville metropolitan area.
Nearby Oldham County is home to numerous Thoroughbred farms – in fact, it's known as The Farm Tour Capital of Kentucky. The farms lend a pastoral beauty to countryside surrounding LaGrange, the county seat, where the downtown features quaint shops, galleries and restaurants. And as the American Saddlebred Capital of the World, Shelby County is home to many horse farm tours of its own.
Southwest of Louisville, Meade County offers opportunities to enjoy the scenic Ohio River, from Bluegrass music concerts in Brandenburg's Riverfront Park, to hiking, camping, and biking at Otter Creek Outdoor Recreation Area.
Bullitt County, one of Kentucky's thriving distribution hubs, is also home to Jim Beam distillery, four award-winning wineries, and the scenic Bernheim Arboretum and Research Forest.
In Spencer County, the beautiful, 1,200-acre Taylorsville Lake State Park offers boating, fishing and outdoor recreation for residents and visitors alike.
Across the river, Southern Indiana residents enjoy easy access to Louisville's urban amenities, while surrounded by rolling hills and riverfront vistas. Jeffersonville – the county seat of Clark County, Ind. – was designed by Thomas Jefferson and boasts small town charm along with a bustling port.
Greater Louisville's unique neighborhoods
Louisville's neighborhoods are varied and diverse. Learn more about some of the highlights here. All information courtesy Greater Louisville Inc.'s liveinlou.com.
Germantown: Germantown's quaint streets lined with shotgun houses and locally-renowned restaurants and thrift shops in a perfectly walkable setting are an excellent backdrop for a young couple's first starter home.
NULU/Butchertown: The NuLu district of downtown has experienced a renaissance of commerce, livability, and activity in the past decade.
Downtown urban living: "Throughout the past decade, Louisville's downtown scene has experienced a resurgence of activity and commerce.
Highlands: Every city has one: the vibrant, bustling nightlife district, the party strip …
The Highlands has all of that and more.
Old Louisville: Near to the University of Louisville campus, the Old Louisville neighborhood comes by its name honestly. One of the very first residential areas established in Louisville, the buildings are large, ornate, and steeped in local lore and history."
Crescent Hill: "Just east of downtown and the NuLu district, Clifton/Crescent Hill features both old homes and new construction, sprawling houses and starter homes, luxurious loft condos and garage apartments.
St. Matthews: Arguably the retail epicenter of Louisville, St. Matthews boasts two massive shopping malls, an impressive range of restaurants, and all the retail outlets you could ever ask for.
Norton Commons: Norton Commons is Kentucky's first and only Traditional Neighborhood Development. Planned TNDs are the cornerstone of the new urbanism movement.
Go to liveinlou.com for more extensive neighborhood information.