By Abby Laub
Louisville's commercial and residential real estate market continues to blast full speed ahead with $10 billion in projects on the books. Those are projects announced, under construction, or completed since Jan. 2014. This includes the $2.4 billion Ohio River Bridges Project. The Greater Louisville-Southern Indiana bridges collaboration is proving to be a continued catalyst for development in the entire region.
Ease, safety and increased speed of getting around an area by car works wonders for the economic health of a city and its surrounding communities, so it may not be coincidental that Greater Louisville's residential real estate market also is seeing an uptick in activity.
Major activity in residential real estate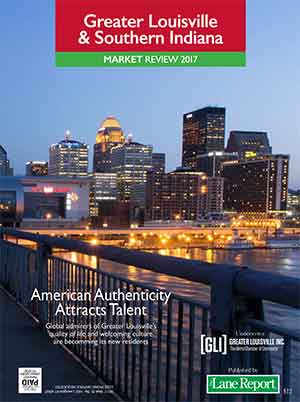 "In general, (home) prices are above pre-recession prices and new construction prices far exceed costs pre-recession," said Dave Parks, president-elect of the Greater Louisville Association of Realtors. "Agents are very positive, and we are having many good qualified people from other professions changing careers to take advantage of that market. There is tremendous demand for first-time buyers, and that is where the shortage of inventory is the greatest."
According to GLAR, Louisville area home sales are up 4.6 percent year-to-date for 2017 with median price up 6.5 percent and average price up 8.6 percent YTD. In Jefferson County, the average price in March 2017 was $193,172 and the median was $155,000.
For all Greater Louisville MLS areas, the inventory of available properties was 19.14 percent lower than the same time last year. In Jefferson County, the inventory of homes and condos for sale was also 21.52 percent lower than March 2016. Inventory in Oldham and Bullitt counties was down 13.73 percent and 18.71 percent, respectively.
As Louisville successfully works to attract increasing numbers of young talent to the city to live, work and play, housing becomes crucial, and Louisville is chock full of unique and noteworthy neighborhoods to suit any taste.
The biggest strength in the current housing marketplace, Parks said, lies in the desirable area inside the Gene Snyder Freeway (I-265) among houses in the $100,000-$300,000 range. The urban core is flexing its muscles, and home and condominium buyers are flocking to be a part of the scene.
"A big trend is smaller houses with greater amenities, which is why the $600,000 to $800,000 market is softer," Parks noted. "That range in North Oldham County, while better than two years ago, is much cooler than the smaller market."
Louisville's residential real estate trend is not unlike the state's as a whole. Kentucky homes sales topped $9 billion for the first time in 2016.
"The market is cycling through houses much faster," Parks said in a Lane Report article this spring. "It could be that on any given month, or day, inventory is historically low. But the overall number of houses sold is high, which says we have more houses on the market than ever. We have more commercial land, pad ready, than any place in the country. We're poised for amazing things."
Construction is already underway on Highland Flats, a $27 million apartment development on East Broadway. Highland Flats will provide 195 studio, one- and two-bedroom units for well-to-do residents and signals a continued shift in demand toward convenient, luxury living with easy access to entertainment and amenities.
Southern Indiana is experiencing similar real estate buzz, and now that getting across the Ohio River by car or foot is so simple, Louisville workers can easily live in a more quiet, country setting. Buyers in Southern Indiana also can get a lot more house for their money. Southern Indiana Realtors Association reported big increases in Median Sale Prices for Harrison, Floyd and Clark counties.
A place for visitors
Trendy neighborhoods are not only popular for residents but visitors. Take the new AC Hotel NuLu on East Market Street as an example.
Officials broke ground in April 2017 on the $42.6 million hotel, which will have a European-inspired design and is expected to be a new anchor in the trendy East Market Street corridor. The 152-room AC NuLu Hotel is an upscale, boutique hotel developed by Concord Hospitality Enterprises and Marriott's AC Hotels division. 
Construction on the AC Hotel NuLu is expected to take just over a year and is expected to create 240 new jobs.
Additionally, the 30-story, 612-room downtown Omni Hotel under construction is one of several major hotel projects in the area that are either newly or almost opened. An eight-story, 34-room, $23 million Homewood Suites is planned on a decades-old parking lot in downtown Louisville.
"Hotel construction and apartments are two significant segments of today's real estate market," said K. Norman Berry Associates Architects Managing Principal Steve Eggers and Principal Bob Haffermann said in a joint statement. "With the much-anticipated expansion of the Kentucky Convention Center to a scale commensurate with other regional cities that we compete with for tourism, Louisville will greatly expand its hotel room count, at a variety of price points. Center city housing options continue to expand, with several new developments coming to market in the next two years."
Commercial strong yet affordable
Commercial real estate is also seeing sustained strength. CBRE's Industrial MarketView announced in January that Louisville's industrial market remains strong with the seventh consecutive quarter of positive absorption, ending the year with 1,974,728 s.f. of total net absorption.
"It was an incredibly strong year in the Louisville industrial market, and we predict that will continue in 2017," said Tom Sims, senior vice president in CBRE's Louisville office, in a press release. "We are still seeing lots of demand for new product and the construction pipeline remains healthy."
The Louisville downtown and suburban office markets are ranked in the Top 10 in the nation in lowest asking rental rates, according to CBRE Research. The downtown office market ranked third most affordable out of 50 downtown markets, and the suburban office market ranked sixth out of 58 suburban markets.
More new space will be available in about a year at Old Brownsboro Crossing, where a medical office broke ground in January. The new, four-story, 100,000-s.f. medical office building under construction will add even more amenities to the Crossing's busy shopping and services hub.
Passport Health Plan announced this spring that it acquired a significant West Louisville property at 18th Street and Broadway. Passport's plan for the 20-acre site is to create a state-of-the-art Health and Wellness Campus to serve the needs of the local community and house its 500-plus employees in its new corporate headquarters in the burgeoning district.
Construction also is underway at the University of Louisville Foundation's 170,000-s.f. pediatric medical office building. It is designed to house all of the UofL Physicians pediatric specialty clinical practices, with a large general pediatrics location on the ground floor. The eight-story building, adjacent to the UofL Physicians Outpatient Center, will have seven clinical floors, plus a lab, pharmacy and radiology services.
Building the fun
Recreational opportunities also are contributing to the construction boom.
In March Gov. Matt Bevin joined Tom Bulleit, founder of Bulleit Distilling Co., to open the company's Shelbyville distillery – part of a $130-plus million investment creating approximately 30 full-time jobs.
Bourbon tourism has also played a significant role in the renovation of existing structures within downtown Louisville's central business district.
K. Norman Berry Associates Architects, the firm behind The Speed Art Museum's overhaul, specializes in historic preservation. Eggers and Haffermann said that owners and developers see opportunities in both adaptive reuse and new construction projects, and KNBA is currently involved in the 111 Whiskey Row development, which involves historic investment tax credits to renovate an existing group of buildings.
Architects are working hard to keep downtown uniquely Louisville.
"To each side of our (Whiskey Row) project are two distinct properties – one involves new construction within the shell of a historic structure, the other involves new mid-rise construction on a site where existing buildings were demolished several years ago," the duo said.
Also, a Louisville entrepreneur proposed the construction of a 200,000-s.f. aquarium on River Road that could cost upwards of $80 million.
The freight-train speed market benefits from many wise experts, including Greg Buccola of KPFF Consulting Engineers' Louisville office, to help keep things in perspective. Buccola said the real estate and construction industry should allow concepts to stabilize before jumping hotly on a new idea.
"There are a lot of hotels going in, a lot offices," he said. "It's all awesome, but we don't want to create overbuilding. But the ($200 million renovation of Kentucky International) Convention Center will lend itself to needing more rooms."
Buccola added that Louisville's construction industry benefits from many great local engineering and architectural firms and that they're able to keep their prices more competitive.
"A lot of people look at economic development as how many jobs it's creating," he said. "But tens of millions of dollars of design fees also have left Louisville because someone wanted to use an out of state firm. There's a lot of talent here in town, and we're the ones who go to Chili's on a Friday night and bring white collar jobs to the area."